What Happened To The Tiger From Michael Jackson's Thriller Album Art?
Michael Jackson probably needs no introduction. He was one of the most famous and successful pop stars of all time. Born on August 29, 1958, Michael Jackson started his music career from a very early age, having been a child star in the group the Jackson 5. As Britannica says, Michael Jackson was known as the "King of Pop" worldwide from the '80s onward, cementing his status as a music juggernaut eternally. Hit albums in Michael Jackson's discography include "Off the Wall," "Bad," "Thriller," and more. "Off the Wall" was Michael Jackson's first major hit becoming a huge commercial success, selling over 20 million copies. Jackson's signature move, the moonwalk dance, was very influential and copied by a number of imitators. 
Arguably, Jackson's biggest musical achievement was the colossal release of his album "Thriller." Smashing historic records and helping to tear down racial barriers in music, "Thriller" became one of the most beloved and important records in pop history. As Billboard notes, "Thriller" changed the music industry profoundly, and influenced how people engaged with pop music on a large scale. On top of all of that, the album cover is also one of music history's most iconic, featuring Jackson himself in a suit, along with a baby tiger named Thriller. But, what happened to that tiger? 
Michael Jackson was initially anxious about having a tiger cub in the photo shoot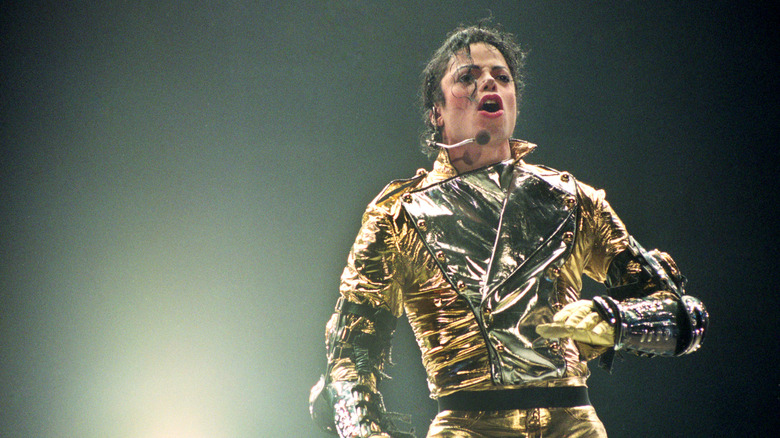 Phil Walter/Getty Images
The 1982 album "Thriller" was as artistic in its look as it was in its sound. The photographer of the iconic cover image, Dick Zimmerman (via MJVibe), said on his website, that the "Thriller" album cover was one of eccentric decision-making and artistic intent. The process of creating the album cover involved a few mishaps and close calls. For example, Jackson didn't like any of the clothes offered by the stylist, and so instead chose to wear Zimmerman's suit itself.
Then there's the tiger. After deciding that there would be a tiger cub with Jackson in the image, they had to somehow get him comfortable with it. Naturally, Jackson did not want the tiger to scratch him, but soon warmed up to the idea of holding him. Jackson would go on to have tigers of his own, one of which was aptly named Thriller, as the Independent reports. 
Michael Jackson's own tigers might have been neglected by him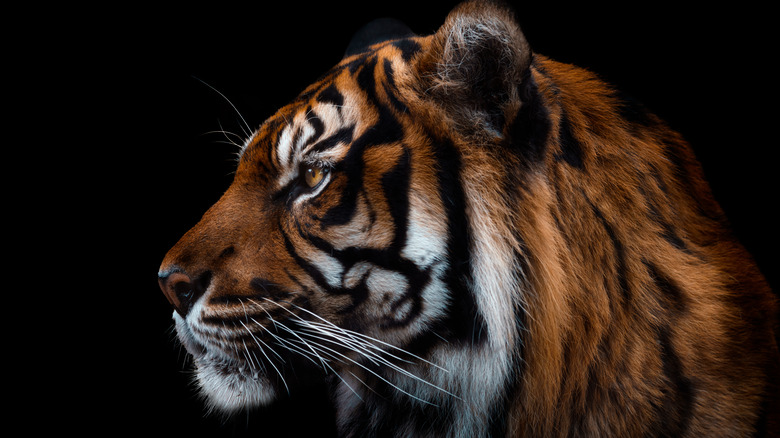 Lubos Chlubny/Shutterstock
Michael Jackson's home, Neverland Ranch, was one of the most famous pieces of real estate in modern memory. The property, which spans a whopping 2,700-acres, and is located in Los Olivos, California, was home to much more than the pop star himself. As New York Times says, it was named and styled after the fictional story "Peter Pan." Neverland Ranch was also home to many childlike favorites, such as a zoo, and even an amusement park with a train and Ferris wheel. 
Of the animals at Neverland Ranch, arguably the most intriguing and famous of them were Jackson's tigers. But, according to the tiger caretakers, Jackson apparently did not give them too much care and attention. As the Independent reports, Jackson had not checked in on the tiger, and the cost of their care was left almost entirely to Tippi Hendren, the runner of the wildlife center that they were eventually transferred to. Sadly, Thriller passed away in June 2012, and all of the animals that used to be at Neverland Ranch are now cared for in various parks and zoos around the U.S., according to Celebrity Pets.