The Story Behind Marilyn Monroe's Famous Potato Sack Photoshoot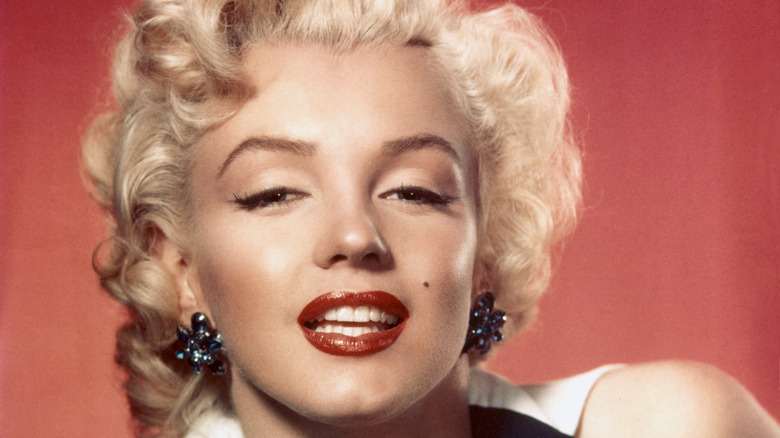 Michael Ochs Archives/Getty Images
Come this fall, you'll be able to get a whole new perspective on the life of legendary Hollywood goddess Marilyn Monroe. According to What to Watch, the Andrew Dominik (known for "The Assassination of Jesse James by the Coward Robert Ford") directed "Blonde" that stars Ana de Armas as the late Ms. Monroe is set for a Netflix/theatrical release on September 23, 2022. The film has officially received an NC-17 rating, so you can expect to get an especially unfiltered look at some things that defined her short but momentous life. 
As to whether or not the highly anticipated biopic will feature the infamous "potato sack" photo shoot of Marilyn Monroe, which took place in 1951, we're still not entirely sure. Don't know what that is? Well, according to The Hollywood Reporter, it's exactly what it sounds like. The "Gentlemen Prefer Blondes" star once proved that burlap and thread can easily usurp silk and jewels on the sexy scale. 
Marilyn Monroe once posed in a potato sack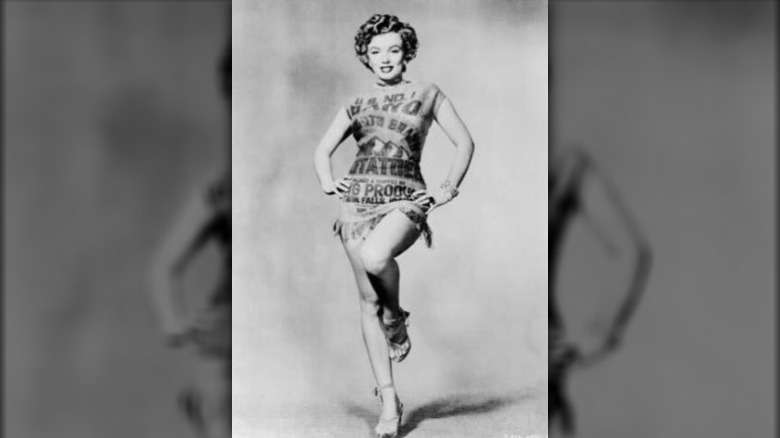 eBay
Leave it to the ultimate blonde to turn such a crude and seemingly tasteless notion into something attractive. It was Earl Theisen of Look magazine who shot Marilyn Monroe in a potato sack that was specially crafted to fit her like a dress. Costume designer William Travilla tailored the garment to accommodate her slender and curvy form so perfectly that you'd think it was a part of her own body (via The Hollywood Reporter).
The idea of biting into a potato never seemed so appetizing after the photos went public. There she was – the most desirable woman in the world looking pristine as ever while shrink wrapped in a mangy burlap sack. According to The Hollywood Reporter, the images were published in Stare magazine, which declared: "MMMarilyn MMMonroe doesn't care too much for potatoes because it tends to put on weight, but she decided to do something for the potatoes!"
Why the potato sack?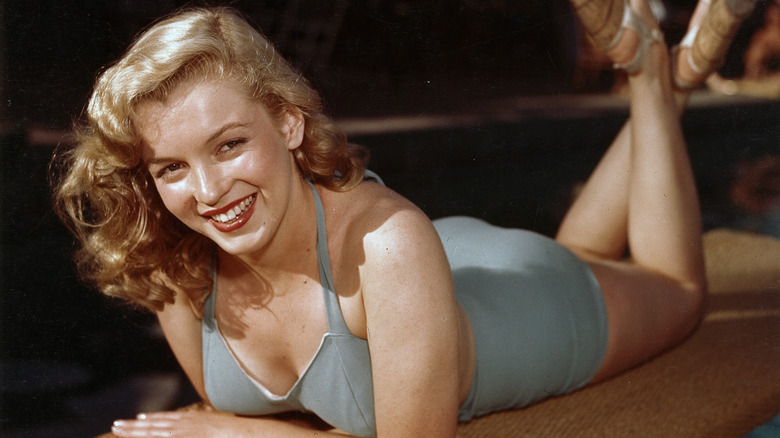 Michael Ochs Archives/Getty Images
The origins behind what inspired the potato sack shoot vary in accounts, but as The Vintage News reports, the project was something of a tongue-in-cheek retort to a comment made by a certain reporter who called Monroe "cheap and vulgar" after showing up to a party at the Beverly Hills hotel wearing an especially decadent red dress. The news outlet that unabashedly detested her garb allegedly proclaimed that she "would have looked far better in a potato sack than in what she wore to the party." By means of proving them right, Twentieth Century Fox scheduled a photo shoot that would feature the actress in an actual potato sack.
Other accounts boil it down to nothing more than a mere publicity stunt cooked up by Monroe's public relations team who, to their ultimate satisfaction, sought to prove that her beauty was so resilient, not even a dirty old potato sack could tarnish it (per The Vintage News).