Toni Braxton's 'Cult-Like' Lifestyle As A Child Is A Real Eye-Opener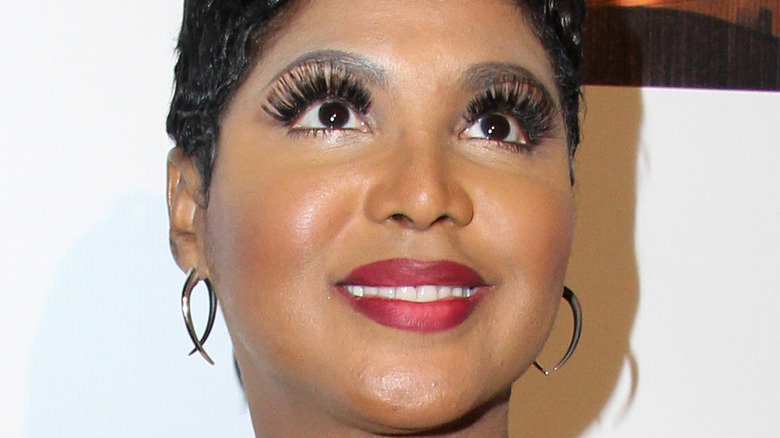 Kathy Hutchins/Shutterstock
Toni Braxton has been a mainstay on the R&B and pop charts since even before the release of her first self-titled album in 1993. Per All Music, Braxton's first hit was the song "Love Shoulda Brought You Home" from the 1992 Eddie Murphy movie "Boomerang." "Toni Braxton" and Braxton's second album, 1996's "Secrets," have both sold over eight million copies and in February 2021, as reported by Billboard, she tied Alicia Keyes for the most number one songs at 11 on the Adult R&B Airplay list, which began in 1993. Like many R&B superstars, Braxton got her start singing as a child in a church choir. However, as Braxton would eventually tell the world in her 2015 memoir "Unbreak My Heart," the Braxton family didn't attend just any church. Per Toni herself, the oppressive and overbearing congregation was more akin to a cult, via NileFM.
Braxton was born on October 7, 1967 in Severn, Maryland, per Biography. She is the oldest of her four sisters and one brother. As reported by the Daily Mail, Braxton described how her mother began exploring various spiritual options for herself and her family, which eventually led to the Braxtons leaving their Baptist church and joining an Apostolic Pentecostal congregation known as Pillar of Truth. "I began connecting religion, God and church with judgment, anxiety and guilt," wrote Braxton in "Unbreak My Heart," describing the controlling, restrictive rules the church laid out for its community (via the Daily Mail).
No secular music, no movies, no pants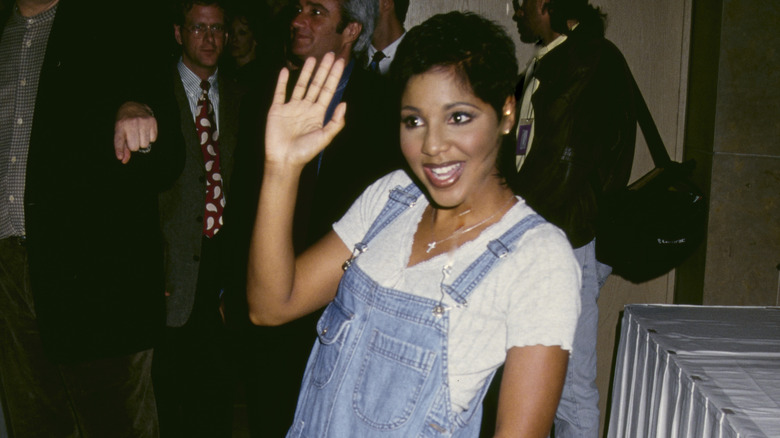 Michael Ochs Archives/Getty Images
Members of the Pillar of Truth congregation weren't allowed to listen to secular music, including in public places like roller skating rinks, watch movies, celebrate holidays, drink, and, as written by Toni Braxton, women had to wear full skirts or dresses and stockings year round to "cover their nakedness, " per the Daily Mail. Disobeying any of the regulations meant going to hell. Braxton described pretending to speak in tongues in order to fit in at church and indicate that she was "saved," which was considered evidence that congregants were ready for the rapture to come to Earth at any moment and send the spiritually deserving to heaven. Braxton went on to describe feeling homely and lonely compared to other children and her academic performance suffered. "The ties that bound us together became the ties that strangled us. Our family had fallen into religious extremism," wrote Braxton in "Unbreak My Heart." 
Her one escape was singing in the church's children's choir, the Sunshine Band. People took notice of her excellent singing voice and began to compare her sound to that of Anita Baker as she got older. The Braxton sisters all sang together, at the behest of their mother, and continued to do so as the family moved on to two more restrictive churches before their parents discovered an organization called the Truth Foundation. The sisters formed a band called The Braxtons and continued performing at churches. As reported by AllMusic, the group released a single in 1990 called "The Good Life." 
Toni Braxton never forgot about her sisters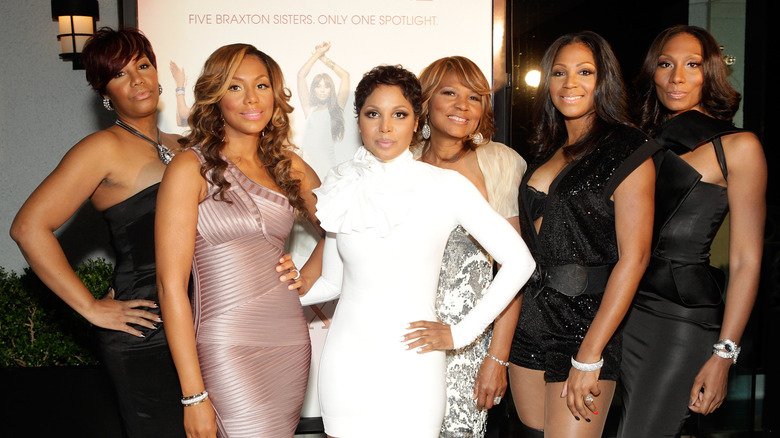 Todd Williamson/Getty Images
"The Good Life" was released by Arista Records, but it wasn't a hit. It did lead to interest in Toni Braxton from LaFace Records, and in 1991, she was signed as the new label's first female singer-songwriter. Per the Daily Mail, Braxton wrote in "Unbreak My Heart," that her leaving the group to strike out on her own led to strife within her family, with her mother telling her "Don't forget your sisters." "For a girl who'd just scored a record deal with two of the biggest names in the business," wrote Braxton. "I actually felt very lonely." 
The Braxton sisters (Traci, Tamar, Toni, Trina, and Towanda) would eventually star together with their mother, Evelyn (all shown above), in the reality show "Braxton Family Values," which premiered in 2011, as reported by Monsters and Critics, and ran for 7 seasons (per Yahoo). In 2015, they sang once more as a quintet with the release of a holiday album, "Braxton Family Christmas," per Essence.  As Toni wrote in "Unbreak My Heart," "My job is done. Braxton Family Values is the final punctuation mark on a sentence of guilt that has gone on for too many years — since that day in 1991 when my mother told me, 'Don't forget your sisters," (via the Daily Mail).