Bill Russell's Felton X Nickname Explained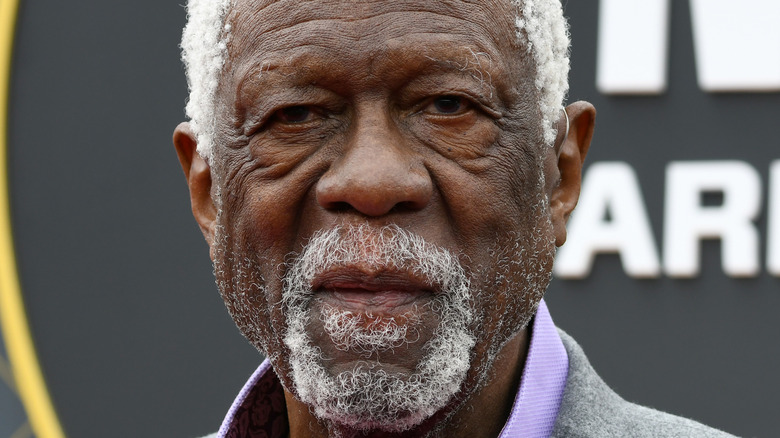 Michael Kovac/Getty Images
Celtic legend William Felton Russell, otherwise known as Bill Russell, has died at the age of 88 (via The New York Times). ESPN reports that he leaves behind an astounding legacy. His many accomplishments include winning an Olympic gold medal, two NCAA titles, and being the NBA'S first black coach. Moreover, WBUR explains that he revolutionized basketball by adding jump shots. With 11 championships in 13 seasons, Yahoo! Sports writes that he is considered by many to be one of the greatest basketball players that have ever lived. Born in 1934 in Monroe, Louisiana, Russell's childhood and early career were fraught with racism (per The Washington Post).
In 1956, Russell, who was then a college basketball star at USF, was drafted by the Boston Celtics (via Civil Rights Teaching). Per AP News, he was met with bigotry and discrimination almost immediately. WBUR states that he later described living in Boston as "traumatizing" According to The Nation, this inspired Russell to use his notoriety to speak up on the inequality that he and his fellow black Americans were facing.
In a statement released on Twitter after his death, his family noted that "Bill called out injustice with an unforgiving candor that he intended would disrupt the status quo, and with a powerful example that, though never his humble intention, will forever inspire teamwork, selflessness and thoughtful change."
He was a civil rights activist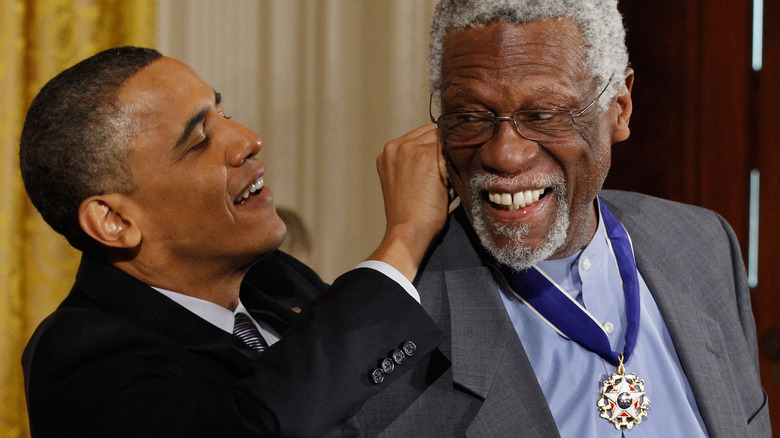 Chip Somodevilla/Getty Images
NPR states that Russell was lauded for his efforts as a civil rights activist both on and off the basketball court. According to WBUR, he openly spoke out about the lack of Black basketball players in the NBA and fought against segregated schools in Boston. The Nation writes that in return, Russell's Boston home was defaced with racial epithets. In 1961, he boycotted a game in Lexington, Kentucky when his fellow Black team members were refused service at a local restaurant. He later told reporters that "We've got to show our disapproval of this kind of treatment or else the status quo will prevail. We have the same rights and privileges as anyone else and deserve to be treated accordingly" (via NPR).
The New York Times explains that Russell went on to walk with Dr. Martin Luther King at the March on Washington. Additionally, he founded an integrated basketball camp in Mississippi. WBUR reported that in 1975 Russell was inducted into the Basketball Hall of Fame. He did not attend the ceremony due to his belief that the Hall of Fame was inherently racist.
In 2011, then-President Barack Obama awarded Russell the Presidential Medal of Freedom (per ESPN). Obama hailed Russell and said, "He endured insults and vandalism, but he kept on focusing on making the teammates who he loved better players and made possible the success of so many who would follow" (via NPR). Per Newsweek, Russell's activism, however, resulted in the nickname "Felton X." His daughter, Karen Russell, noted that this was the "only time we were really scared."
He refused to condemn the Nation of Islam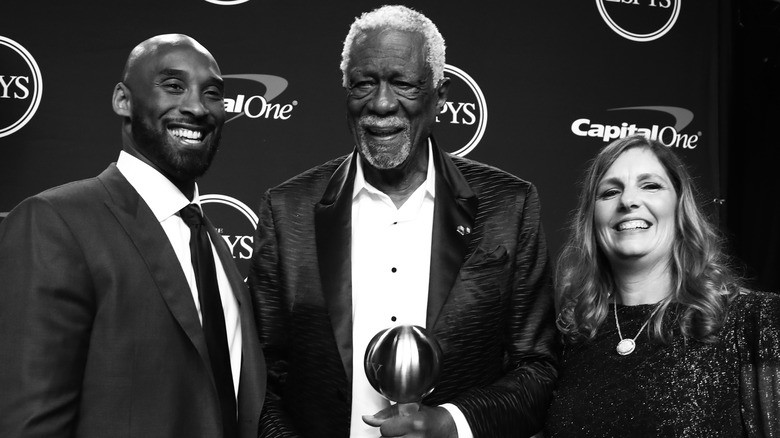 Rich Fury/Getty Images
According to The Nation, Russell supported Muhammad Ali in 1967 when he openly refused his draft into the Vietnam War. NPR writes that Russell stood by Ali's side when he opted to go to prison instead of fighting in a war that was against his religious beliefs. Biography notes that Ali was involved in the Nation of Islam. This religious organization, per U.S. History, combines traditional Islam with Black nationalism. Needless to say, Russell believed that Ali was unfairly treated by the government. He stated "There is nothing that says the heavyweight champion of the world must belong to a particular religion or not be a conscientious objector to war. Muhammad's right to be a Black Muslim—or a Catholic or Protestant—is guaranteed by the Constitution" (via Boston University).
That being said, Civil Rights Teaching explains that Russell had already come under fire for previously supporting the Nation of Islam. Because of this, he was nicknamed "Felton X," an inherent nod to Malcolm X, whom the Southern Poverty Law Center reports was also a member of the Nation of Islam. Newsweek states that this nickname also stemmed from a 1964 article in "The Saturday Evening Post" about racism in the basketball industry.
His daughter Karen said, "We received threatening letters, and my parents notified the Federal Bureau of Investigation." Despite this, Russell never stopped advocating for civil rights. He supported Colin Kaepernick by taking a knee in solidarity, and in 2020 he praised NBA players for boycotting a game after the police shot Jacob Blake in Kenosha, Wisconsin (via The Nation).