Bob Dylan's Brutally Harsh Words For The Counting Crows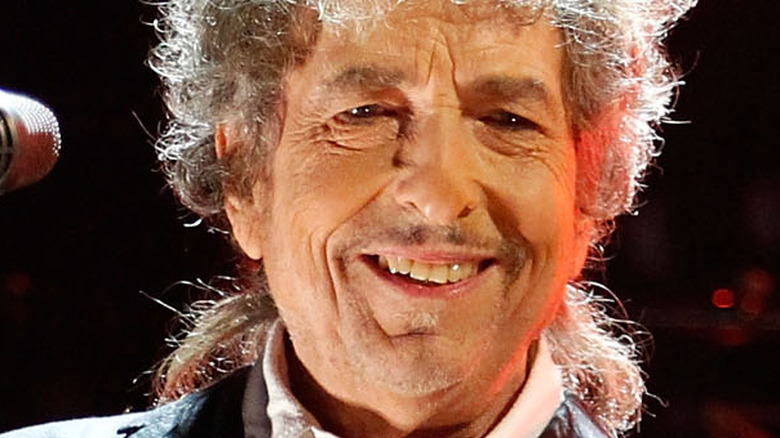 Christopher Polk/Getty Images
In 2013, Counting Crows teamed up with The Wallflowers — the band famously fronted by Jakob Dylan — for the first time since 2001, as the Los Angeles Times reported. If you're a fan of either group, you probably know that they've shared a professional amicability and collective friendship for years — they even joined forces in the studio once when The Wallflowers asked Crows frontman Adam Duritz to provide vocal harmonies on "6th Avenue Heartache" back in '96. "I was probably [in the studio] for a total of half an hour. I walked in, sang it, walked out," Duritz shared later on (via Los Angeles Times).
While his time in the studio with The Wallflowers may have been fleeting, the personal correspondence Duritz has maintained with Jakob Dylan over the years has endured. And Duritz has never shied away from his public veneration of Jakob's father, folk legend Bob Dylan, so the idea of becoming close with an agent of his hero's lineage had to have been a pretty enchanting notion. Sadly, feelings from the top down aren't exactly what you would call mutual, as Bob Dylan has also never shied away from his opinions about Counting Crows, and they're not good (per Far Out Magazine). 
Adam Duritz loves Bob Dylan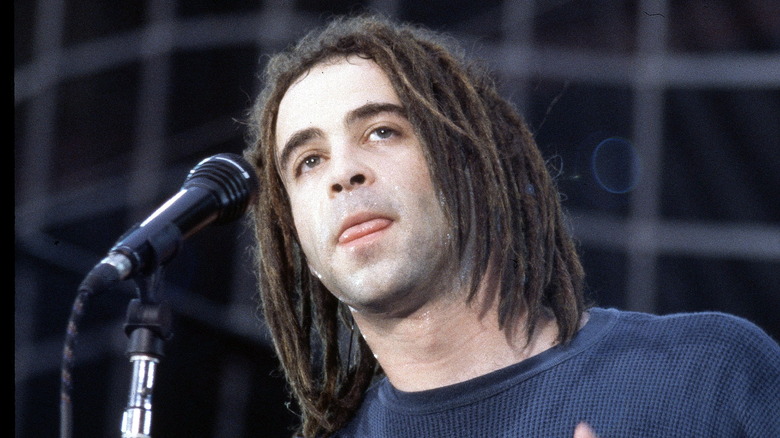 Northfoto/Shutterstock
"I don't always rush to meet my idols because I don't know what the f*** to say to them," Adam Duritz once told American Songwriter. "And I don't want to stand in front of them like an idiot and I've done that with some of my idols." Instead, Duritz chose to exclaim his admiration for Dylan in the form of a song, stating verbatim that "I wanna be Bob Dylan" in the Counting Crow's 1993 classic "Mr. Jones." 
The frontman has been a devout Dylan fan (is there any other kind of Dylan fan?) throughout his entire life, and if you're an avid listener of Counting Crows, you can definitely pinpoint some musical commonalities. Duritz has been noted for weaving a profound sense of poeticism and ethereal elegance into his lyrics, so you'd think that the two songwriters would get along swimmingly (Bob Dylan was awarded the Nobel Prize for literature back in 2016). However, that's not the case. In fact, Dylan once made a viciously scathing remark about Duritz and his band that fell on the Crows like a hard rain, as Far Out Magazine reports. 
Bob Dylan trashed Counting Crows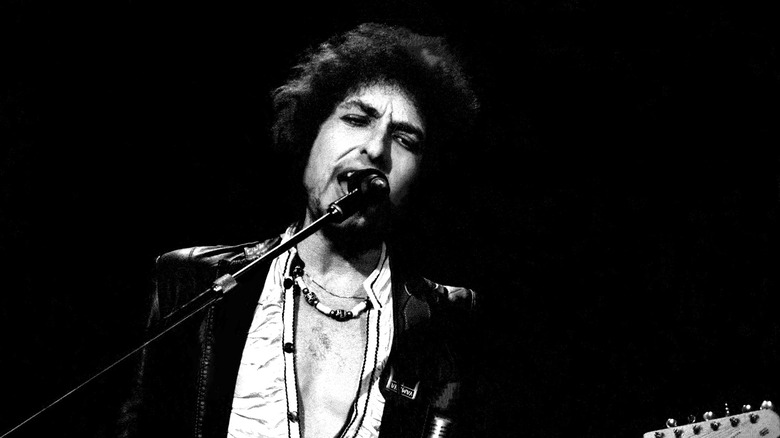 Larry Hulst/Getty Images
Bob Dylan, for all his merits, has a notorious reputation for casting aside any sort of filtration system through which his words might pass once they cross his lips. Whereas it's perpetually stated amongst musicians and artists of all types that you shouldn't let the opinions of others get under your skin, it's kind of hard not to take what arguably the greatest songwriter of all time has to say personally. 
In an interview with Vulture, former Dylan guitarist César Díaz described an exchange he shared with the "Tangled Up in Blue" artist when the subject of Counting Crows arose in conversation. "I would go ... 'Bob, the guy from the Counting Crows, he wants to be you,' and that was before they did that 'Mr. Jones' thing, you know," Díaz remarked. "He [Bob Dylan] goes, 'Yeah, look at them. What a piece of s***.'" All the same, Adam Duritz and his group seemingly remained undeterred by the folk star's vitriol, as they've enjoyed a tremendously successful career for close to three decades.