Disturbing Details Found In The Autopsy Of James Byrd Jr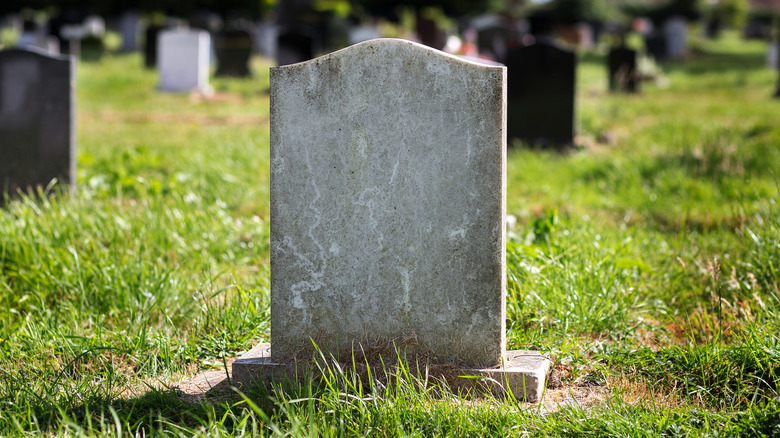 vyasphoto/Shutterstock
On June 7, 1998, James Byrd Jr. left a friend's party in Jasper, Texas, and began the walk to his home (via People). Crime + Investigation UK writes that the 49-year-old Black man suffered from seizures and was unable to drive. During his walk, he was offered a ride home by three white men, Shawn Berry, Lawrence Brewer, and John King (per Newsweek). As Jasper was a small town, NPR notes that Byrd actually recognized Berry. Born in 1949 in Beaumont, Texas, Byrd was raised in Jasper. In fact, he attended J.H. Rowe High School while it was still segregated.
Newsweek reports that unbeknownst to him, Byrd had been picked up by white supremacists. Instead of taking him home, they took the father of three to an isolated area where they beat him, spray-painted his face, and urinated on him (via NPR). According to Britannica, the trio then chained his ankles to the back of Berry's pickup truck and proceeded to drag him for three miles. ABC News states that Byrd was likely alive for two of those miles. Berry, Brewer, and King then dumped his remains outside of a Black church. By the end of the attack, his body, or what was left of it, had been severely mutilated.
Byrd's daughter, Jamie Byrd, told People, "My dad's funeral was closed casket. We didn't get those last final goodbyes." Per Crime + Investigation UK, the three men left a flurry of evidence at the crime scene that quickly implicated them. This included a wrench engraved with the name "Berry," cigarette butts, and more.
James Byrd Jr. suffered tremendously before dying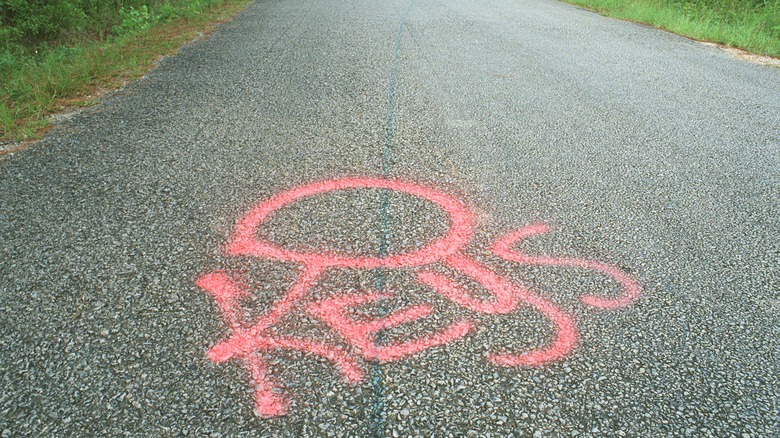 Buck Kelly/Getty Images
According to ABC News, Byrd had been decapitated and dismembered. An autopsy revealed that his head, neck, shoulder, and arm had all been separated from his body during the ordeal (via Crime + Investigation UK). Per court documents (via FindLaw), Byrd was horrifically injured. The dragging resulted in "massive brush burn abrasions." Several of his ribs were broken, and his knees, feet, buttocks, and left cheek had been worn down. The latter was so severe that his jawbone was exposed. Some of his toes were missing or fractured. The muscles on his legs were exposed. Additionally, both of Byrd's testicles were missing and gravel was found in his scrotum. His brain, however, was unharmed.
Newsweek writes that Byrd was alive when he suffered these injuries. It's believed that he attempted to protect his head by keeping it up. He died only when his body hit a culvert in the road, which led to his right arm, neck, and head being torn off. He then died instantly.
Crime + Investigation UK explains that Berry was pulled over a day after Byrd's murder for an unrelated matter. That's when officers noticed that his tool set matched the wrench they had found at the crime scene. People writes that Berry eventually confessed to the crime. Crime + Investigation UK states that Berry, Brewer, and King's DNA was found on the cigarette butts, and Byrd's blood was found on their clothing and in the truck. Because King and Brewer were known white supremacists, Byrd's murder was labeled a hate crime.
Two of his killers were executed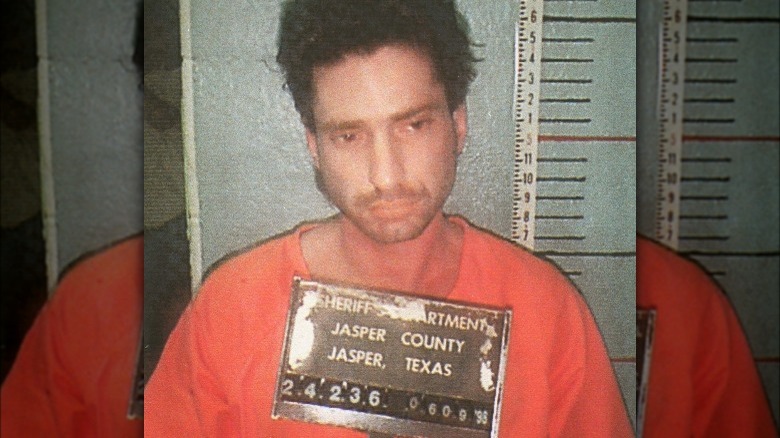 Buck Kelly/Getty Images
Per Crime + Investigation UK, Berry, Brewer, and King were all convicted of Byrd's murder. Berry, however, was sentenced to life while Brewer and King were sentenced to death. The Beaumont Enterprise states that Berry will be eligible for parole in 2038. As for Brewer and King, People states that they were executed in 2011 and 2019, respectively. At his execution, Brewer did not make a final statement and showed no remorse for his actions (via Chron). Prior to his death, Brewer (above) had told KHOU that he had no regrets and would "do it all over again."
According to Chron, Brewer ordered chicken fried steaks, omelets, fried okra, a triple-meat bacon cheeseburger, fajitas, barbecue, pizza, ice cream, peanut butter fudge and three root beers as his final meal. He did not eat any of it. Shortly after, Texas announced that they would no longer be providing special last meals for inmates on death row (per NPR).
Regarding Brewer's execution, Guy James Gray, Jasper's former district attorney, told Newsweek that "Never in the history of the state of Texas had a white man been given the death sentence for the murder of a black man. The old heads around said it couldn't be done." In 2019, NBC News reported that a stay of execution was requested for King. Nevertheless, his request was denied and he was executed by lethal injection. According to the Texas Tribune, King also did not have any last words. Instead, he wrote a final statement that read "Capital Punishment: Them without the capital get the punishment. "