Why The Killer Nanny Louise Woodward Only Served 9 Months Of Her Original Life Sentence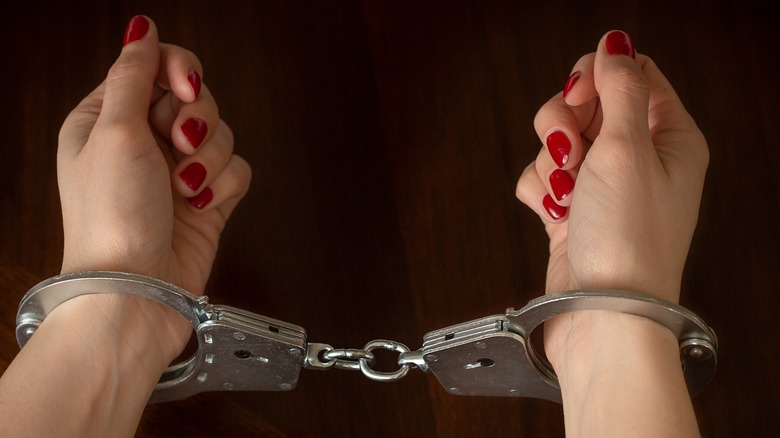 Vladimir Khodataev/Shutterstock
In 1996, 18-year-old Louise Woodward left her home in Elton, Cheshire, England. An agency placed her to work as an au pair in Boston, Massachusetts (via the New York Post). The Daily Mail states that the teen was first placed with a family she was not content with and soon after, Woodward was hired by 30-year-old doctors Sunil and Deborah Eappen. The family left her in charge of their infant son, Matthew, and his older brother, Brendan. Cosmopolitan UK explains that 10 weeks later, Matthew would be dead. On February 4, 1997, Woodward called 911 and reported that the 8-month-old had stopped breathing. The child went into a coma and Woodward was subsequently arrested under suspicion of child abuse.
The news program "60 Minutes Australia" writes that doctors believed that Matthew had suffered shaken baby syndrome and the culprit was none other than his young nanny. Per The Sun, Matthew's injuries were extensive and included a cracked skull and internal bleeding. Five days after he was rushed to the hospital, Matthew Eappen died. Woodward was then charged with his murder. According to Crime + Investigation UK, her trial began in October of that year. The Daily Mail reports that Woodward claimed that she was innocent. Despite this, it's been reported that she admitted that she had lightly shaken Matthew when she found that he was unresponsive.
Louise Woodward's controversial trial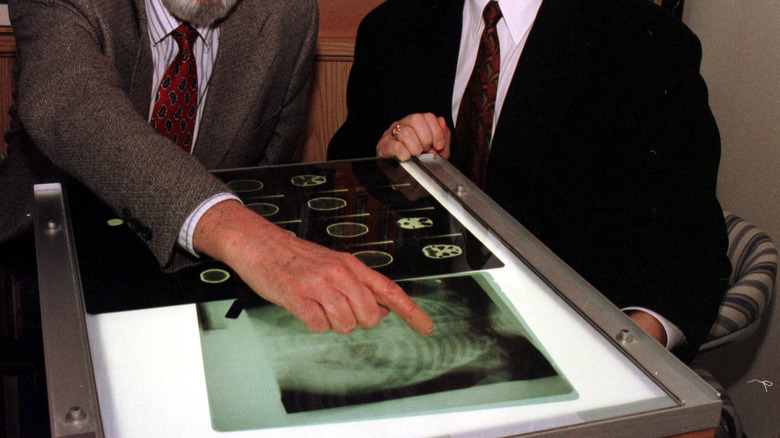 John T. Barr/Getty Images
According to the New York Post, Woodward's trial was polarizing in both the U.S. and the U.K. While audiences in the U.S. thought she had undoubtedly shaken baby Matthew, her home country believed that she was innocent. That being said, Crime + Investigation UK writes that prosecutors presented Woodward as a neglectful and disgruntled teen. Even so, Woodward vehemently denied any wrongdoing during her cross examination. The Sun reports that the prosecution brought in experts and used brain scans to prove that she had in fact shaken Matthew. One such expert, Dr. Patrick Barnes, stated that Matthew's injuries were a "classic model" of shaken baby syndrome.
However, not everyone agreed with this conclusion. Per "60 Minutes Australia," Dr. Gerald Feigin, the medical examiner who performed Matthew's autopsy, argued that he child had not suffered from shaken baby syndrome. Instead, he believed that "Matthew Eappen had something struck against his head or his head was struck against something forcibly enough to kill him." Nevertheless, Feigin added that Woodward had still inflicted this harm on the infant.
On the other hand, Crime + Investigation UK explains that other experts surmised that Matthew's brain had been injured weeks before Woodward had found him unresponsive. Dr. Ron Uscinski, an expert from Woodward's defense, added that it was "clinically impossible" that she had caused the injuries that ultimately killed Matthew (via "60 Minutes Australia"). He went on to say that a lack of external trauma proved that Woodward had not abused the infant.
Sentenced to life with the possibility of parole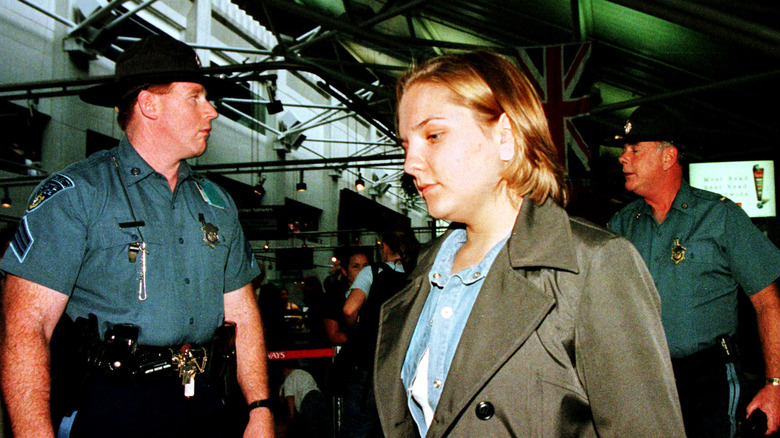 Pool/Getty Images
In the end, "60 Minutes Australia" reports that Louise Woodward (above, in 1998) was found guilty of second degree murder. Per Crime + Investigation UK, she was then sentenced to life with the possibility of parole after 15 years. Matthew's mother, Deborah Eappen, did not believe that this sentence was long enough and stated, "I'm barely able to put into words what it's done to my family. I would trade anything wonderful to have Matthew back." The Daily Mail states that several jurors explained that they were not convinced that Woodward had purposely murdered Matthew. Her lawyers then appealed her conviction and to their relief, Judge Hiller Zobel gave her a lesser charge of involuntary manslaughter.
Per Cosmopolitan UK, Judge Zobel then gave Woodward a new sentence: 279 days, or about nine months, the amount of time she had already spent in jail. In other words, Woodward was free. In defending his reasoning, Zobel stated that Woodward's actions were "characterized by confusion, inexperience, frustration, immaturity and some anger, but not malice" (via Crime + Investigation UK).
After her release, Woodward returned to the UK. In 2022, The U.S. Sun reported that she is now 43, has completed law school, and works as a salsa dance instructor. She is also married and has a 7-year-old daughter. Prior to the birth of her daughter, Woodward told the Daily Mail, "I know there are some people waiting for me to have a baby so they can say nasty things." She added, "It upsets me but that is not going to stop me leading my life. I am innocent. I have done nothing wrong."