Sylvester Stallone's Heartbreaking Decision He Was Forced To Make Before His Rocky Fame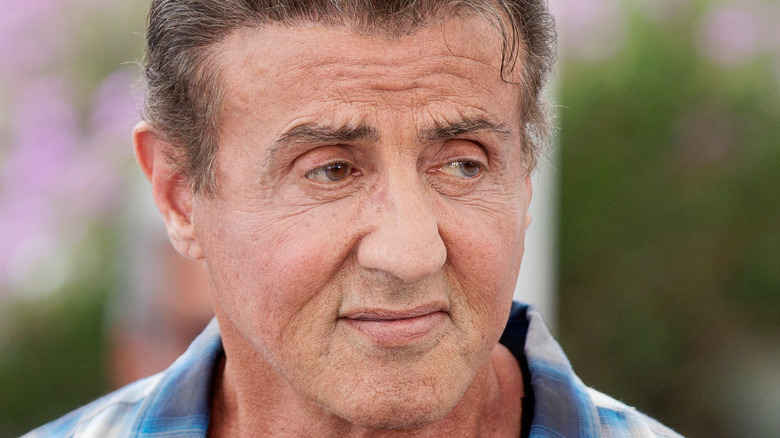 Andrea Raffin/Shutterstock
Sylvester Stallone has, by all accounts, lived quite the life to date. He has played some of the most iconic characters in movie history, Rocky Balboa and John Rambo among them. Per Britannica, he also had a vital hand in developing those franchises from a creative point of view, another feather in his cap that even some fellow movie legends have not had.
Today, according to Celebrity Net Worth, Stallone's movies have made $4 billion around the world, cementing his place as an industry icon with a fortune estimated at around $400 million. As is so often the case, however, this international renown did not come easily for him, and his childhood was seemingly fraught.
Britannica recounts the star's sad story: A nerve in his face was damaged when he was born, and he remained in care until he was five-years-old. 1957 saw his parents divorce and separate (he was around eleven at the time), and he lived with both in turn, moving to live with his mother four years later. The outlet reports that the unsettled young man found school difficult, and expulsion from various establishments resulted. 
He continued to struggle, to the extent that he was seemingly forced to sell his most precious friend.
Sylvester Stallone's battle for fame and companionship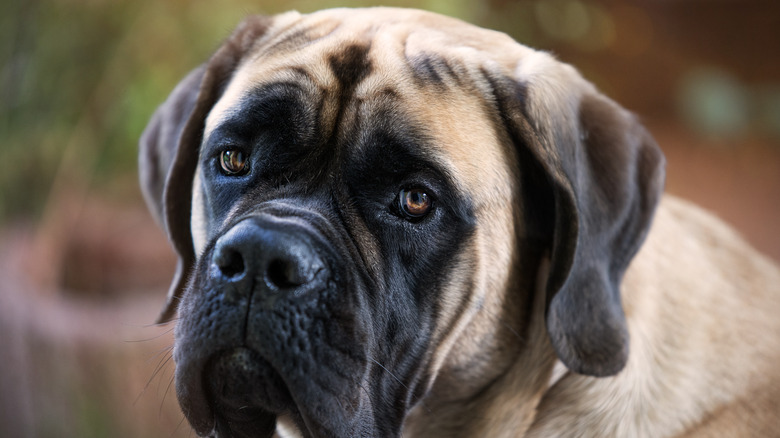 Mikanah/Shutterstock
As any animal lover will tell you, a dog or cat isn't just a holiday gift, a possession, or an accessory. They are considered nothing less than a part of the family. The unquestioning love and boundless attention they give (especially when a treat or two is involved) is impossible to deny, and it's difficult for some who grew up with a beloved family pet to imagine being without them.
Sylvester Stallone was one young man who had the good fortune to grow up with a beloved canine companion, which was named Butkus. In March of 2017, he shared a heartbreaking photograph of himself with his best buddy Butkus on Instagram, and remembered the awful decision he once had to make in order to make ends meet.
"This is myself and Butkus as a puppy , we were both , thin , hungry and living in a flophouse above a subway stop [sic]," Stallone posted alongside the old photograph. He and his loyal friend had nothing to do but be together, he added, and it was during this difficult time that he took the opportunity to learn to write screenplays.
One screenplay Stallone completed during this time was for a little movie called "Rocky." Before anything became of it, however, the soon-to-be star hit his lowest point. "Years later when things got even worse I had to sell [Butkus] for $40 in front of a 7-Eleven store, because I couldn't afford food," Stallone continued in the post.
The bull mastiff Butkus, Stallone's best friend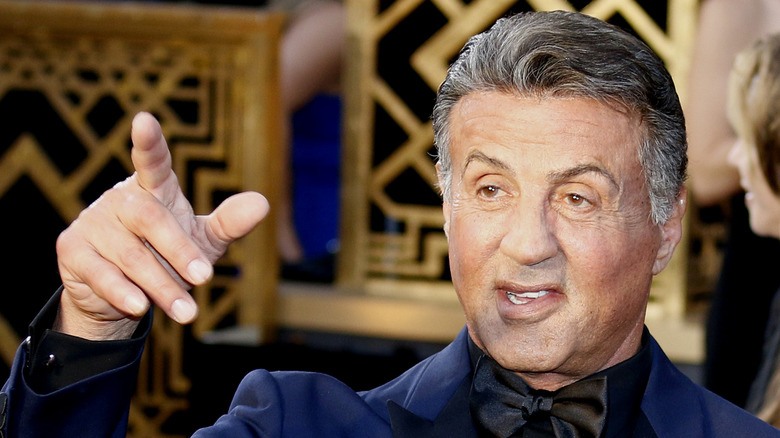 Tinseltown/Shutterstock
Right when Stallone was in dire financial straits and had made such a heartbreaking choice, however, his fortunes gradually turned around. "Like a modern day miracle, the screenplay for Rocky sold," he explained on the Instagram post. This meant two things: Not only was he finally on the road to Hollywood immortality (though he didn't know it yet), but Butkus could come home.
Even after the selling of the screenplay, "Rocky" had a rocky road to success. The titular character has a dog in the movie, and that itself proved to be a stumbling block. "Since our budget didn't allow even for a feeble hamster," Stallone reported in an interview, per Total Rocky, "much less a trained dog, the producers asked if I happened to have a beast of my own." This was how Butkus, Stallone's dog in real life, became a movie star, and how he got the dog back in the first place.
Butkus didn't come back cheap, though, according to Stallone on Instagram. He wrote, "the new owner knew I was desperate, and charged me $15,000 ... he was worth every penny."
He certainly meant it, too. The beloved bull mastiff, per Yahoo News, died in 1981, 10 years after the Instagram photograph of the pair was reportedly taken. In August of 2022, the outlet reported that Stallone had a new tattoo: an image of Butkus, the dog to which he owes some part of his fame.