The Weirdest Item In Aaron Rodgers' Locker Has Us Doing A Double Take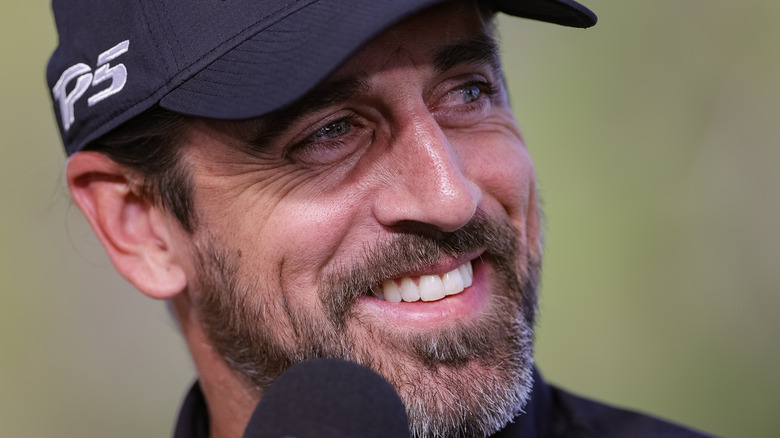 Carmen Mandato/Getty Images
The Green Bay Packers are one of the NFL's biggest success stories in history. Having been established on August 11, 1919, the team got its start in the city of Green Bay, Wisconsin, hence their name, within the confines of the Green Press-Gazette building. As the Packers' official website says, the team had its humble start with just 25 players at first, and had an incredible first season run, winning 10 games and only losing one. The Packers would eventually join the NFL in 1921. And one of the most notable players to ever join the Packers would be Aaron Rodgers.
As Biography says, Aaron Rodgers was drafted to the Green Bay Packers back in 2005, and forever helped changed the team's history. At the time, Rogers was considered a big fish at the University of California at Berkeley, eventually becoming a finalist for the Heisman trophy in 2004. But what many people might not know about Rodgers is that he keeps a very strange object in his locker room.
Who is Aaron Rodgers?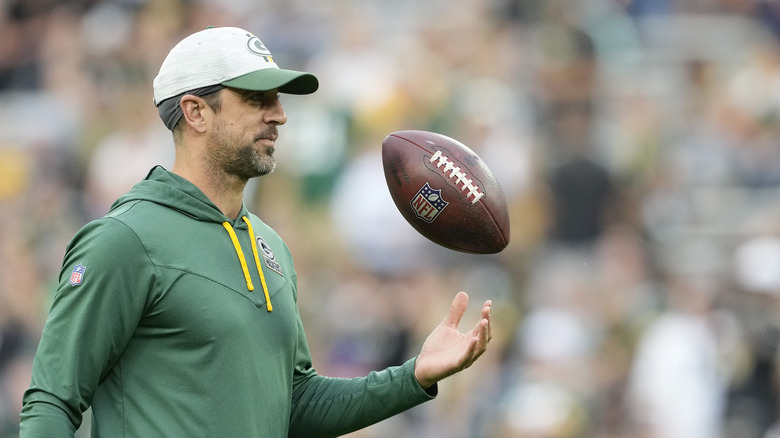 Patrick Mcdermott/Getty Images
Born on December 2, 1983, Rodgers is touted as one of the best and most important football players of all time. The quarterback has secured multiple records in his career and numerous awards, such as two MVP awards, a Super Bowl XLV win, and more. As Biography says, Rodgers had always loved football, even from a very early age. Whenever the NFL came on television, Rodgers would watch the entire game, and even understood things like positions and formations. He would eventually go on to play quarterback at Pleasant Valley High School, rising up as a very promising player.
As Britannica says, Rodgers helped lead the Green Bay Packers to multiple victories after joining. His 2011 season is considered to be one of the best quarterback runs in history, securing a 13-0 start, along with a staggering 45 touchdowns and 4,643 passing yards. It was clear that Rodgers wasn't giving up steam, as the Packers would continue to dominate with an eight-year streak in the playoffs until 2017. Rodgers eventually led his team again in 2019, securing 13 wins, 26 touchdowns, and 4,002 yards.
Aaron Rodgers owns a replica of Nicolas Cage's head
But perhaps what could be entirely unexpected from Rodgers is the fact that he keeps one of the strangest items ever in his locker: a bust of actor Nicolas Cage. Sports Illustrated reports that Rodgers keeps the small bust of the actor's head in his locker after he received it as an anonymous gift. For a brief while, the source of the donor wasn't known, but Rodgers soon discovered and revealed that it was a gift from sports analyst A.J. Hawk and his wife, Laura Quinn Hawk. 
As ESPN says, Hawk is a former linebacker who played for the Atlanta Falcons (2015-2017), the Cincinnati Bengals (2015-2016), and the Green Bay Packers (2006-2015). As explained by Sports Illustrated, the gift was meant to be a callback to the time that Rodgers showed up at training camp looking like Cage's character in the film "Con-Air." The video of his arrival (also via Sports Illustrated) went viral, and eventually became a joke between the three earlier in August.