Aaron Rodgers' Net Worth: The Packers QB Earns More Than You Think
Jonathan Daniel/Getty Images
Green Bay Packers fans are nothing if not loyal. Ahead of the team's NFC playoff matchup against the Los Angeles Rams on Saturday, Jan. 16, Green Bay opened up 6,000 tickets to season ticket holders for the first time this season, which sold out in just three hours, as reported by Wisconsin Public Radio. The Packers will be led in part by quarterback Aaron Rodgers, who at 37 years old has 16 years of experience in the NFL and two MVPs, all with the Packers.
Per USA Today, Rodgers led Green Bay to victory in Super Bowl XLV in 2011 and is considered one of the 25 greatest quarterbacks of all time, with the article noting "[b]y the time he's done, Rodgers may be No. 1 on this list." After his amazing 2011 season, he was named the NFL's Most Valuable Player, according to SB Nation, and almost ten years later, he continues to add "more milestones to his glittering career," per Newsweek.
In December of 2020, he beat fellow longtime champion QBs Tom Brady and Drew Brees in "becoming the fastest quarterback in NFL history to reach 400 career passing touchdowns and the first to have at least 35 passing touchdowns in five consecutive seasons."
All this and Jeopardy! too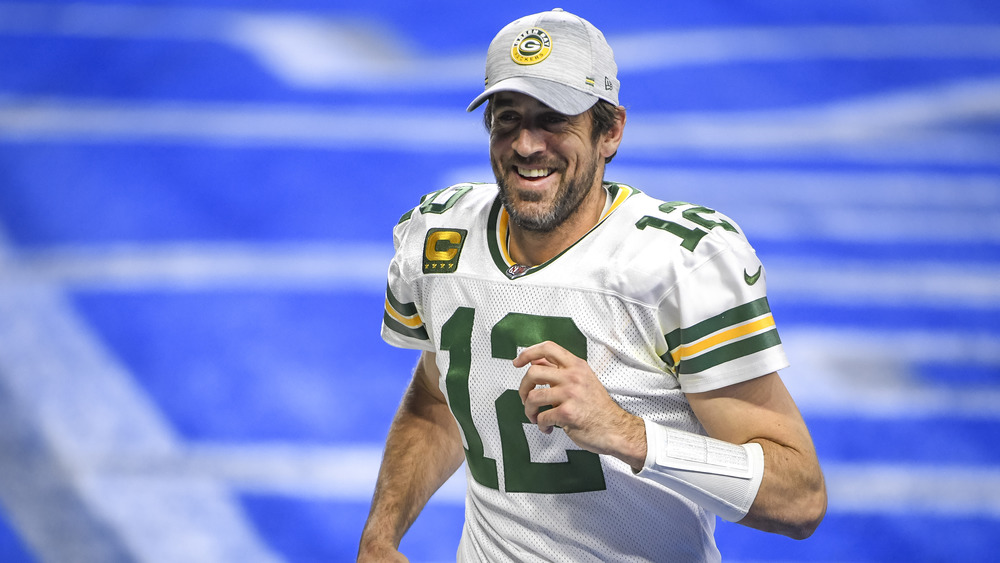 Nic Antaya/Getty Images
With such a long and successful career, you could assume that Aaron Rodgers makes a pretty good living, but just how good it is, is still slightly surprising considering that he may well be close to retirement age. In 2018, as reported by Sportscasting, Rodgers signed his latest four-year contract with the Packers, which "is worth a total of $133 million, $98.7 million of which is guaranteed." This makes his average salary per season $33.25 million, tying the Los Angeles Rams' Jared Goff for fourth highest NFL quarterback salary. 
According to Celebrity Net Worth, Rodgers' net worth is estimated to be about $120 million. This includes lucrative endorsement deals, including one with State Farm worth $2-3 million, which Forbes called "one of the richest endorsement deals in the NFL." He has also endorsed Adidas, Prevea Healthcare, Bergstrom Automotive, Sharpie, and IZOD and appeared in commercials for Pizza Hut as well as "many local Wisconsin-based campaigns."
Furthermore, he is the first NFL player to have an ownership stake in an NBA team; as of April 2018, he's been a limited partner in the ownership group of the Milwaukee Bucks. No word on whether his upcoming stint as a guest host on Jeopardy! will be a paid gig; when Rodgers appeared on Celebrity Jeopardy! in 2015, he won, securing a $50,000 donation to the MACC Fund (Midwest Athletes Against Childhood Cancer), per the Packers website.