Who Created Pinocchio?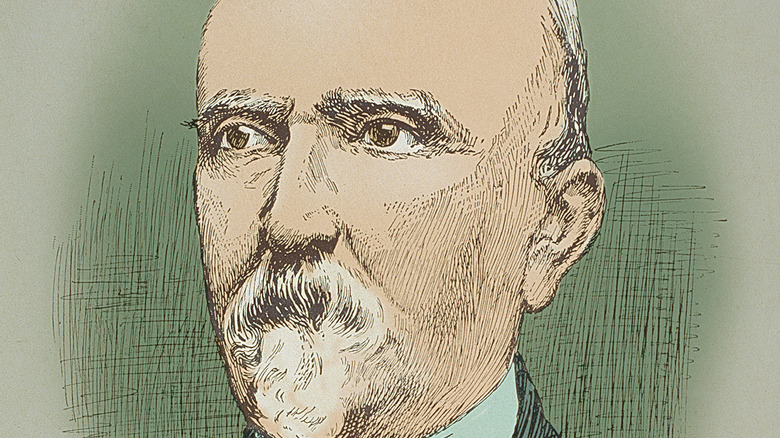 Fototeca Storica Nazionale./Getty Images
Published in 1881, "The Adventures of Pinocchio" is a beloved children's story that continues to capture audiences of all ages (via NBC News). According to Britannica, the tale first made its debut in a youth magazine. By 1883, the series had been made into a book. The classic novel centers on Pinocchio, a wood puppet created by a man named Geppetto, and the puppet's questionable escapades. As Smithsonian Magazine explains, "The Adventures of Pinocchio" is the inspiration behind several film adaptations, including the 1940 animated Disney movie. Although Pinocchio is a name that is widely known, its author does not have the same privilege.
Per The New York Times, Carlo Collodi is the mastermind behind Pinocchio. Born in 1826 in Florence, Italy, as Carlo Lorenzini, the writer spent his childhood in a town named Collodi (via Smithsonian Magazine). He later took this on as his pen name. Collodi, however, did not always intend to become a writer. Another article from Britannica writes that he first attended a seminary and was set to become a Catholic priest. In 1842, he left the school, went to college, and upon graduating, found work at a bookstore. It's during this time that Collodi became involved in the unification of Italy and began writing.
Carlo Collodi started out as a journalist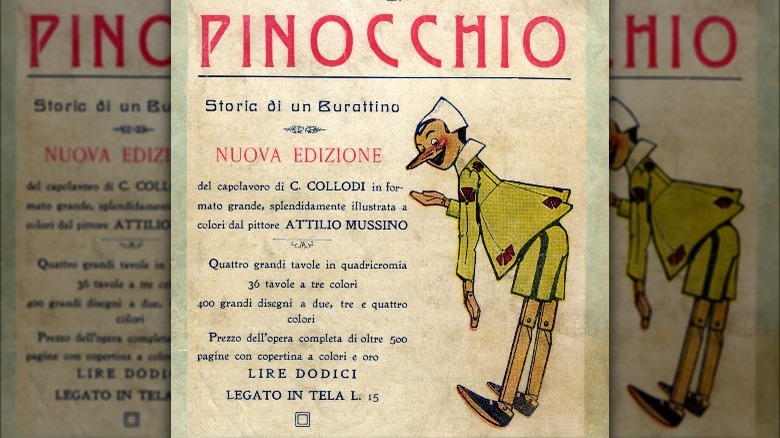 Fototeca Storica Nazionale./Getty Images
Britannica reports that Collodi turned to journalism in order to support Italy's unification, bringing together numerous small independent entities into one nation. Per Smithsonian Magazine, he first founded "Il Lampione," a satirical newspaper that translates into "The Streetlamp." However, when this was shut down by the government, Collodi created another newspaper called "Lo Scaramuccia" or "The Controversy." But by 1861, Italy had been unified and Collodi turned his attention to children's stories. Macmillan Publisher notes that he did this to further explore writing about politics. Nocloo states that prior to its publication as a book, "The Adventures of Pinocchio" was a 35-installment series that was first serialized in the "Giornale dei bambini" (via Britannica).
According to NBC News, Collodi named his titular character after a village that his father lived in that was formerly known as "Pinocchio." Now called San Miniato Basso, it's believed that Collodi was inspired by both the town and its inhabitants. At its core, "The Adventures of Pinocchio" serves to demonstrate what can happen to disobedient children; nothing good comes to children who are selfish and act out (per Slate). Beyond this concept, Smithsonian Magazine explains that the story also had political undertones that Collodi directed toward parents. This included satirizing the government and pointing out its failures through Pinocchio's many misfortunes. Collodi also hoped that it would show children the importance of education.
The original story was much darker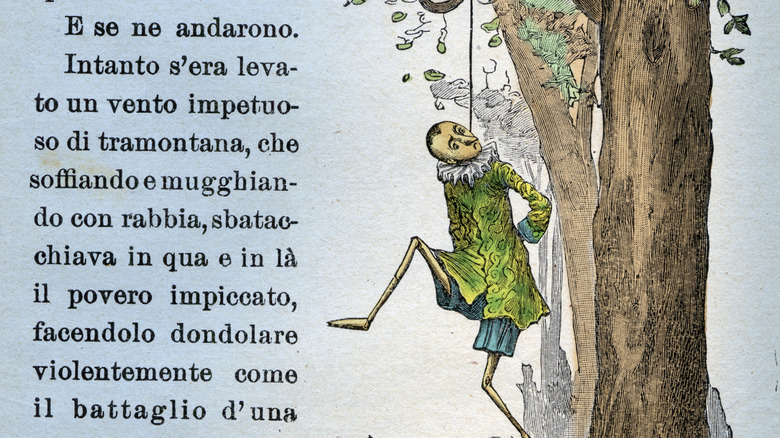 Fototeca Storica Nazionale./Getty Images
Britannica writes that Disney's 1940 film "Pinocchio" is not an accurate representation of Collodi's famed novel. According to Slate, Collodi did not like children and never had any of his own. While Disney reimagined Pinocchio as a naive yet lovable puppet that wished to become a real boy, Collodi wrote that the character was a "disgrace" and "confirmed rogue." In his story, Pinocchio is cruel to Geppetto and even kills the character known as The Talking Cricket. Furthermore, Smithsonian Magazine states, at different points in the story, Pinocchio is nearly thrown into a fire, nearly cooked, and is tossed into the ocean to drown. He is also starved, beaten, jailed, and much more.
"The Adventures of Pinocchio" did not originally have a happy ending. Per Smithsonian Magazine, Collodi ended his story by having Pinocchio violently hanged. Ultimately, he revised it to ensure that readers and children were content with Pinocchio's resolution (per CBS News). Instead of dying, Pinocchio is saved by the Fairy with Azure Hair (via Britannica). Although he once again goes down the wrong path, Pinocchio eventually gets it together and cares for Geppetto. The Fairy rewards his good deeds by turning him into a real boy. Carlo Collodi, however, never lived long enough to see the impact of "The Adventures of Pinocchio." He died in 1890 at the age of 63, before his timeless tale became an international hit.