The Bizarre Story Behind The Death Of John McAfee's Neighbor In Belize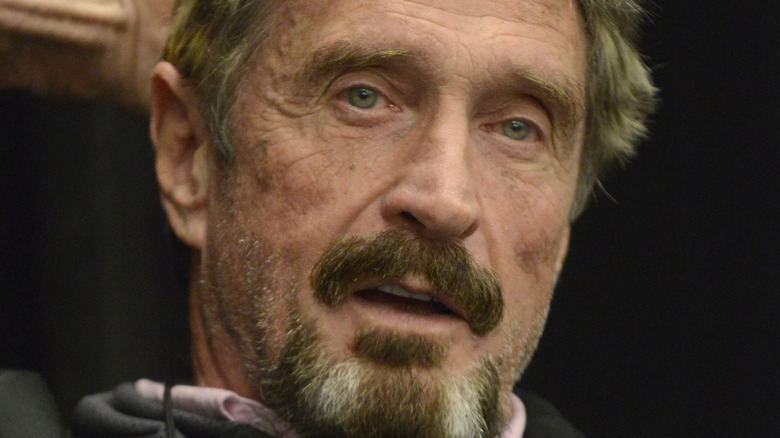 Tim Mosenfelder/Getty Images
Most computers nowadays need some kind of antivirus software. Given how many viruses are running rampant on the internet, protection is just about the one thing everyone should do. With that being said, most people arguably aren't even aware of the people behind the software they use, the lives they lead, or the controversies that they entail. One such antivirus creator who lived a rather colorful and highly controversial life was the late John McAfee. As Australian Broadcasting Corporation News says, McAfee was quite eccentric and possibly paranoid. Having built up a considerable social media following, McAfee telegraphed his anti-government and conspiracy theorist hysteria to the world. 
McAfee was eventually arrested in Barcelona, Spain in 2012 for U.S. federal tax evasion, as NPR reports. From the years 2014 to 2018, he did not file any tax returns. He was held in prison while awaiting extradition to the United States to face the tax charges, which potentially could have earned him 30 years in prison. Before that could happen, he was found dead in his prison cell, an apparent suicide, on June 23, 2021.
It was the latest in a long string of outlandish, often violent, behavior. That included McAfee regarded as a suspect of interest in the murder of his Belize neighbor, Gregory Faull.
If you or anyone you know is having suicidal thoughts, please call the National Suicide Prevention Lifeline by dialing 988 or by calling 1-800-273-TALK (8255)​.
Who was John McAfee?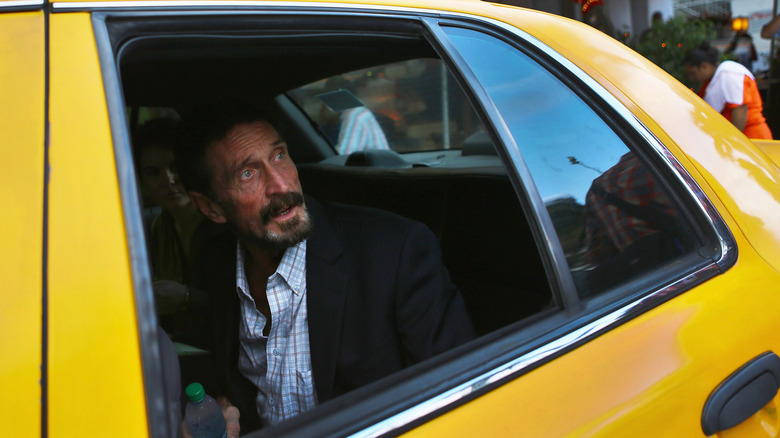 Joe Raedle/Getty Images
John McAfee was born on September 18, 1945, in the U.K., and founded the company McAfee in 1987. His was the name behind arguably one of the most controversial antivirus programs: McAfee Antivirus. That wasn't his only claim to digital fame. As Wired explains, McAfee was actually involved in helping to create one of the earliest known social media networks: PowWow, an AOL Messenger competitor. PowWow used frankly offensive caricatures and stereotypes of Native American cultures to sell itself, including the name of the website, Tribal Voice, appropriating indigenous aesthetics for its branding.
McAfee had also posted numerous controversial takes on social media, including Twitter. As the Indian Express says, McAfee was an avowed libertarian until his death, being as politically active as he was scandalous. He made a couple of stabs at running for president of the United States, including 2015, as a candidate from what he termed the Cyber Party (per NPR).
The strange story of Gregory Faull's death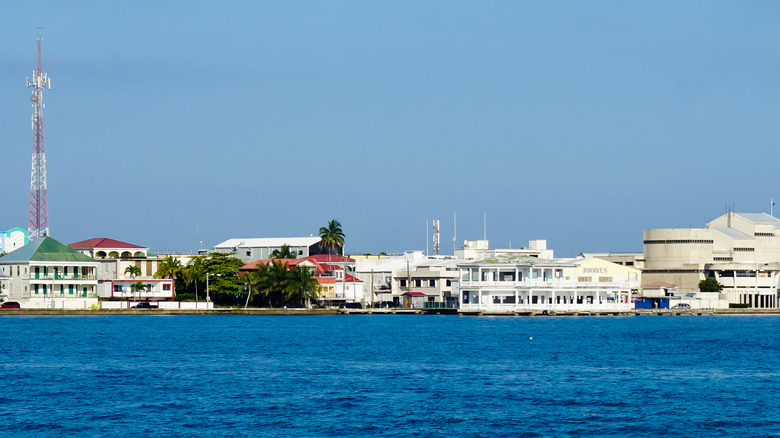 Yingna Cai/Shutterstock
He sold his stake in his software company in the 1990s, according to Sky News. Much of his fortune was wiped out in the 2008 stock market crash, and he then moved to an island off the coast of the Caribbean nation of Belize. Gregory Faull, one of McAfee's neighbors during his time in Belize, was found dead on November 11, 2012. The official cause of death was a bullet wound to the back of his head. As Bloomberg says, the conflict might have been intrinsically linked to McAfee's frequent spats with Faull. One such argument involved MacAfee's dogs, which were reportedly dangerous and had even attacked a tourist once, enraging Faull enough to threaten to poison them. 
One of McAfee's dogs actually did get poisoned, and only a few days before Faull's death. McAfee was reportedly found buried in the sand when police came to question him about the murder. McAfee then fled Belize for Guatemala, which he admitted made him look guilty. As Australian ABC News says, Faull's family filed suit against McAfee, and he was ordered to pay $25 million for the wrongful death of Faull. It was never paid.
The documentary "Running with the Devil: The Wild World of John McAfee" is now streaming on Netflix. The trailer is posted on YouTube.