The Great Lengths John McAfee Went Through To Avoid A Murder Charge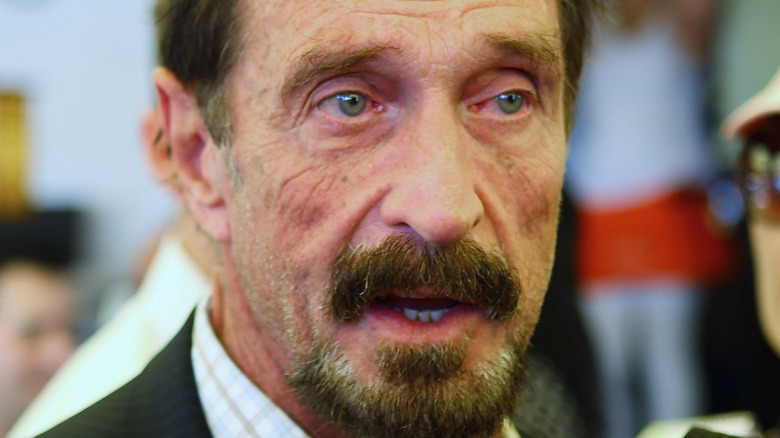 Joe Raedle/Getty Images
In 1987, John McAfee launched an anti-virus software that still bears his name (via Reuters). Prior to this, Esquire reports, he worked for NASA, Xerox, and more. However, it would be the development of his McAfee antivirus that brought him immense notoriety and fortune (per the BBC). Later in life, the tech-mogul became infamous for his bizarre behavior and lengthy legal issues. In 2008, McAfee moved to the country of Belize and into a mansion on Ambergris Caye beach. In November 2012, McAfee's neighbor, Gregory Faull, was violently murdered in his home. All eyes were on McAfee, as the two had been involved in a dispute.
Per The Cinemaholic, Faull was a 52-year-old Navy Veteran from West Virginia. Court documents (via FindLaw) later revealed that Faull lived in the house adjacent to McAfee's. The documents go on to say that McAfee had armed guards at his property and up to 12 violent dogs. One of these dogs reportedly attacked a tourist, which resulted in Faull confronting McAfee about his problematic pets.
Shortly after, some of McAfee's dogs were poisoned and days later, Faull was found dead at his home. An autopsy report stated that Faull died from "brain damage due to injuries sustained from a gunshot wound to the head" (per Radio Times). When investigators heard about McAfee and Faull's animosity towards each other, they decided to speak to the tycoon. But as Esquire explains, McAfee was gone; he had fled to Guatemala.
He faked a heart attack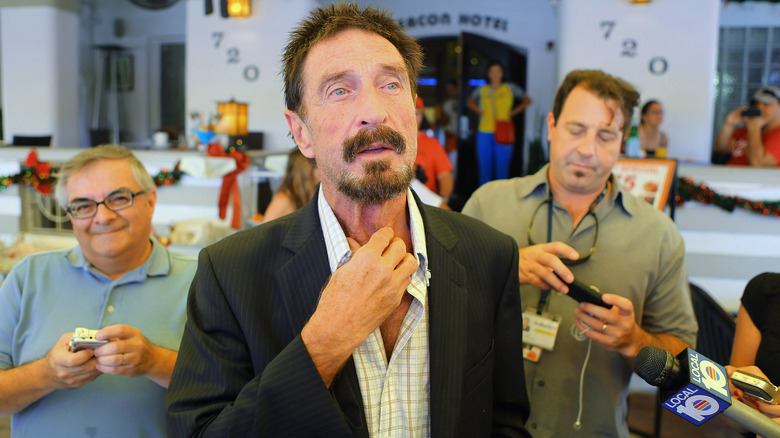 Joe Raedle/Getty Images
According to Esquire, McAfee left Belize because he believed that he would be murdered by the government if he was questioned for Faull's murder. The BBC writes that despite the bad blood between the two neighbors, McAfee maintained that he was innocent. He added that he did not think that Faull had been the one who had poisoned his dogs. Meanwhile, the prime minister of Belize responded to McAfee's claims by saying that McAfee was "bonkers" (via Reuters). McAfee arrived in Guatemala hoping to receive asylum. Instead, officials decided that they were going to deport him back to Belize for illegally entering the country. McAfee, however, was not going to go down without a fight.
To avoid deportation and being questioned about Faull's murder, CNN reports, McAfee decided to fake a heart attack. This allowed his attorney to file numerous appeals which ultimately led to his deportation to the United States. McAfee, per The Guardian, was raised in the U.S. but was born in Britain on an American air base to an American father. He was adamant that he was innocent and fearful. He told reporters, "There is no hope for my life if I am ever returned to Belize." McAfee later admitted to faking the heart attack to be able to return to his home country. He told ABC News, "It was a deception but who did it hurt? I look pretty healthy, don't I?"
John McAfee was never charged with murder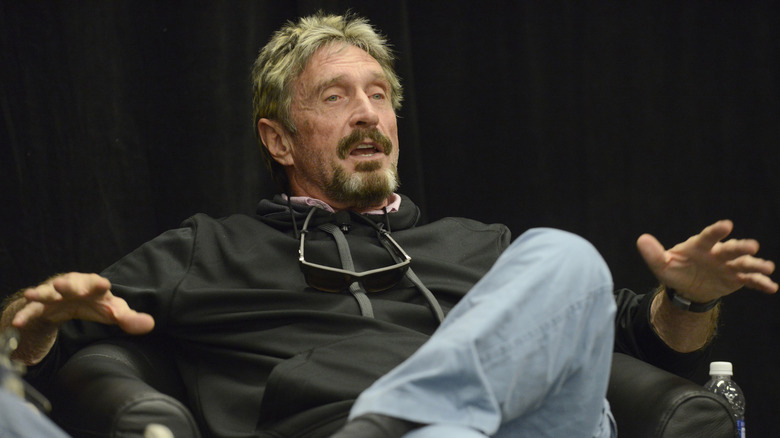 Tim Mosenfelder/Getty Images
Radio Times reports that despite being a person of interest in Faull's murder, McAfee was never charged with any crime. However, Faull's family pursued legal action and filed a wrongful death suit in Florida against McAfee. Per court documents (via FindLaw), Faull's family alleged that McAfee hired a "local violent male" to kill Faull. In 2019, a judge ordered McAfee to pay Faull's estate $25 million (per the BBC). Per Radio Times, he did not comply and insisted that he was broke. He added, "I was never charged with murder by Belizean authorities or any other authority. It was a suit based entirely on media reporting."
Although McAfee walked free, Esquire writes that his legal issues did not end there. The BBC explains that his behavior also became more and more erratic. McAfee was then accused of being involved in a cryptocurrency scheme and not paying millions in taxes between 2014 and 2018. In October 2020, he was arrested in Spain and was set to be extradited back to the United States to face charges.
Before this could happen, Reuters states,  McAfee killed himself in his Barcelona prison cell on June 23, 2021. Then 75, he had previously told a Spanish court that returning to the United States meant that he would most likely spend the rest of his life in prison. According to Esquire, McAfee has yet to be laid to rest; his body is still in a morgue in Spain. Per The Cinemaholic, Gregory Faull's murder remains unsolved. The documentary "Running with the Devil: The Wild World of John McAfee" is now streaming on Netflix; the trailer is posted on YouTube.
If you or anyone you know is having suicidal thoughts, please call the National Suicide Prevention Lifeline by dialing 988 or by calling 1-800-273-TALK (8255)​.