John McAfee's Girlfriend Has An Eye-Opening Theory About What Really Happened To Him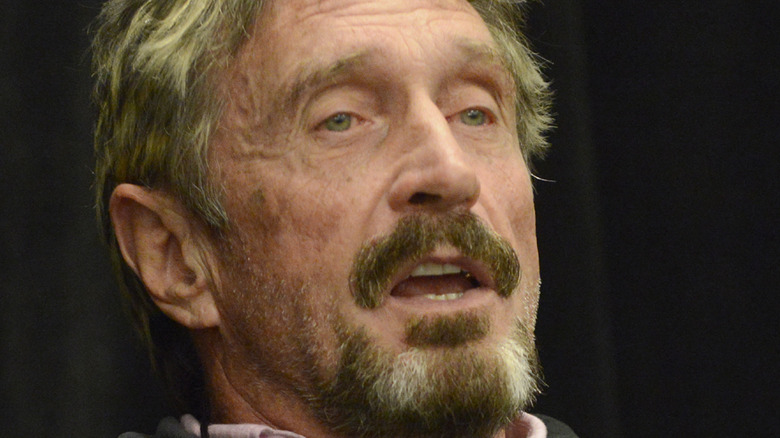 Tim Mosenfelder/Getty Images
If you look closely enough through the files and icons on your computer, you may see the word "McAfee" in there somewhere. That's because the first commercial anti-virus software was created by a man named John McAfee (above), according to The Wall Street Journal, and software bearing his name is still produced and sold.
He ran twice for the Libertarian Party nomination for president, unsuccessfully, according to Reason; he made and lost several fortunes; he spent some time in the Caribbean country of Belize, where he was accused of murder, which he blamed on the country's corrupt government. He then made his way to Spain, only to die in a Barcelona prison cell while awaiting extradition to the U.S. on tax evasion charges.
Except maybe he didn't actually commit suicide in that Spanish cell. His former girlfriend, Samantha Herrera, certainly doesn't think so (per Decrypt), and she claims that he was in contact with her after his "death."
John McAfee's 'suicide' In Spain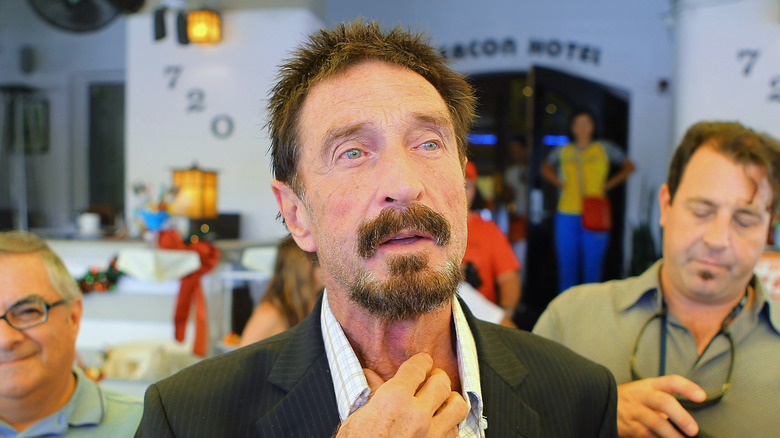 Joe Raedle/Getty Images
McAfee spent much of the last years of his life on the run from the law, and specifically, from the law in the United States, where he'd been facing tax-evasion charges, according to Reuters.
On October 3, 2020, McAfee was arrested at the Barcelona airport trying to board a flight to Istanbul on a British passport. A few months later, after it became clear that Spain was willing to extradite him to the U.S., he was dead. Officially, he died by suicide in his prison cell, brought to despair at the months he'd spent incarcerated and by the fact that, being in his 70s at the time, if he was convicted of tax evasion, he knew there was a good chance he'd spend the rest of his life in prison. At least, that's what his lawyer said.
McAfee, for his part, had suggested that if he turned up dead in Spain, it wouldn't have been by his own hand. As Reason reports, at one point while incarcerated he tweeted, "Know that if I hang myself, a la Epstein, it will be no fault of mine."
Samantha Herrera's theory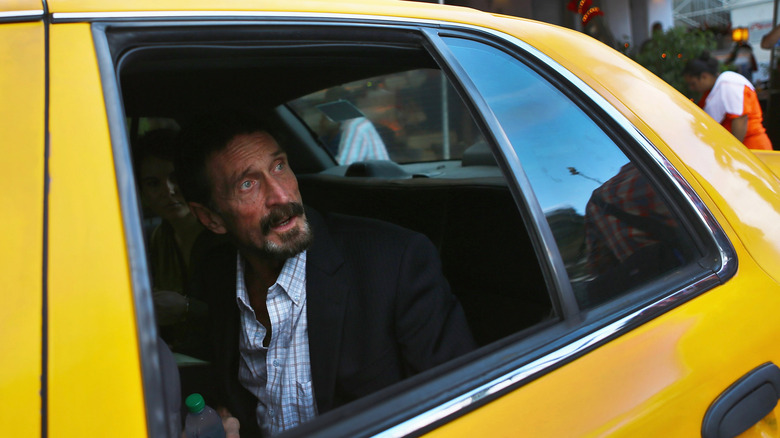 Joe Raedle/Getty Images
Samantha Herrera, who carried on a romantic relationship with McAfee while he was in Belize (per the New York Post), believes neither that the businessman killed himself in Spain, nor that Spanish jailers hastened along his death. Rather, she believes that he faked his death and is alive and well, in Texas of all places. "I don't know if I should say, but two weeks ago, after his death, I got a call from Texas: 'It's me, John. I paid off people to pretend that I am dead, but I am not dead,'" she claims.
Charlie Russell, who directed the Netflix documentary about McAfee, "Running With the Devil: The Wild World of John McAfee," isn't buying it. As he told Esquire, he's of the opinion that McAfee promised the Belizian woman the world and then left her high and dry, and she's still salty about it. "I can't work out whether she thinks it's real or not. She's someone who was very angry at John," he said.