The Arrest That Led To David Bowie's Iconic Mug Shot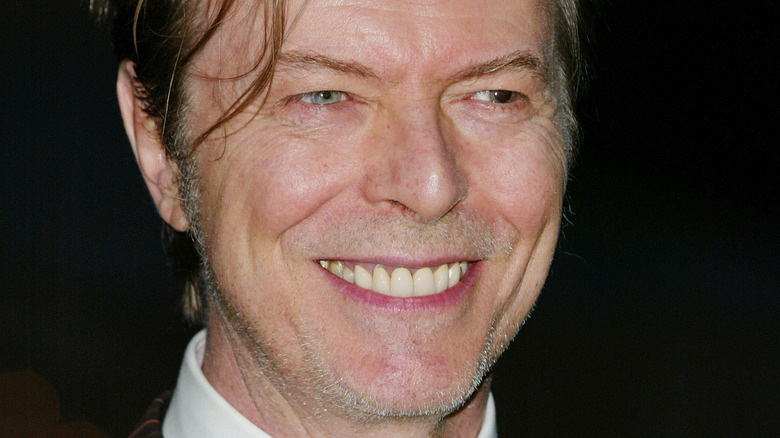 Evan Agostini/Getty Images
In 1976, David Bowie was going through something of a transitional phase. One of the most prominent rock musicians in the world, he had killed off his greatest creation, Ziggy Stardust, in spectacular fashion by announcing his retirement on stage in 1973. Bowie remained in music, but he now insisted that he was moving on from Ziggy. However, the rock star was struggling to find his feet, with Aladdin Sane — the titular character of his 1973 album with its instantly recognizable cover — basically nothing more than a darker Ziggy Stardust in style and appearance. The character that came next, Halloween Jack, was the persona through which Bowie created "Diamond Dogs," though neither Jack nor the album were considered breakthrough successes compared to the Ziggy era.
However, by the mid-70s, Bowie had begun to move away from glam rock towards a greater fusion of influences that he described as "plastic soul," and also emerged with one of his great stage personas, The Thin White Duke, whose presence is felt on the 1975 album "Young Americans" — featuring Bowie's first American No. 1 single, "Fame" — but who truly takes center stage in the album to follow, "Station To Station."
Bowie was crafting the sound that would make him the worldwide rock superstar he would eventually become. However, not everything was going his way; one of the biggest Bowie stories of the year involves his shock arrest in Rochester, New York, when, facing felony drug charges, he effortlessly produced one of the coolest police mugshots in existence.
A mid-tour bust
Though David Bowie was yet to hit the commercial heights of 1983's "Let's Dance" in the United States, his 1976 North American tour nevertheless attracted plenty of attention. According to Classic Rockers, the tour, titled "Isolar," strikingly gave flesh to Bowie's Thin White Duke era, and blended the new music of Bowie's plastic soul era, especially that on "Station To Station," with past hits from albums such as 1972's "Hunky Dory."
Performing for tens of thousands of fans every night, Bowie was at the height of his powers, cutting an elegant but imposing figure on stage. But behind the scenes, Bowie and his new friend Jim Osterberg — aka The Stooges' Iggy Pop — were each dealing with their addictions: cocaine and heroin respectively. As noted by Far Out, it was on this tour that the famously drug-taking musicians were looking for a way to get clean, with Berlin looking like a likely destination for both musicians.
So it was ironic, then, that the pair were busted by Rochester police for possession of marijuana, a drug with which neither was particularly associated. The charges were later dropped. That Bowie got away with what was then a felony is perhaps explained in recently unearthed footage (above), in which the rocker, speaking to the press, is the image of politeness, praising the police as "gentlemen" and being thankful for the good treatment they had given him, while his lawyer explains that Bowie has never been "involved in drugs" in his life.
Bowie's Rochester mugshot resurfaces
The existence of David Bowie's iconic 1976 mugshot has long been known to fans of the Starman, who prize it among the great Bowie photos from press releases, album sleeves, and live performances. But the shots were in the news again back in July 2022, when it was announced that the original mugshots had been put up for auction. 
As the auction house, Ewbank's Auctions, explained in their listing: "The vendor's cousin's husband was a gentleman called Scott. He was the officer who fingerprinted and photographed David Bowie. He gave it to the vendor personally as a wedding present as he knew he was a Bowie fan. The vendor has been in possession of this photo for 46 years and has safely kept it hidden away."
According to Rolling Stone, the photo was expected to sell for around £1,500 ($1,750), but the lot exceeded expectations. Per Ewbank's, when the hammer fell, David Bowie's famous mugshot had sold for £3,800 ($4,460).