What Happened To John McAfee's Widow Janice Dyson?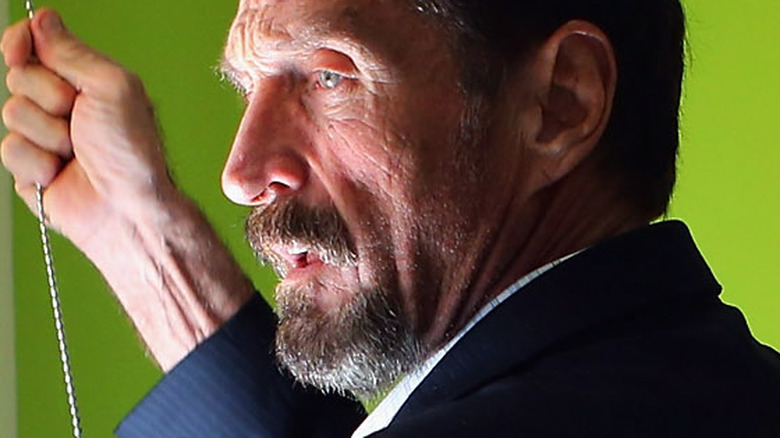 Joe Raedle/Getty Images
John McAfee's life was arguably one of the strangest stories in tech mogul history. As reported by ABC News, the McAfee software creator gained public notoriety back in 2012 when he became a person of interest involved with the murder of Gregory Faull, who was his neighbor at the time in Belize. Faull and McAfee had gotten into various disputes as neighbors, most notably over McAfee's dogs. Reportedly, the dogs were often left unchained and allowed to threaten people passing by, particularly Faull. Apparently, McAfee didn't heed the warnings of Faull, which is when the tensions between the two hit a breaking point: McAfee's dogs were found dead and poisoned soon after. Not long after that, Faull was also found dead with a bullet wound to the back of his head. 
The Netflix documentary "Running with the Devil: The Wild World of John McAfee," which came out on August 26, covers McAfee's fugitive years and more. McAfee's life was filled with enough oddities and downright bizarre behavior to span many pages and film time. However, one aspect of John McAfee's life that may not have been discussed as much as his controversies, was his widow, Janice Dyson. What happened to Dyson after McAfee's death in 2021?
Who was John McAfee?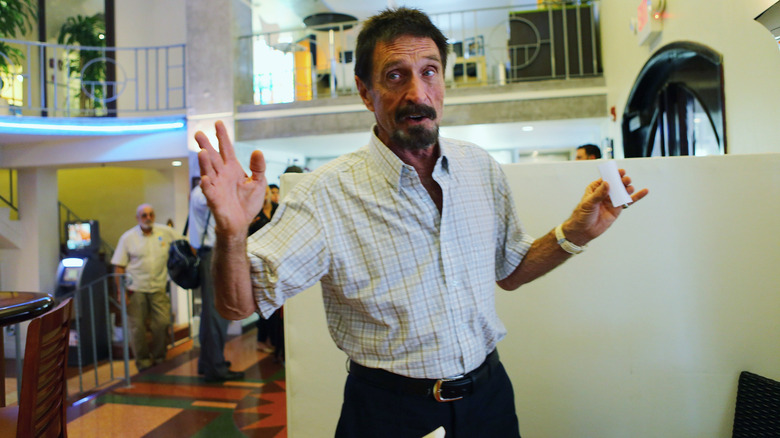 Joe Raedle/Getty Images
John McAfee was one of the most controversial tech moguls ever to exist. Per Esquire, McAfee was most known for the company behind McAfee antivirus, one of the earlier commercial antivirus programs. McAfee, who founded his company in 1987, focused on delivering security software to consumers. McAfee himself would eventually leave the company in 1994, and Intel would go on to buy McAfee the company in 2010 for $7.68 billion.
John McAfee had led various other tech pursuits in his life, such as PowWow, per The Indian Express, one of the earliest known instant messaging/chat platforms —  prescient at a time before Twitter and Facebook.
As for his personal life, two partners are mentioned in "Running with the Devil: The Wild World of John McAfee": Samantha Herrera, who accompanied McAfee in his escape from Belize to Guatemala following Gregory Faull's death, and who split with McAfee sometime before the tech mogul became involved with Janice Dyson, whom he would marry in 2013, per British weekly Radio Times.
According to The Verge, McAfee was arrested and held in Spain the following year in 2020 on tax evasion and securities fraud charges. He would spend the remainder of his life in a Barcelona prison, awaiting extradition. This would never come, however, as McAfee would eventually be found dead on June 23, 2021. The cause of death reported was suicide via hanging in his own cell, though it was not clear whether McAfee himself did this or if someone else had.
If you or anyone you know is having suicidal thoughts, please call the National Suicide Prevention Lifeline by dialing 988 or by calling 1-800-273-TALK (8255)​.
What happened to Janice Dyson?
While a fair amount about John McAfee himself is publicly known, many people might not know about his widow, Janice Dyson. As Republic World reports, Dyson and Mcafee both met each other in 2012. She was an escort at the time and McAfee became a client. Dyson said that McAfee had saved her from trafficking when the two met in Miami Beach, after McAfee got deported (via The Times). Eventually, the two decided to get married in 2013, which helped Dyson get in touch with her son.
According to The Cinemaholic, Dyson currently resides with her three children in San Francisco, California. To this day, Dyson believes McAfee's 2021 death was wrongful, and actively campaigns for justice. As explained by Esquire, much of this story is also told in the Netflix documentary "Running with the Devil: The Wild World of John McAfee," and Dyson believes McAfee did not take his own life, but that he was murdered by someone else. It isn't the first time that such rumors have spread, though there is currently no substantial evidence pointing toward it.