The Truly Horrific Crime Scene Of Laci Peterson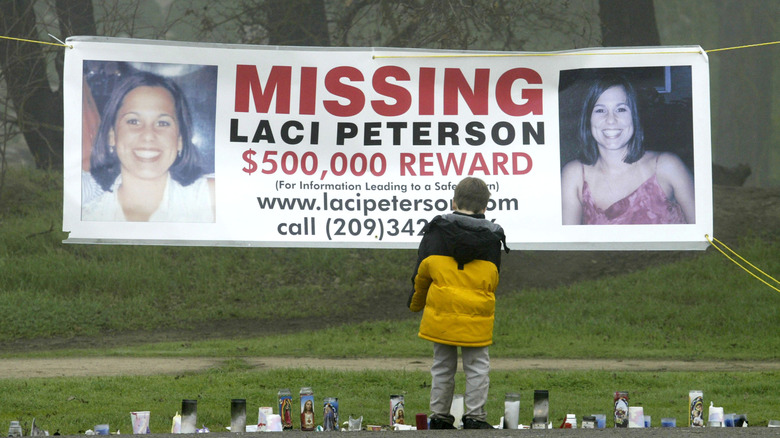 Justin Sullivan/Getty Images
Scott and Laci Peterson seemed like the picture-perfect couple. They had a modest home in Modesto, California, and Scott worked as a salesman while Laci was a substitute teacher. In 2002, Laci became pregnant with their first child, a son who they wanted to name Connor. However, Laci, at 8 months pregnant, was reported missing by her husband on Christmas eve that year, as reported by Fox News. Scott told the authorities that he had breakfast with Laci that morning before heading to the marina to go fishing. Laci, on the other hand, took their dog for a walk. Laci was nowhere to be found when Scott arrived home, and he called Laci's mother to check whether his wife was there, but when no one had seen or heard from her, the authorities were called.
Later in the day, a neighbor saw the couple's dog wandering alone with its leash. The police searched for Laci in areas where she could possibly go, but they never found her. According to Rolling Stone, investigators had a suspicion that Scott had something to do with his wife's disappearance. Furthermore, he declined to take a polygraph test, seemed uninterested in the case, and had some odd behavior that seemed highly suspicious to the police.
Throughout the initial phase of the investigation, Scott spoke to the media and pleaded for help, saying how he was devastated about the situation. Reports about a missing, pregnant woman were constantly on the news and in January 2003, a woman named Amber Frey came forward and claimed to be in a romantic relationship with Scott.
Scott Peterson was arrested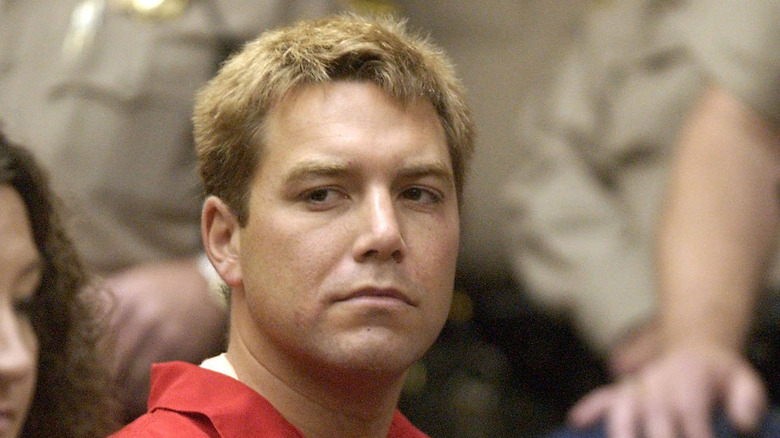 Pool/Getty Images
Amber Frey wasn't aware that Scott Peterson had a missing wife. Instead, he told Frey that he was a widower. Frey started working with the authorities during the investigation and little by little, the inconsistencies in Scott's story were revealed, as noted by Rolling Stone. In April 2003, the decomposed body of a woman and a fetus were discovered on the bay. The autopsy showed that the remains belonged to Laci Peterson and her unborn baby, and an arrest warrant for Scott was issued shortly after.
As reported by the Los Angeles Times, authorities had been closely monitoring Scott's movements for months, as they feared that he might take off. He was driving erratically when he was apprehended near the La Jolla golf course. Inside his vehicle, authorities found clothing, camping gear, missing person flyers for Laci, a few cellphones, Viagra pills, and about $15,000 in cash (via People). His appearance had also changed, as he grew a beard and dyed his hair blonde. Scott was charged with two counts of felony murder under special circumstances and was held without bail; he pleaded not guilty. In addition, Laci's family also filed a civil lawsuit against Scott in order to prevent him from receiving monetary compensation for selling his story to the media. The prosecution stated that Scott murdered Laci to escape his marriage and fatherhood. They claimed that he tossed Laci's body in the water when he went to the marina on the day he reported his wife missing.
Details about the crime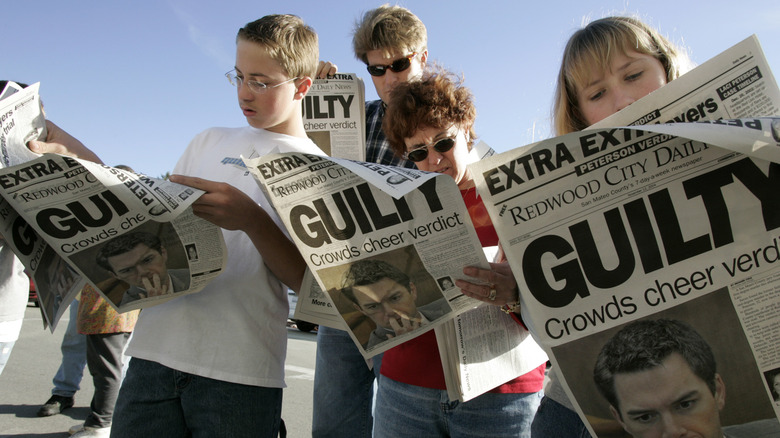 David Paul Morris/Getty Images
The discovery of Laci Peterson's body revealed the gruesome way her body was discarded. The doctor who performed the autopsy could not determine Laci and the baby's cause of death, but her body was found beheaded and missing all limbs, as reported by ABC News. Although Laci's remains were severely decomposed, the baby's skin was still intact. Nylon tape was wrapped around the baby's neck, and there was a laceration on the body. The same type of tape was found on Laci's torso.
Dr. Michael Bade, a forensic pathologist, believes that Laci was dismembered before her body was thrown into the water. The fetus most likely stayed in Laci's womb when she was killed and was expelled shortly before the bodies were discovered. It's a phenomenon known as coffin birth, and it occurs when the gasses build up in a pregnant woman's corpse, which causes the fetus to be expelled from the body (via Encyclopedia). In addition, a makeshift anchor was found on Scott's boat. It was made using a cement block, and investigators believe he used the same type of anchor to weigh down Laci's body when he tossed her in the water, as reported by Radar Online.
Scott Peterson is currently serving a sentence of life in prison without the possibility of parole for the first-degree murder of Laci and is concurrently serving a 15-year sentence for the second-degree murder of his unborn son, Conner, per NBC News.