The Truth About Robert Plant's Relationship With Phil Collins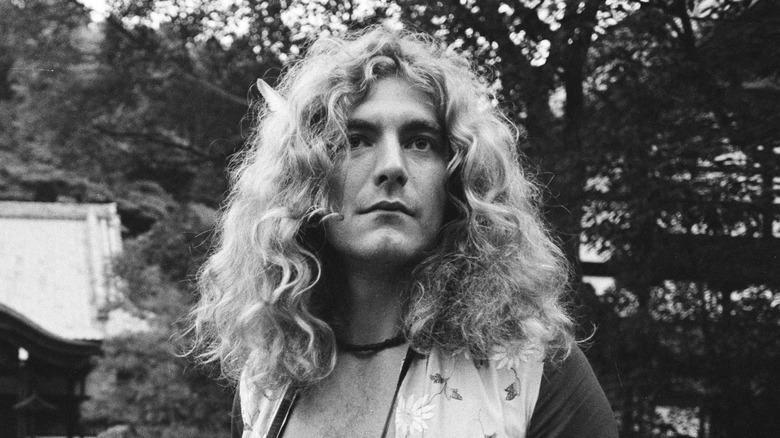 Koh Hasebe/shinko Music/Getty Images
The self-proclaimed "Golden God," Robert Plant, has had a long and distinguished career, crossing paths with a plethora of colorful characters along the way. As an integral member of Led Zeppelin, this heavy metal juggernaut drove rock music to astronomical heights of success and excess throughout the '70s, spawning seven No. 1 albums in the United States and their native United Kingdom (via Music Times).
In the decades since, Plant has experimented with a variety of musical forms over the years, never satisfied with being bound to one genre. Plant has demonstrated time and again that he isn't a musician who can be easily confined as an artist, as evidenced by his dabbling in Persian and Moroccan music and his most recent explorations into bluegrass, folk, and country.
In a similar spirit, Phil Collins is as prolific a songwriter as they come. Following his triumph as the drummer-turned-vocalist figurehead of the iconic prog-rock band Genesis. Collins, like Plant, has had a famous and celebrated career spanning six decades and a multitude of genres that has defied pigeonholing. Collins leaves an impressive legacy in the annals of music history, having collaborated with virtually everyone.
Given the traditional cliché that "birds of a feather flock together," how familiar were Robert Plant and Phil Collins during the peaks of their success? Moreover, how well did they get along? And what do they think of each other today? 
Whole Lotta Love?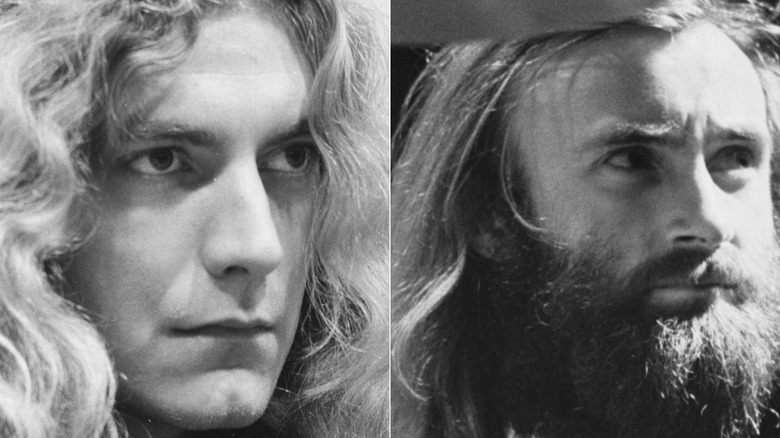 Graham Wood & Koh Hasebe/shinko Music/Getty
Amateur rock historians may recall Robert Plant and Phil Collins sharing a platform during Led Zeppelin's infamous return to the stage in July 1985 during a televised "Live Aid" performance in Philadelphia's JFK Stadium, which 1.5 billion people tuned in to watch (per Britannica). Although much has been written about Live Aid and its effectiveness in the decades since, the return of Led Zeppelin was just as heralded as the Second Coming. Collins, who famously performed twice that day, jetting across the Atlantic to sit in with Led Zeppelin, would lament his decision when asked about it years later (via Far Out).
This wobbly performance in front of the world, labeled "disastrous" by all who played would lead to a tumultuous relationship and bitter feud between Collins and lead guitarist Jimmy Page. The band stoically made it through a sloppy 20-minute show, plagued from the start by monitor failures, out-of-tune guitars, a lack of rehearsals, and a hoarse Robert Plant. The band was so dissatisfied with their performance that they refused to allow it to be used on the subsequent "Live Aid DVD." When asked how he thought the concert went during an awkward backstage interview with MTV following the performance, Plant would diplomatically respond, "the three of us [Led Zeppelin] know what we're doing, and everybody who assisted us did their very, very best" (Youtube).
Years later, Colins would recall his role in this tragic incident as being like a "square peg in a round hole" (via Ultimate Classic Rock). Collins told The Daily Telegraph years later that performing with Led Zeppelin was like "nasty alchemy," a reference to Page's characterization of Led Zeppelin coming together as a strange alchemy. "Here's how it is," he continued, "Robert on his own: a lovely bloke. Robert and anything to do with Zeppelin: a strange chemistry happens. It's like a nasty strain of alchemy. Everything becomes very dark – sulfurous even." (via The Daily Telegraph).
With a Little Help from My Friends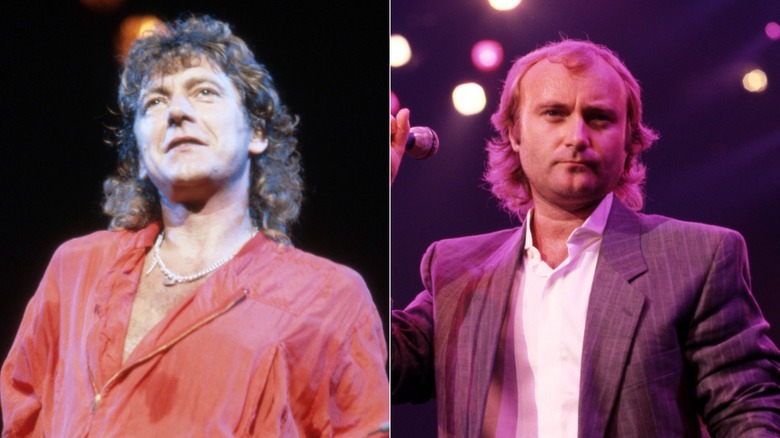 Icon And Image/Getty & undefined
For the sake of transparency, it should be stated that there was no friction between Plant and Collins in the years following the occurrence. In the same interview, Collins maintained that the two were "still friends" (per The Daily Telegraph). Regardless of this minor blip in both musicians' tremendous careers, Plant and Collins' bond dates back longer than the Live Aid debacle and their true relationship is remarkably sweet. What many rock fans may not realize is that Collins was instrumental in getting Plant on the right path after the split of Led Zeppelin in 1980.
Plant was completely adrift musically and emotionally after the death of his son, Karac, in 1977, as well as the death of his best friend, drummer John Bonham in 1980. As Plant told Rolling Stone, "I had lost my son. I didn't want to be a member of Led Zeppelin. I wanted to spend time with my family." Plant would eventually have a change of heart and urge to rise from the ashes of Led Zeppelin. The question was: how? He was on his own without the studio brilliance of Jimmy Page or the virtuoso versatility of John Paul Jones. Phil Collins appeared to be the answer to this moral and musical quandary.
Collins, a Bonham admirer, urged Plant to make his solo album and even offered to participate in on the drum sessions for his first solo album, "Pictures at Eleven," released in 1982. All of this was happening while "In the Air Tonight" was making major waves on radio stations all around the world. Plant reveals in his own podcast, "Digging Deep: The Robert Plant Podcast" how much of an enthusiastic powerhouse Collins was throughout these sessions, which inspired the newly solo singer to keep going. He goes on to say that Collins taught him a lot about the patience and concentration necessary of a solo artist making an album.
Plant and Collins' collaboration was so successful that Collins played on Plant's second album, "Principle of Moments," which was released a year later in 1983. To promote the album, Collins even embarked on a leg of the North American tour with Plant. Plant would go on to remark in this 2019 podcast, "I was certainly and admirably aided by Phil Collins." He went on to call Collins a "spirited, positive, and really encouraging force." As you can see, the relationship between these two titans is one of mutual appreciation, respect, and, at its best, solidarity, which persists today.