The Scary Truth About Jason Momoa's Facial Scar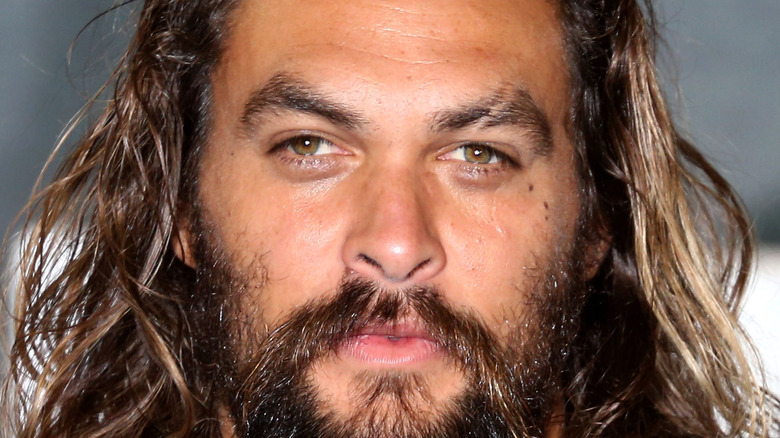 Cubankite/Shutterstock
Jason Momoa is having his moment in the sun, consistently earning spots in Hollywood's biggest franchises. After his career began with "Baywatch" and "Stargate: Atlantis" in the early 2000s, he rose to true prominence playing Khal Drogo in "Game of Thrones." After that he was cast as Aquaman in several D.C. films, played a role in the 2021 epic "Dune," and is currently filming "Fast X," the 10th "Fast & Furious" flick (via IMDb).
Momoa has several memorable physical traits, first and foremost his 6-foot-4 stature. He long ago bulked up for action roles, and typically sports long hair. Add in piercing eyes, good looks, and Native Hawaiian heritage, and you'll have many filmgoers weak in the knees. But one of his most iconic and noticeable features has a rather dramatic story behind it. A large scar cuts his left eyebrow in half. How did that happen, and when did he get it?
140 Stitches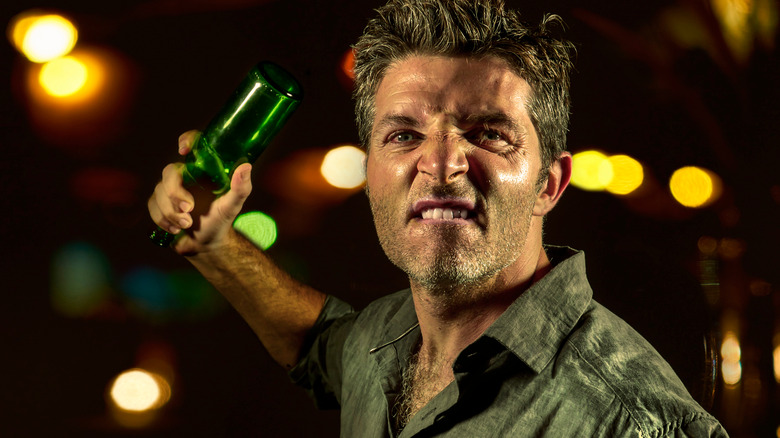 TheVisualsYouNeed/Shutterstock
In 2008, Jason Momoa was enjoying himself at the Bird Cafe in Hollywood. Then a man, who Momoa later suspected was in a gang initiation, picked a fight and attacked the actor (via Men's Health). He smashed a pint glass against Momoa's face, shattering it and slicing into his brow. The man injured his hand and, after the scuffle was broken up, was arrested for assault and later sentenced to five years in prison. Momoa had surgery, remembering, "I got a little over 140 stitches in my face... It was crazy."
Fans and writers alike credit the scar with helping him land his ensuing tough guy gigs, firstly the title role in 2011's "Conan the Barbarian." And Momoa appreciates the change. "I got called 'pretty boy' my whole life. If anything, it's like, 'Good.' It's not my thing now." We're glad it's worked out for him, but more glad he didn't lose an eye. The assault could have been much worse.
Aquaman Doesn't Order Water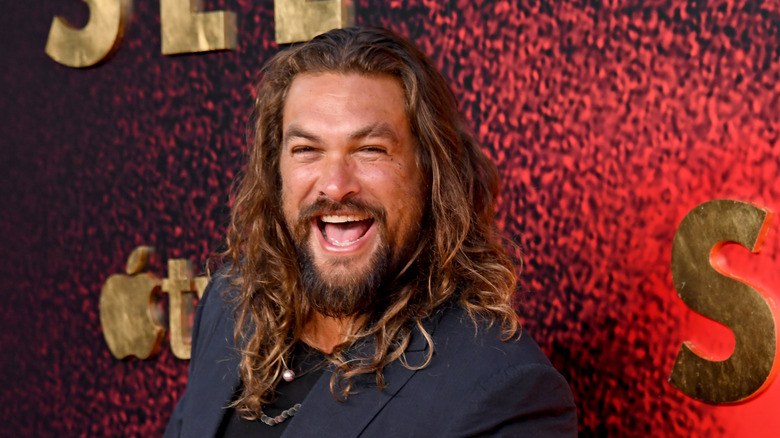 Jon Kopaloff/Getty Images
Jason Momoa has had his fair share of bar-related press. In 2022, at the Bowery Hotel in New York, a drunk patron was out of control. He drank from other people's glasses, insulted the staff, and refused to leave with security (via Toronto Sun). Suddenly two massive arms locked around the troublemaker. "Who the f*** are you?" the man shouted. It was Jason Momoa, who threw the man over his shoulder and marched him out of the bar, to the wild cheers of the crowd.
The year before, Momoa was in the tabloids after coming out of Nomad Bar in London, shoeless, at 2:30 in the morning with a woman who was definitely not his wife (via Radar Online). But they were not alone. Clearly having plenty to drink that night, Momoa was goofily grabbing onto a male friend. The actor later took to Instagram to explain the woman was simply his assistant and cousin.