The Reason You Can't Visit Merle Haggard's Gravesite
Frazer Harrison/Getty Images
When country music legend Merle Haggard died of double pneumonia on April 6, 2016, the prediction he'd made proved to be true. According to a Facebook post by his son Ben Haggard, made an hour after his father died, "A week ago dad told us he was gonna pass on his birthday, and he wasn't wrong. A hour ago he took his last breath surrounded by family and friends." Haggard was exactly 79 years old. Tributes from fellow country and western luminaries rolled in, as reported by the Chicago Tribune. Willie Nelson, who in 1983 sang with Haggard on their hit cover of the Townes Van Zandt song "Pancho and Lefty," said, "He was my brother, my friend. I will miss him." Dolly Parton was quoted as saying, "We've lost one of the greatest writers and singers of all time. His heart was as tender as his love ballads." 
A small yet star-studded funeral took place three days later at Haggard's California family ranch, per Taste of Country, presided over by another country icon and friend, Marty Stuart. Haggard's famous tour bus, the Silver Chief, was on display behind the proceedings and the ceremony included performances by members of his backing band, the Strangers, Haggard's wife Connie Smith, and singer-songwriter Kris Kristofferson, who was joined by Willie Nelson's son Micah for a performance of "Pancho and Lefty." Haggard's six children finished the memorial with their own rendition of one of their father's signature tunes, "Today I Started Loving You Again."
From San Quentin Prison to the Bakersfield Sound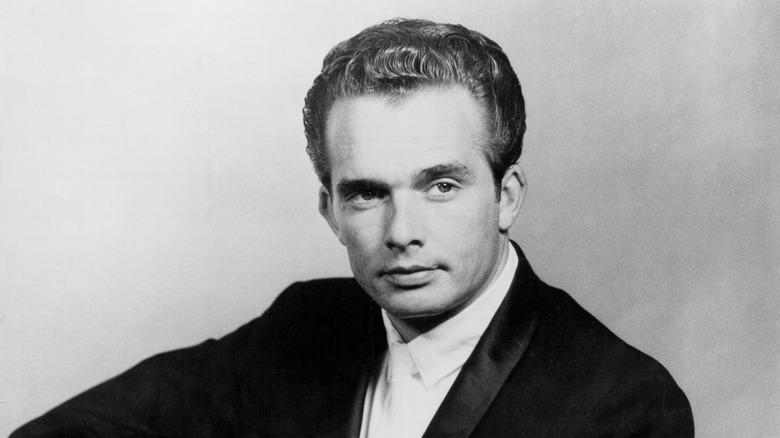 Michael Ochs Archives/Getty Images
Merle Haggard was born April 6, 1937 in Bakersfield, California to parents who had relocated from Oklahoma, per the Chicago Tribune. Merle was just 9 years old when his father died. Young Haggard then embarked upon a life of juvenile delinquency and at age 18 was sentenced to a prison term of 15 years for burglary in San Quentin State Prison. He served just two years, but was an inmate when Johnny Cash played his famous concert at San Quentin, as preserved on the live album "At San Quentin." In fact, Cash would later say to Haggard, "Merle, you're what people think I am." Upon his release, Haggard started going to and singing at country music clubs in Bakersfield, California, where performers like Buck Owens were putting their own spin on the genre with "the Bakerfield sound," which emphasized grittier, more no-nonsense music over the more polished sound coming out of Nashville.
Owens later said of Haggard, "He could sing any way he wanted to. ... He had full control of his voice." Haggard had some regional hits before signing to Columbia Records in 1965. He went on to write and perform a slew of country music classics like "Mama Tried" and "Sing Me Back Home." His 1970 song "Okie From Muskogee" became a signature Haggard song and was embraced as an anti-hippie anthem by self-proclaimed "rednecks." Haggard would later imply that the song was written tongue in cheek and he remained admired by fans and fellow performers from across the political spectrum.
Where is Merle Haggard's grave?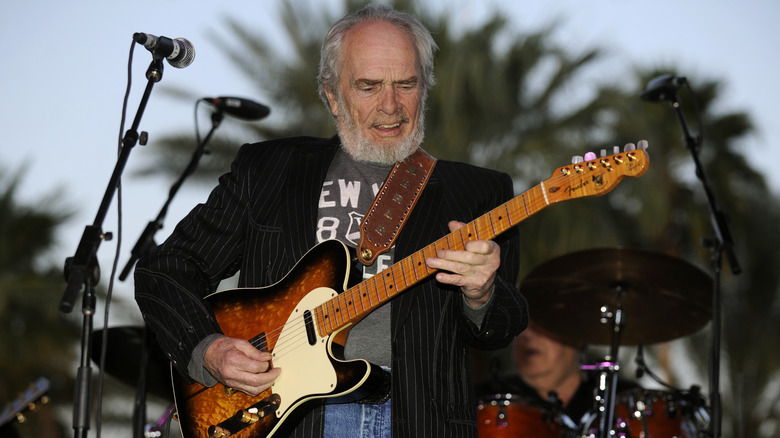 Tim Mosenfelder/Getty Images
Per Find A Grave, Merle Haggard's grave is located where his memorial service took place: the Haggard Family Ranch Cemetery in Shasta County, California. As the ranch remains a private home, his grave isn't open to the public for visitation. There's also apparently an ongoing controversy surrounding the interment of Haggard's ashes. In January 2022, WJBD featured a conversation with writer Marc Eliot, author of the biography "The Hag: The Life, Times, and Music of Merle Haggard." According to Eliot, in the course of performing research for his book, he discovered that Haggard had wanted to be buried in a family plot alongside his parents in a cemetery in Bakersfield near his hometown of Oildale. 
Eliot claims that he spoke with Haggard's daughter Kelli and friend Frank Mull, who filled him in on the situation. Says Eliot, "His wife had him cremated, and all he wanted was to be put in the family plot with his mother and dad, Jim Haggard. But the wife, the widow, still has the ashes, and there's some kind of dispute going on between whether she will give some to be buried there."
A very public monument to Haggard exists as of 2017, when the Merle Haggard Memorial Overpass was unveiled at the intersection of Interstate 5 and the California State Highway, per Saving Country Music. Additional local geography honoring Haggard include a road and a post office and the refurbished boxcar that served as his childhood home is enshrined at the Kern County Museum in Bakersfield.