These Are Camilla Parker Bowles' Two Children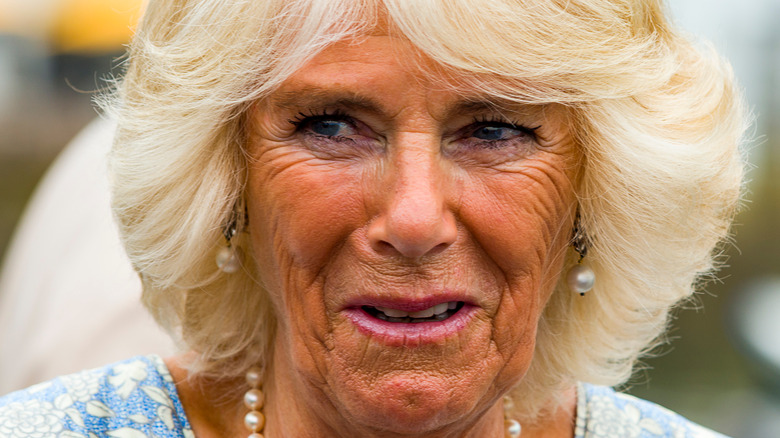 James Pearce/Shutterstock
In February 2022, Queen Elizabeth II announced her support for Camila Parker Bowles to become queen consort after her death (via AP News). At her Platinum Jubilee, she stated (per ABC News), "And when, in the fullness of time, my son Charles becomes King, I know you will give him and his wife Camilla the same support that you have given me, and it is my sincere wish that, when that time comes, Camilla will be known as Queen Consort as she continues her own loyal service." As The Cut explains, Parker Bowles officially became the queen consort after the queen died in September 2022.
Although she lacks any royal power, USA Today writes that as the king's spouse, she is expected to support and provide the king with guidance throughout his reign. As the BBC notes, the journey to becoming queen consort has not been easy for Parker Bowles, as she has largely been blamed for the demise of the marriage between Charles and the late Princess Diana. Town & Country reports that Charles and Parker Bowles met and started a relationship in 1970. However, they both went on to marry different people. In 1973, she married Andrew Parker Bowles, an army officer. Together, they share two children, Tom and Laura Parker Bowles. Charles, of course, married Lady Diana Spencer in 1981. As the story goes, Charles and Parker Bowles had an affair, which led to their respective divorces. The two finally married in 2005, with Parker Bowles' children in attendance.
Her children have a good relationship with their stepfather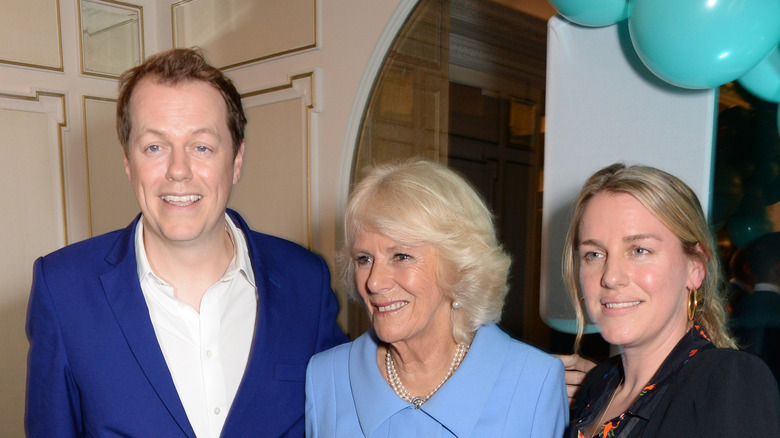 David M. Benett/Getty Images
Today reports that Tom Parker Bowles is 47 while Laura (who now goes by Laura Lopes) is 44. According to Us Weekly, Tom and Laura have a good relationship with their stepfather and the royal family. In a 2019 interview with Town & Country, he said of Christmas with family, "Even now, we all drive down to be together. My mother's up with my stepfather, and she comes down on Christmas Day straight after the Queen's speech. So it's very much a family thing." In fact, Charles is actually both Tom's stepfather and godfather. In 2015, Tom explained that he and Charles have a close bond. He stated, "I've always adored my stepfather; he's always been a kind and good and lovely man." He added, "He is a man of warmth, intelligence and humanity and I think if it ever happens, he will make a fantastic king." 
As for Laura, Us Weekly writes that she was a bridesmaid at Prince William's wedding to Kate Middleton. Women's Health states that her then-4-year-old daughter Eliza was also a bridesmaid at the wedding. Per Town & Country, she has a good relationship with her step-brothers, Prince William and Prince Harry, who both attended her 2006 wedding to former Calvin Klein model Harry Lopes. Us Weekly adds that Tom and Laura are never photographed together with their royal stepsiblings. Even so, it is known that they attended Prince Harry's 2018 wedding to Meghan Markle.
They did not receive royal titles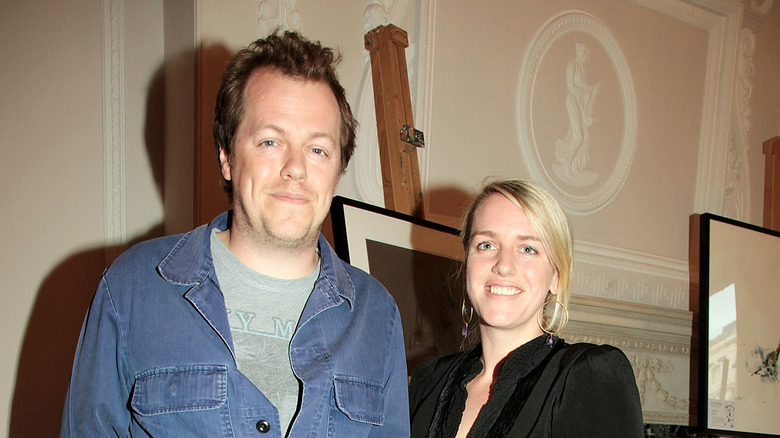 Dave M. Benett/Getty Images
Us Weekly reports that Tom Parker Bowles has had a successful career in the limelight as a food writer. Tom has published cookbooks, including "Let's Eat: Recipes from My Kitchen Notebook" and "Fortnum & Mason: Time for Tea" (via Today). Town & Country adds that he was a restaurant critic for The Mail on Sunday and has been a judge for various culinary TV shows. In 2017, he told The Daily Telegraph how he got into food writing. He stated, "I was naughty, partied a bit hard. When I was younger I got sacked all the time. But I loved eating and could just about string a sentence together, so I thought I could write about food." Tom is divorced and has two children, a daughter named Lola and a son Freddy.
Laura, however, has had a more lowkey life (per Us Weekly). Per Women's Health, she has a successful career in the art world as a curator. In 2005, she co-founded Eleven, an art gallery in London. She is also the mother of three children, daughter Eliza and twin sons named Gus and Louis (via Tatler). Despite their mother becoming queen consort, 9Honey explains that neither Tom nor Laura will be receiving a royal title because they are not blood-related to Charles. Per 9News, Tom has previously joked that he and his sister are "commoners" and revealed some of the growing pains that came with adapting to life in the royal family. "I certainly learned the hard way through whenever I got into trouble for being caught with grass, or ecstasy, or whatever it was I was always caught with," he said.