Tom Brady's Comments About Aaron Hernandez To Tim Tebow Ring Eerie In Hindsight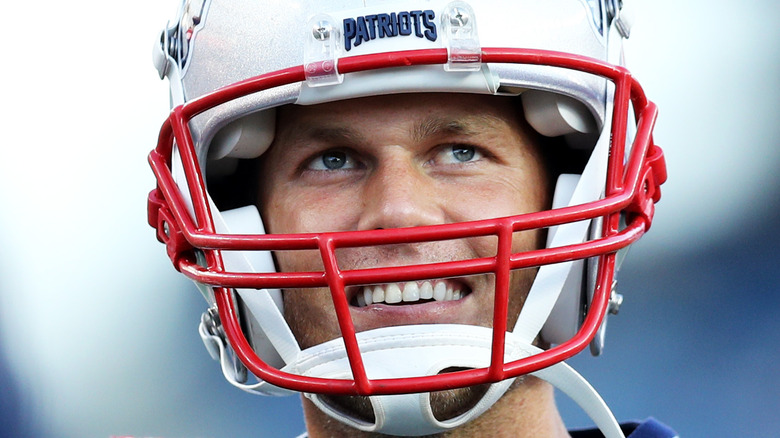 Maddie Meyer/Getty Images
From 2010 to 2012, Aaron Hernandez played for the New England Patriots as a tight end (via People). During his brief but impressive career, the Bleacher Report writes that Hernandez made 18 touchdowns and 175 receptions earning 1,956 yards for his team. With the help of famed quarterback and fellow teammate Tom Brady, Biography states that his efforts led the Patriots to Super Bowl XLVI. Needless to say, it appeared that Hernandez was destined for NFL superstardom. However, the football player's life took a tragic turn in 2013. That year, Hernandez was arrested for the murder of his friend Odin Lloyd. Per The New York Times, he was eventually convicted of this crime, and Hernandez was sentenced to life in prison without the possibility of parole.
In April 2017, 27-year-old Aaron Hernandez died by suicide in his cell. Long before his conviction, another article from The New York Times explains that the Patriots had turned their backs on Hernandez. Within hours of his arrest, the team had let him go. 
In 2018, CBS Sports reported that the Boston Globe released a podcast about Hernandez's life. Boston reports that the podcast delves into his childhood and his relationship with his former teammates. According to USA Today, it was clear to the Patriots that something was off with Hernandez. Nevertheless, his teammates, including Brady, did try to help him.
His teammates recall Hernandez's bizarre behavior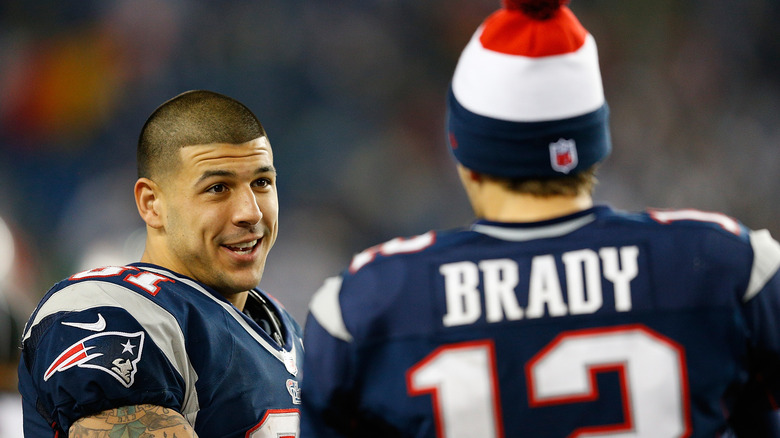 Jim Rogash/Getty Images
USA Today reports that the Boston Globe's podcast interviewed Brandon Lloyd, a wide receiver for the Patriots. He and other teammates noted that Hernandez had unpredictable mood swings and was often seen hanging out with criminals. Moreover, Lloyd detailed one particular incident between Hernandez and Brady. He divulged that during a walkthrough, Hernandez was being disruptive, much to Brady's dismay. 
Lloyd stated "Tom says, 'Shut the (expletive) up. Get the (expletive) out of here." He added, "It was like (Hernandez) went from this child-like, laughing, disruptive behavior ... and he storms off in a fit of rage." CBS News states that the podcast also revealed a conversation Brady had with Tim Tebow about Hernandez.
According to NBC Sports, Brady and Tebow spoke to each other during a 2011 playoff game between the Patriots and the Broncos. Distractify writes that Hernandez and Tebow had been friends for years. Both of them had played football together at the University of Florida. The publication adds that Tebow advocated for Hernandez, who had faced legal issues and was almost kicked off the football team during his time at the institution.
That said, Brady told Tebow "I'm trying to watch over Aaron and Brandon (Spikes)" (via CBS News). Tebow replied "I appreciate that, man. They're good guys." Brady then added "But they're "a lot to handle." Per USA Today, Brady and his personal trainer, Alex Guerrero, often texted Hernandez, perhaps to provide emotional support. In the end, their efforts were in vain as Hernandez was jailed for murder shortly after.
Tom Brady's thoughts on Aaron Hernandez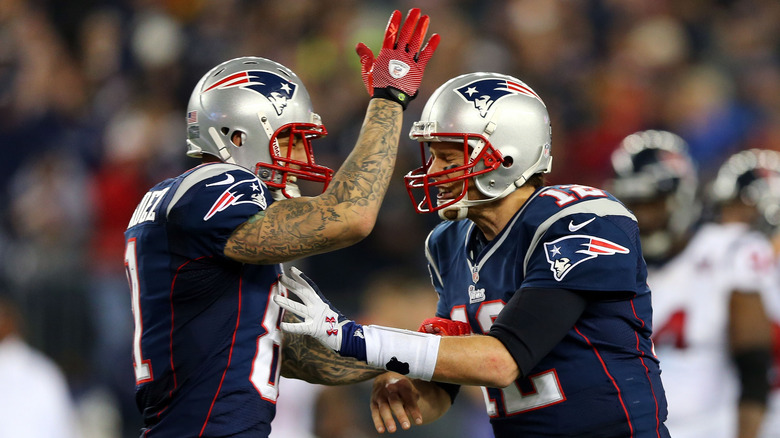 Elsa/Getty Images
Shortly after Hernandez's arrest, the Bleacher Report writes that Brady was asked to comment about the situation. In addition, reporters questioned how Hernandez's absence would ultimately affect the Patriots. Brady stated, "I have moved on. I'm focusing on the great teammates I have who are committed to helping us win games. The only thing I care about is winning. Nothing is going to ever get in the way of that goal." 
Despite this, it seems that Hernandez had no ill feelings for his former teammate. In 2018, Hernandez's attorney, Jose Baez, released an autobiography titled "Unnecessary Roughness: Inside the Trial and Final Days of Aaron Hernandez." In the book, Baez wrote about the friendship between Brady and Hernandez (via CBS News). He notes that Brady was distressed by Hernandez's association with shady individuals. Baez stated, "I know he wished he had listened to Tom Brady." 
In 2017, Brady admitted to WEEI that "I don't think about him (Hernandez) very often." He went on to say "It's just very tragic, for everyone involved." Brady added, "To have a teammate who we were all in the huddle with, played some great games with. It's just a tragic story all the way around. For everyone involved, it's just a horrible thing. I don't know what to make of it. It's just very, very sad."