Prince's Love For Joni Mitchell Caught The Attention Of The Folk Singer's Security Team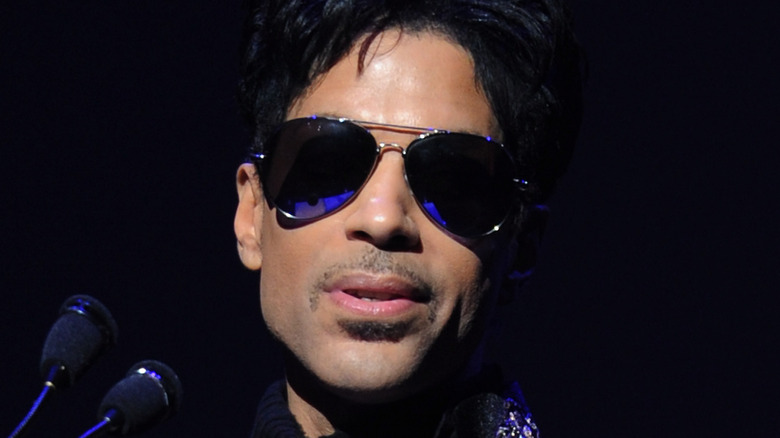 Stephen Lovekin/Getty Images
Like Helen of Troy's beauty, which famously spawned a thousand ships, the beauty of Joni Mitchell's music has equally launched a thousand songs. It is not difficult to identify musicians that have used Joni as an inspiration at some time in their creative processes. After all, Joni Mitchell is the poster child for an artist free of genre constraints and fearless in exploring new musical horizons.
Nevertheless, while many have loved her music, many amazing musicians in their own right have adored her for more than her songs. Musicians such as Leonard Cohen, David Crosby, Graham Nash, James Taylor, Jackson Browne, and Jaco Pastorius all fell for Mitchell's physical beauty, which in turn inspired many a song from Mitchell herself (via Joni Mitchell Library).
However, one curious admirer whose affection and later, admiration would endure until his final days, came in the form of the late, great Purple One, Prince. According to both accounts, it seems that both Mitchell and Prince's first encounter would leave a profound impact on both artists, and their relationship would evolve in a fascinating manner in the years that followed, creating an intriguing, albeit often-overlooked connection in musical history that both artists cherished (per LA Times).
Even the most casual fan of music will be aware that Prince was both famous and infamous for his eccentric behavior throughout his career. So, why then did Mitchell's management and security team feel compelled to throw Prince's early letters to the rising folk star in the trash?
The Unrequited Kind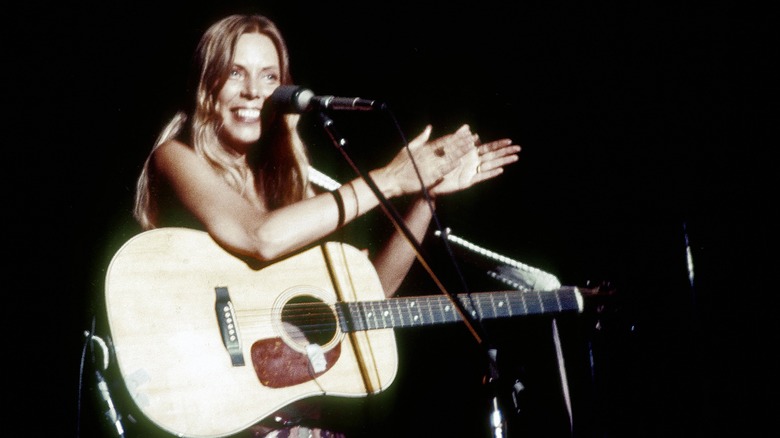 Larry Hulst/Getty Images
Joni Mitchell would first encounter the Purple One during one of her concerts in Minnesota sometime in the 1970s. The presence of a young Prince must have left a mark on Mitchell, as she recounted the experience to New York Magazine, saying, "I remember seeing him sitting in the front row when he was very young. He must have been about 15. He was in an aisle seat and he had unusually big eyes. He watched the whole show with his collar up, looking side to side. You couldn't miss him –- he was a little Prince-ling."
Mitchell would later regale Jay Leno on "The Tonight Show" (via YouTube) in 1995 that she initially spotted Prince's "distinctive eyes, like a puffin or Egyptian wall paintings." His distinct looks drew her attention, and she admitted, "I played a lot of my set to him."
We have to imagine that the young impressionable Prince certainly became a superfan at that moment. To broadcast his feelings to Mitchell, Prince began writing fan letters to her, explaining how much his music meant to him. Surprisingly, although the contents of these letters never landed at Mitchell's desk (assuming she even had one), and their contents are lost to history, Mitchell did recall hearing about them. In her New York Magazine interview, she recalled, "Prince used to write me fan letters with all of the U's and hearts that way he writes. And the staff merely dumped it as mail from the lunatic fringe!"
A Strange Little Duck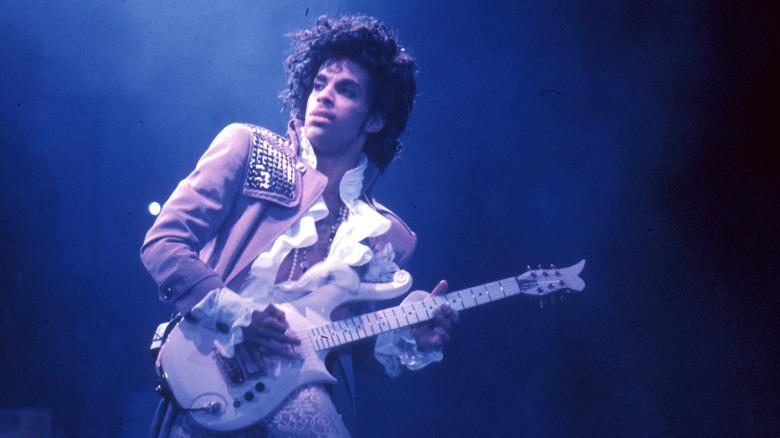 Michael Ochs Archives/Getty Images
If you're afraid that Joni Mitchell was being bothered by her adoring admirer, don't be. The two would eventually cross paths several times in the decades that followed, resulting in a wholesome friendship based on mutual musical respect. In 2004, Prince would remark, "Joni's music should be taught in school, if just from a literature standpoint" (via LA Times).
In fact, throughout his illustrious career, Prince frequently covered Mitchell's songs or paid them tribute in his own tunes. In his song "The Ballad of Dorothy Parker," Prince incorporates phrases from Mitchell's "Help Me", and most famously he would cover Mitchell's timeless classic "A Case of You" in many live shows (per CBC News).
In classic Prince fashion he even retitled it, "A Case of U." This would be a song that Prince would play until his final performance just before his untimely death in 2016 (via Far Out Magazine). In a similar vein to game recognizing game, Joni Mitchell would also have equally flattering praises to bestow upon Prince. In an interview with New York Magazine, she expressed that among the many musical giants with whom she worked closely throughout her vast musical career, Prince is the one she holds in the highest regard.
Moreover, in a video celebrating his induction into the UK Music Hall of Fame in 2006, she praised him as "the most amazing performer I have ever witnessed" (via Twitter). Perhaps most endearingly of all, Mitchell's remarked of Prince in an interview, "He's a strange little duck, but I like him" (via Joni Mitchell Library).