The Tragic Death Of Waylon Jennings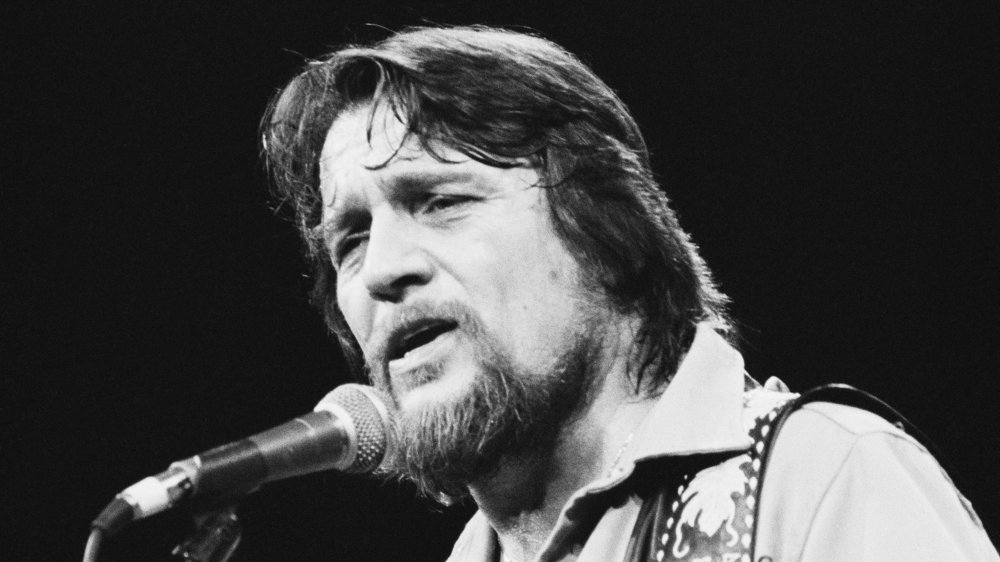 John Minihan/Getty Images
Beer, sure, and moonshine, most certainly. But drugging and getting high and crashing low and addiction — we know that it's only rock-and-roll, and some people like it. But country music is about patriotism, small town values, cheatin' hearts, farms and dogs and — and Waylon Jennings, whose lifetime of substance abuse over the course of a remarkable music career pretty much guaranteed he'd die painfully, and probably much too soon.
Jennings was born June 15, 1937, in Littlefield, Texas, according to Rolling Stone. His parents were both musicians and performers, though not as focused as he would be eventually — his father "just wanted to have fun." But that also meant that Waylon grew up in a house filled with music, listening to radio shows like the "Grand Ole Opry" and "Louisiana Hayride." His parents gave him his first guitar when he was 10. He was a local DJ by his teens, and dropped out of high school to make his way in music. That included a childhood friendship with Buddy Holly, and playing bass for Holly on the ill-fated final tour that resulted in a plane crash, killing Holly and three others. Jennings had traded his seat on the flight to another performer who was sick. The death threw Jennings into a spin and he abandoned performing to return to work as a disc jockey, in Arizona.
Jennings was a Highwayman with Willie Nelson, Kris Kristofferson, and Johnny Cash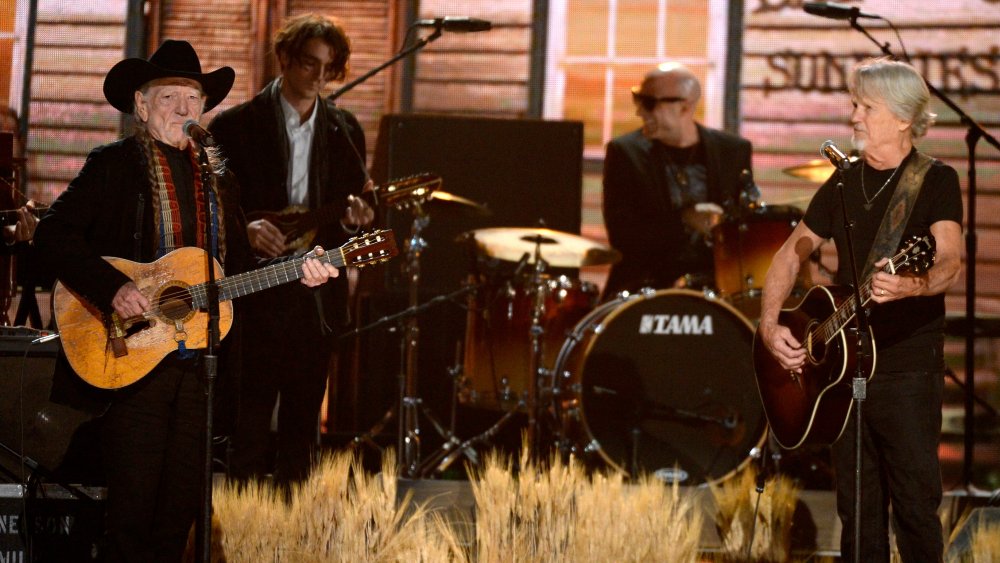 Kevork Djansezian/Getty Images
In the mid-1960s he made his way to Nashville, where he roomed with Johnny Cash for a time and, like Cash, started using amphetamines. Jennings was writing his own hits ("Good Hearted Woman," among others), but also celebrating the work of other songwriters, making classics out of such tunes as "Luckenbach, Texas" and "Honky Tonk Heroes." With Willie Nelson he pioneered a new sound in country music, generally classified as "Outlaw Country," fusing hard-driving rock with traditional instrumentation and themes.
With the success came more drug use, including a significant cocaine addiction. He beat it, and teamed up with Nelson, Kristofferson, and Johnny Cash to form The Highwaymen. The group also shared screen time in a made-for-TV remake of Stagecoach. As related by Biography, Jennings picked up new fans with his theme for The Dukes of Hazzard, for which he also provided off-screen narration, 1979-85.
But the drinking, drugging, smoking (six packs a day, by some estimates), and who-knows-what-all took their toll. He was diagnosed with diabetes in the early 1990s. He continued to record, and did limited performances on a few tours, but his diabetes forced surgery to improve circulation in his left leg. The operation failed, and his left foot was amputated in December 2001, the year he was inducted into the Country Music Hall of Fame.
Jennings died in his sleep from complications of diabetes on February 13, 2002, at his home in Chandler, Arizona. He was 64 years old.