This Was Eddie Van Halen's Final Social Media Post To His Brother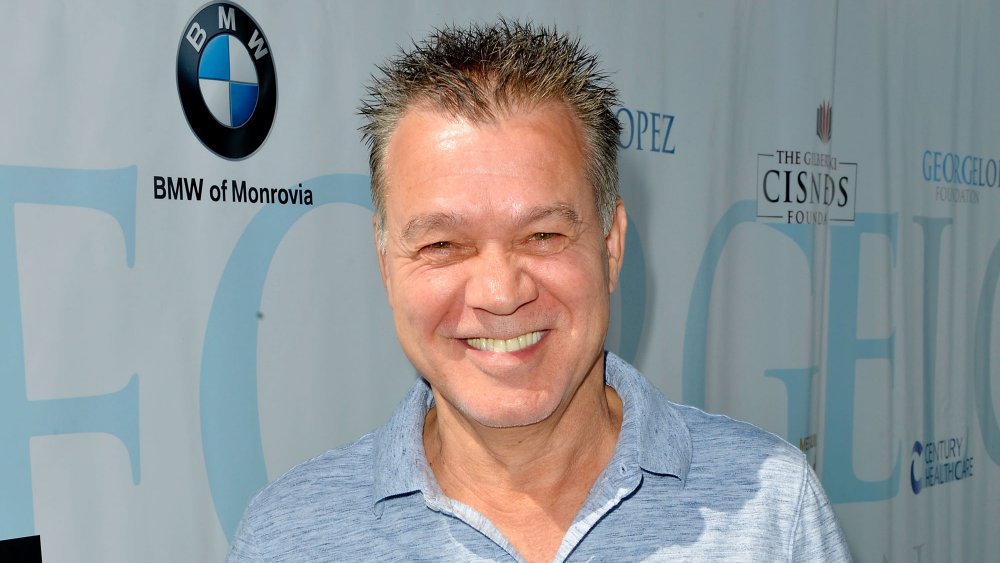 Jerod Harris/Getty Images
As the music world continues to work through the loss of Eddie Van Halen, friends, family, and fans have taken to social media to grieve and pay their respects to the fallen titan of rock guitar. The most notable among them is still his son and bassist, Wolfgang, who announced his father's tragic passing on Twitter. "He was the best father I could ever ask for," he wrote after breaking the heart-rending news. "Every moment I've shared with him on and off stage was a gift. My heart is broken and I don't think I'll ever fully recover from this loss. I love you so much, pop."
For his part, Eddie wasn't much for posting to social media. He seemed to prefer to use platforms like Twitter and Instagram to commemorate special occasions, like celebrating holidays and saying happy birthday to those close to him. He made a point to do so every year to celebrate Wolfgang's birthday, which is on March 16. His final Instagram birthday post to Wolfgang featured a photo of the newborn who would grow up to replace Van Halen's original bassist, Michael Anthony. "The Best Day Of My Life. Happy Birthday Wolf! I Love You So Much!! Your Pop," the legendary shredder posted. As it would turn out, Eddie Van Halen's last Instagram post ever would be a similar message of love for his family.
Eddie wished his brother one last happy birthday before he went
Although Eddie Van Halen was notoriously unable to get along with his original singer, David Lee Roth, and also with the guy who replaced him, Sammy Hagar, he never seemed to quarrel with people with whom he shared a last name. Eddie's final Instagram post was dedicated to his brother, Alex, with whom he always seemed to see eye-to-eye. In the grainy black-and-white photo accompanying his final felicitation, the smiling brothers pose, Alex's arm draped across Eddie's shoulders. The conspicuous lack of their characteristic humongous hair reveals it was clearly not taken in the 1980s. "Happy Birthday Al! Love ya!!," reads the post, followed by a slew of hashtags, including: "#vanhalen #alexvanhalen #drummer #family #rock #rockband," and lastly, "#love."
The older of the rock-and-roll brothers, Alex Van Halen was born on May 8, 1953, making him 67 years old when little brother Eddie died at 65 from the throat cancer that he fought tooth-and-nail for over a decade. According to The Hollywood Reporter, both brothers were born in Amsterdam, Netherlands, and immigrated to the United States with their parents in 1962. The family moved to Pasadena, California, where they founded their big-haired hard rock band that shot to the top of the charts with their first single, a cover of "You Really Got Me" by The Kinks, which miffed Eddie, according to iHeart Radio. ("Jamie's Cryin'" would have been their debut single had Eddie had his way.)
Fans respond to Eddie's last Instagram post to his brother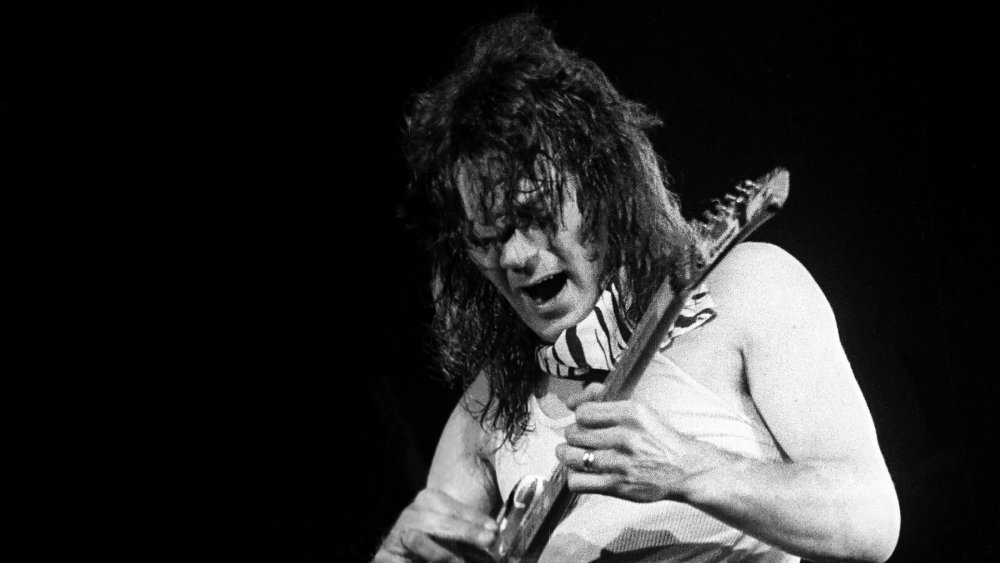 Larry Hulst/Getty Images
After Eddie's death, his legions of fans flocked to his social media to show their love and support and to say how much they'll miss him in comments on that final happy birthday post to his brother. In addition to the obligatory RIPs and teary-eyed emojis, fans said that they imagined heaven a bit cooler than it was before (though Eddie's obviously runnin' with the devil, duh). One young drummer thanked Eddie for inspiring him and his own guitarist brother to play their instruments like the Van Halen brothers (and added that Eddie was his mom's celebrity crush). That heartbroken fan, who goes by the Instagram username itsmichaelkhalaf, said that he and his brother will let the crowds know who inspired them when they're rocking out on stage together.
There's another important member of the Van Halen family who would probably love to leave a heartfelt comment for the fallen shredder, but he unfortunately lacks the thumbs to do so. Eddie's toy Pomeranian Kody was a regular star in Eddie's Instagram posts. The furry little addition to the rock and roll family seemed to love the camera, posing for the lens while Eddie signed autographs and even letting himself be memed. Kody liked to help his human dad fire up the barbecue and wish his followers a Happy Thanksgiving, and you can bet the little guy is missing his rock star dad these days.