Inside MF Doom's Relationship With Kanye West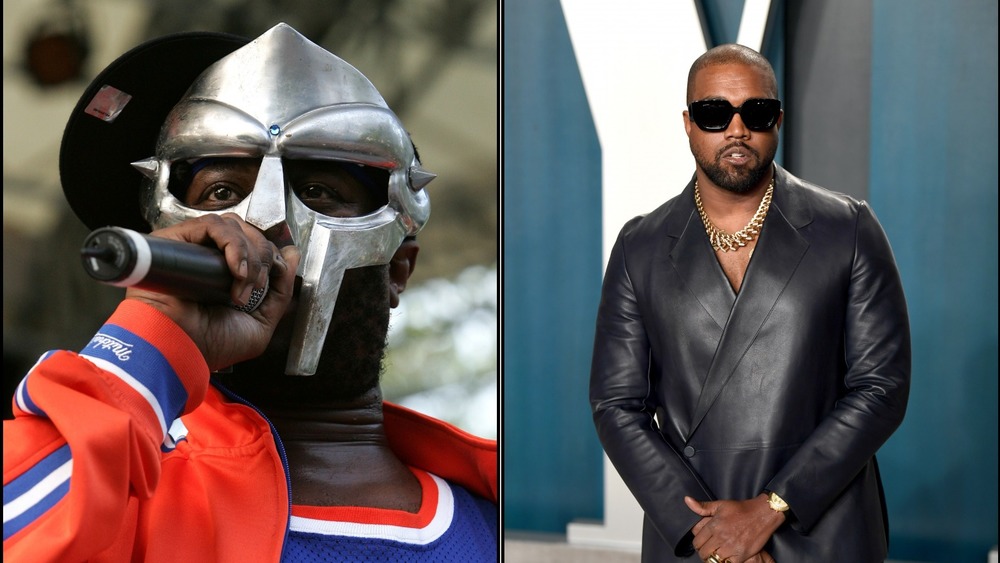 Peter Kramer, Karwai Tang/Getty Images
As 2020 finally came to an end, it turned out that the admittedly tough year had one more sucker punch in store for rap fans. As Complex reported on New Year's Eve, Daniel Dumile, aka the elusive masked rapper MF Doom, died at the age of 49, and in his characteristically enigmatic fashion, he'd actually done so two months earlier, on Halloween. The news was broken on Instagram by his wife Jasmine, who called him the "greatest husband, father, teacher, student, business partner, lover and friend I could ever ask for."
As Variety noted, several other rappers had already mourned the loss on social media. Brooklyn-based emcee Kota the Friend said that "2020 had to do us dirty one more time. RIP MF DOOM! May your sound inspire music FOREVER!" Rapper Q-Tip, of A Tribe Called Quest, wrote: "RIP to another Giant your favorite MC's MC .. MF DOOM!! ... crushing news." Oregonian emcee Aminé and music blogger The Kid Mero also expressed their condolences over the loss.
However, as of January 1, 2021, the world was still waiting to hear from another rapper who had actually been silent on social media almost ever since MF Doom "transitioned," as his wife put it. Kanye West hadn't posted to social media since the day after the contentious 2020 presidential election, when he tweeted "KANYE 2024." Funnily enough, it was precisely Kanye's political aspirations that put him in MF Doom's crosshairs two years earlier.
MF Doom 'assassinated' Kanye West in 2018
In August 2018, MF Doom released a video for a song on which he'd collaborated with DJ Muggs, which as Vice reported, featured Kanye getting assassinated during a 2020 presidential campaign event. The video opens up with a man with a skeleton for a face getting ready for a covert mission. He dons a janitor's uniform, loads his sniper rifle in its case, and starts driving across town in a cleaning van. En route to his target, he passes a pair of white police officers beating a Black man at gunpoint. Then he passes a group of white protestors in which a man with swastika tattoo on his arm holds a sign bearing the text: "SLAVERY WAS A CHOICE!" Others hold signs that read "KEEP AMERICA GREAT 2020," so the viewer starts to get an idea of where this is going.
The hitman then pulls up outside a building, climbs to the top, and pulls out his rifle. We see through the gun's sight that he's aiming at a man in a suit with a red tie. However, when the target's face finally comes into focus, it's not Donald Trump, as we all expect, but rather Kanye West. The hitman takes the shot, hitting Kanye square in the forehead and splattering his blood all over a white woman in the front row. The video ends with Donald Trump and best bud Vladimir Putin watching the events on TV and laughing their heads off.
MF Doom's assassination of Kanye West was more political commentary than rapper feud
While making a cartoon of someone getting shot in the head seems like a personal insult, MF Doom and Kanye West didn't have a history of beef with each other. Considering that MF Doom didn't buy into the cult-of-personality style of the rap game ("Other m.c.s are obsessed with machismo," wrote Ta-Nehisi Coates for The New Yorker, "Dumile is obsessed with 'Star Trek' and 'Logan's Run.'"), the video appears to have been more a social commentary on the politics of people like Kanye, Trump, and Putin, rather than a petty rapper squabble.
In May 2018, Kanye visited the TMZ newsroom and, trying to explain why he wore a "Make America Great Again" hat, went on one of his characteristic rants, in which he actually said the words: "When you hear about slavery for 400 years. For 400 years?! That sounds like a choice."
As NBC News reported in August of that year, Kanye apologized for the comment, but as MF Doom's video revealed, the TMZ employee that gave Kanye a talking-to that day in the newsroom wasn't the only one hurt by what he'd said. While Kanye can go about spouting his absolute idiocy at TMZ and the White House, MF Doom seemed to see the true nature of the situation: that by saying such things, he was only being used by the uber-powerful who probably really do laugh at him behind his back.