Details You Need To Know About Dr. Dre's Relationship With Eminem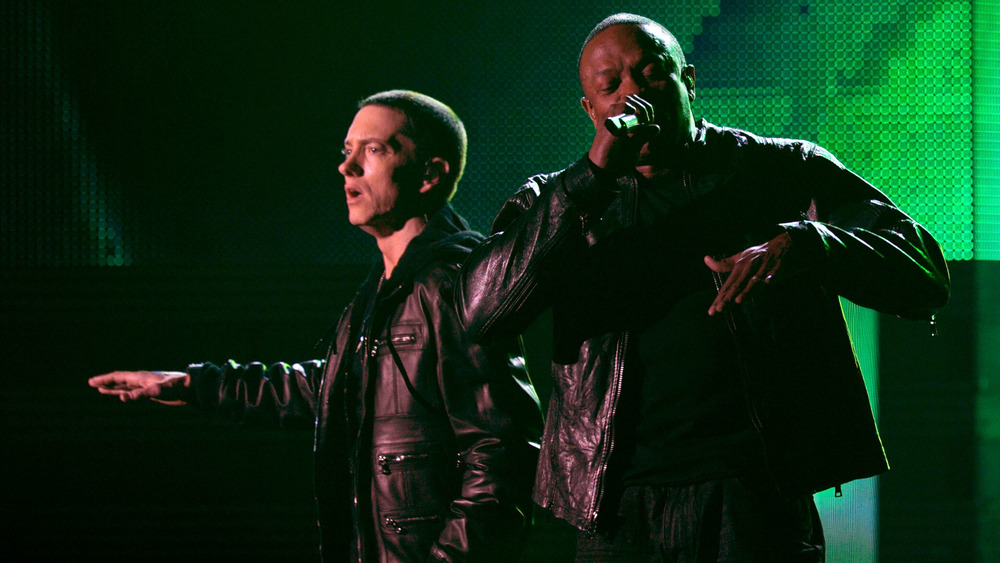 Kevin Winter/Getty Images
The hip hop world was shaken on January 5, 2021, when news came that influential rapper and producer Dr. Dre suffered a brain aneurysm and had to be hospitalized. But thankfully the hitmaker announced that he was doing well and in stable condition in the hospital. "Thanks to my family, friends and fans for their interest and well wishes," he posted to Instagram. "I'm doing great and getting excellent care from my medical team. I will be out of the hospital and back home soon. Shout out to all the great medical professionals at Cedars. One Love!!"
Now that we can be pretty sure that Dre will make it through this, let's take a look back at one of his most influential musical partnerships: his relationship with the perennially pissed-off Eminem. According to Guff, an intern at Interscope Records brought Eminem to the attention of the label's founder, Jimmy Iovine, in 1998. When he had Dr. Dre listen to Eminem's demo tape, the legendary producer was hooked from the beginning. "I was like, 'Who the f*** is that?'" Dr. Dre remembers saying to Iovine. "Rewind that, play it again."
So Dre had Eminem come out to Los Angeles, and as Billboard notes, the soon-to-be Silm Shady made a loud first impression. "Eminem comes in in this bright yellow f****** yellow sweatsuit, hoodie, pants, everything," said Dr. Dre. "It's bright f****** yellow and I'm like, 'wow.'" And soon that yellow-clad emcee would have the world saying a lot more than "wow."
Dr. Dre and Eminem got to work in the studio right away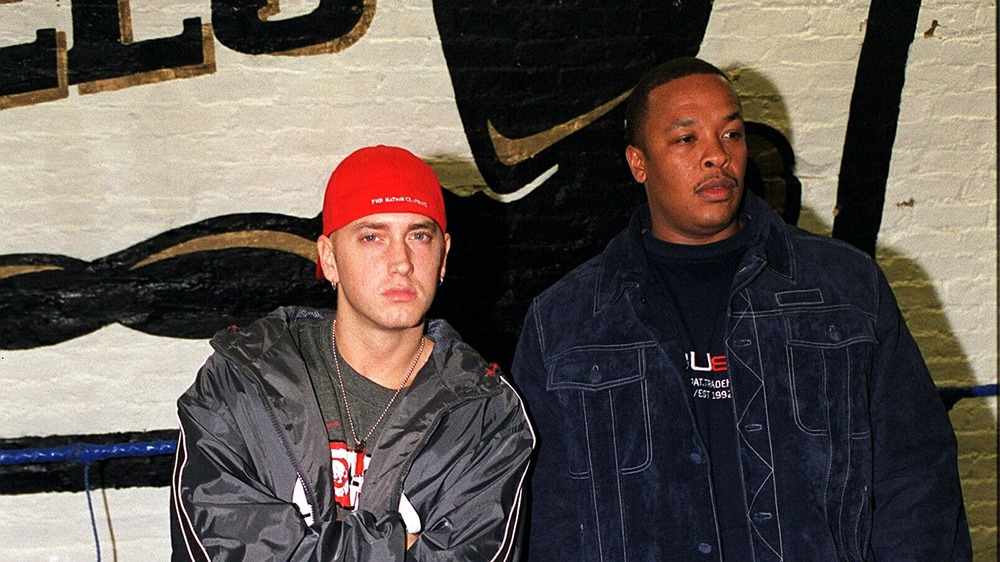 Brian Rasic/Getty Images
Eminem was reportedly star-struck when he first met Dr. Dre. "I'm looking at Dre like, 'Dude, I see you on TV all the time — you're one of my biggest influences ever in life," he said, according to Billboard. And it didn't take long for them to get to work. The Things noted that Eminem directly went into the hook that would make him famous on his first single "My Name Is," and Dr. Dre was convinced. They immediately went into the studio and laid down that song and "Guilty Conscience" by the end of the day.
Dre admitted that others around him had their misgivings about Eminem due to his skin color. "I come up with Eminem, this white boy," he said. "My general manager had these eight by ten pictures of him, and he's like, 'Dre, this boy got blue eyes! What are we doin'?'" But Dr. Dre knew what he had and stuck to his decision. According to Southpawer, The Slim Shady LP went platinum five times with 5.5 million records sold. The accomplishment is only seventh on the list of his 28 gold, platinum, and diamond certifications he's been given by the Recording Industry Association of America. The two would end up collaborating on hit after hit, with songs like "The Real Slim Shady," "Still D.R.E.," and "Forgot About Dre."
Eminem convinced Dr. Dre to sign 50 Cent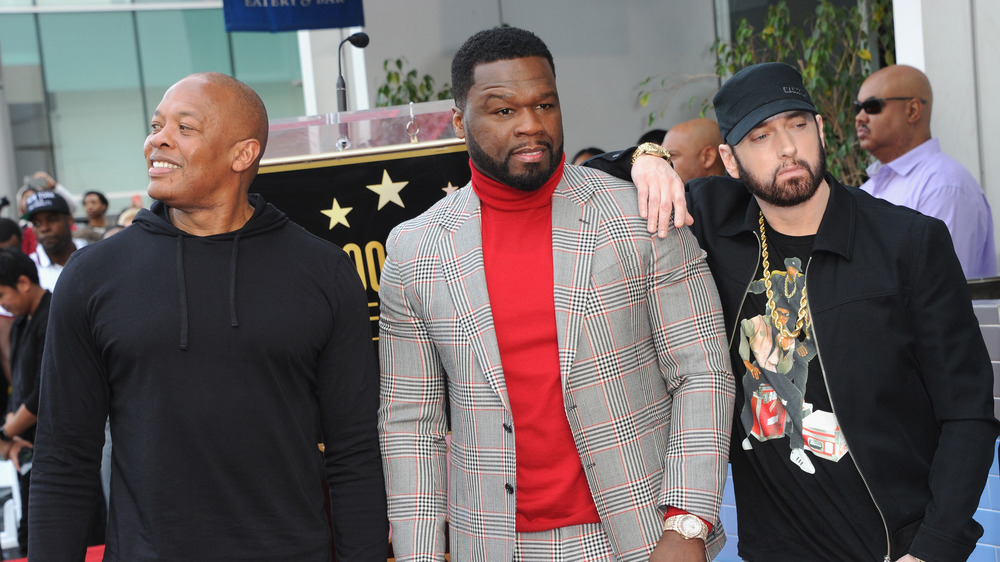 Albert L. Ortega/Getty Images
In January 2020, rapper 50 Cent was honored with a star on the Hollywood Walk of Fame. And as Good Morning America reported, he gave thanks to the rap powerhouse that helped put that star in the sidewalk. "I don't think my career would've been what it was without [Dr. Dre and Eminem's] support," he said. "Dre is a mentor for the whole squad. He was a mentor for the whole squad because he could guide us in different ways without even him knowing it."
However, as The Things wrote, Dr. Dre didn't initially want to sign the New York hustler. 50 had actually been dropped from his previous label, Columbia Records. But per Capital Xtra, he went and got himself infamously shot nine times, which put him in the hospital for months, and the label canceled his contract. Then he wrote a song called "Ghetto Qu'ran" and got himself blacklisted by all the major record labels. But Eminem was convinced of 50's talent, and he convinced Dr. Dre of it as well. They signed him under a joint contract between Dre's Aftermath Records and Eminem's Shady Records, and his debut album, Get Rich or Die Tryin', became one of 2003's best-selling records. It has since gone on to be certified platinum nine times over, making 50 Cent another slam-dunk success in the storied history of Dr. Dre and Eminem's relationship.