Buccaneers Wide Receiver Mike Evans Is Worth A Lot More Than You Think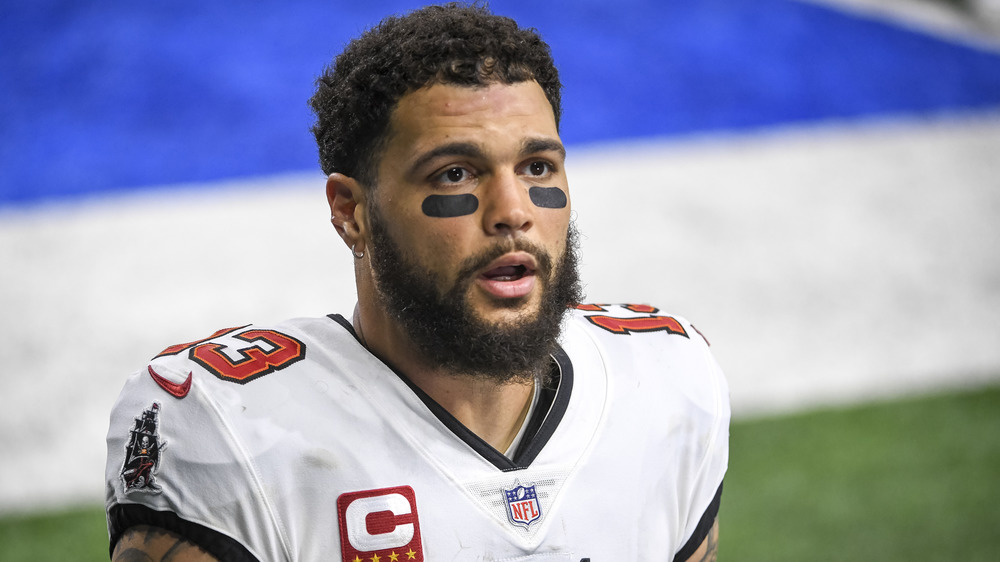 Nic Antaya/Getty Images
With former New England Patriot Tom Brady at the helm, the Tampa Bay Buccaneers won out over the Washington Football Team (they're in the process of changing from one of the most offensive sports logos of all time — it's a long story) in a wild card playoffs game on Saturday, January 9, 2021. They now move on to play the New Orleans Saints in the divisional round.
The man that Brady connected with the most in that game was wide receiver Mike Evans who, according to ESPN, led the team in receptions and receiving yards, despite having hyperextended a knee only six days before the game. Although he didn't come away with a TD, he caught six passes for 119 yards, helping his team move ahead in a playoff series slightly altered due to the coronavirus pandemic. According to Sports Illustrated, outbreaks of COVID-19 plagued the 2020 season, leading the NFL to change its playoffs format for the first time in three decades. The Bucs are one of 14 teams, rather than the usual 12, competing for a chance at the Super Bowl.
Evans has shown how much he is worth on the field, but what monetary amount does that translate to in the real world? What exactly is Buccaneers receiver Mike Evans' net worth, and what does he choose to do with his money? Let's take a look into the football player's finances.
Wide receiver Mike Evans is worth millions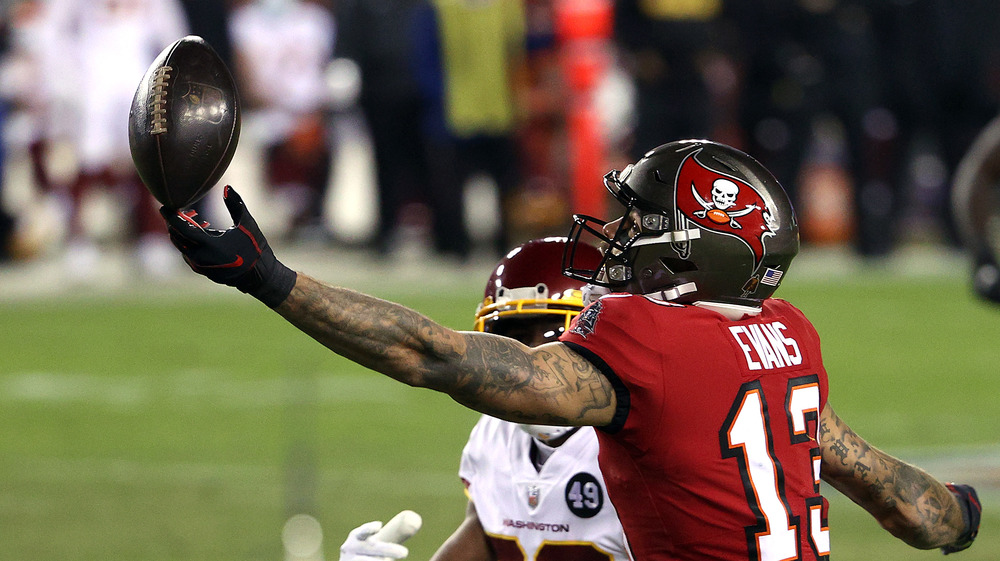 Patrick Smith/Getty Images
According to his official Buccaneers bio, Mike Evans was acquired by the team in the first round of the 2014 NFL draft, the seventh pick overall. He has been selected for the Pro Bowl twice and holds the franchise records for touchdown receptions with 48, receiving yards with 7,260, and receptions with 462. Simply put: The Bucs want to hold on to Mike Evans, and they've been willing to shell out quite a bit of cash to make sure that happens. Celebrity Net Worth puts Evans' total net worth at a whopping $25 million.
That's quite a bit more than some currently eyeing a shot at the Super Bowl. For example, the Los Angeles Rams' head coach Sean McVay is only worth a measly $7 million (his $2.7-million home in the Encino hills is dope, though), but it is just on the heels of Rams QB Jared Goff's estimated $30 million.
Evans started that fortune with a $14.6-million contract in 2014, which included a smooth $8.96 million bonus just for signing. He renegotiated his contract in 2018, signing a five-year deal for $82.5 million. And what does a record-holding wide receiver do with all that cash? According to USA Today, he likes to spend his free time at home, hanging out with his kids and playing computer games. Not much different than the average Joe.
Mike Evans uses his fortune to help others find success in life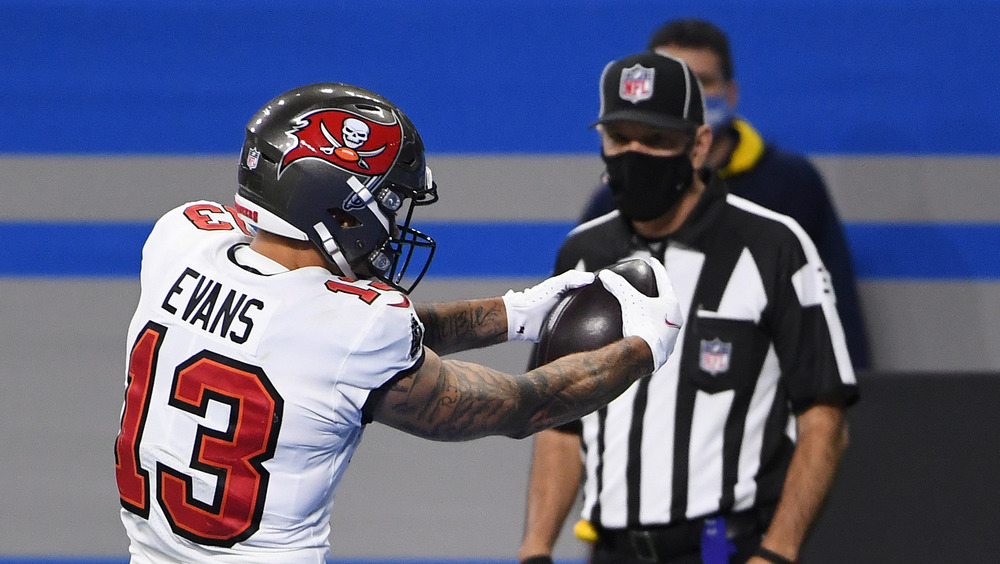 Nic Antaya/Getty Images
Mike Evans has translated his success in the NFL into strategies and support for helping others achieve their goals as well. In 2017, he and his wife Ashli founded the Mike Evans Family Foundation to help low-income students get college scholarships and provide support for women and families affected by domestic violence.
"We are focusing on helping kids who do not have the funds to go to college — kids that come from low-income families that worked really hard to apply for college and got in, but need financial assistance," said Evans. "If I wouldn't have had a scholarship to go college, then I probably wouldn't have went or I'd probably be in debt if I did, so I wanted to help as much as possible in that aspect. Secondly, I want to focus on women and families that suffer from domestic violence because I grew up in a household with domestic violence and I know how hard that can be."
For this work, Evans was nominated for the NFL Walter Payton Man of the Year Award in 2019, which "recognizes an NFL player for his excellence on and off the field." Although he ultimately didn't win the award, he said it was "overwhelming" just to be nominated, according to Wealthy Gorilla. "To be in the same conversation as other players who do tremendous things in their community, I'm truly honored," he said.