The Real Meaning Behind The Traditional Gun Salutes To Honor The Queen's Birthday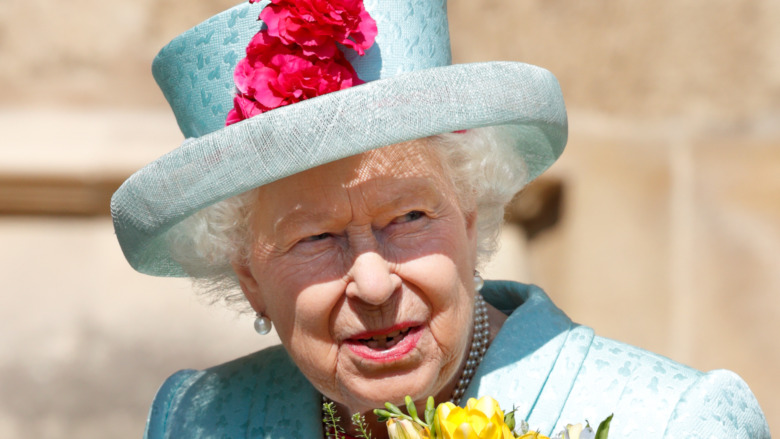 Max Mumby/Indigo/Getty Images
Queen Elizabeth II will celebrate her 95th birthday on April 21. Among the many traditions to be carried out in honor of her birthday are various gun salutes around the United Kingdom. Per The Telegraph, this will be the second year in a row that the queen's birthday celebration will omit the gun salutes. Queen Elizabeth is observing a period of mourning in honor of her late husband Prince Philip, who died on April 9, and will be marking the occasion of her birthday with "a quiet lunch with close family members." In 2020, the salute was canceled after the queen wished that "no special measures" be taken during the COVID-19 pandemic.
As explained by the royal family website, gun salutes are traditionally performed "on special days, such as anniversaries and birthdays." Depending on the event, they take place at the Tower of London, as well as either Hyde Park or Green Park, in London.
Why are there 21 shots in a traditional salute?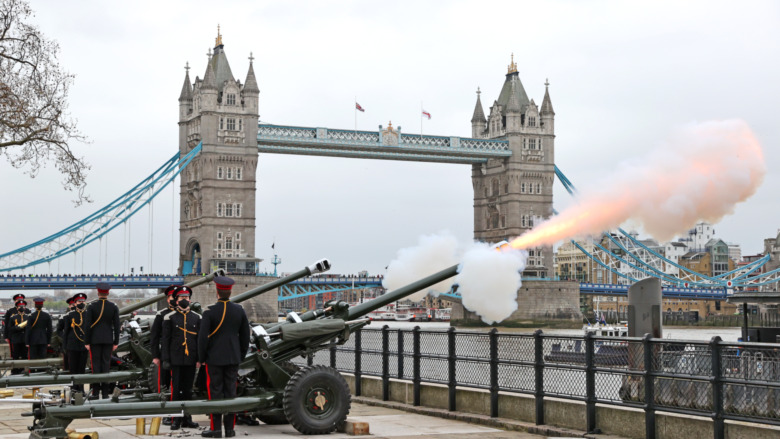 Chris Jackson/Getty Images
The Honourable Artillery Company recently fired a gun salute from the bank of the River Thames near the Tower of London in honor of Prince Philip (shown above), per the BBC. In a 2014 article, the BBC reported that Queen Elizabeth's 88th birthday had been honored with 41-gun salute from Green Park as well as a 62-gun salute from the Tower of London. As explained by the royal family site, a 21-gun salute is the basic salute, fired in 10-second intervals, but there are an additional 20 rounds fired when the salute takes place in a royal park.
The 2014 62-gun salute at the Tower of London included "21 shots for the queen's birthday, 20 because it is a royal palace, and 21 to follow a tradition in which ships would fire their guns before entering the city of London to show they were not threatening." As reported by Arlington National Cemetery, the British Navy originally developed the custom of a seven-gun salute because their ships traditionally held seven guns. As forts were on land, they could store extra gunpowder and would fire three shots for every one fired at sea — hence the 21-gun salute. The British Navy eventually increased the at-sea honors to include 21 shots, and this became the international standard when performing a salute.