The Time R.E.M. Almost Reunited For One Night Only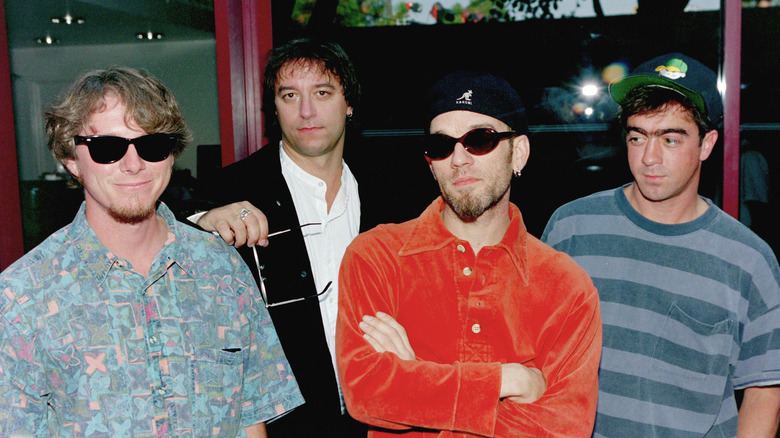 Dave Hogan/Getty Images
R.E.M., a group that The Atlantic once said could qualify as America's greatest band after they announced their break up in 2011, has never truly reunited — and quite likely never will. 
In the 1980s, the Athens, Georgia band was the epitome of cool indie rock, moving from being college rock favorites to a household name by the mid-1980s and early 1990s, putting out hit after hit in those years with songs like "The One I Love," "It's The End Of The World As We Know It (And I Feel Fine)," and "Losing My Religion," among many others over their 31 years together as a band. 
According to Rolling Stone, R.E.M. guitarist Peter Buck said the group was on tour in 2011 when they decided to split for good. Buck said, "We got together, and [Frontman] Michael [Stipe] said, 'I think you guys will understand. I need to be away from this for a long time.' And I said, 'How about forever?' Michael looked at Mike, and Mike said, 'Sounds right to me.' That's how it was decided."
Buck told Rolling Stone he'd grown tired of the music industry, saying he disliked nearly everything about it. "Everything except writing songs, playing songs, and recording them," he explained. "It was the money, the politics, having to meet new people 24 hours a day, not being in charge of my own decisions. I hate the business and I didn't want to have anything to do with it."
The members of R.E.M. did play again on the same stage, just not at the same time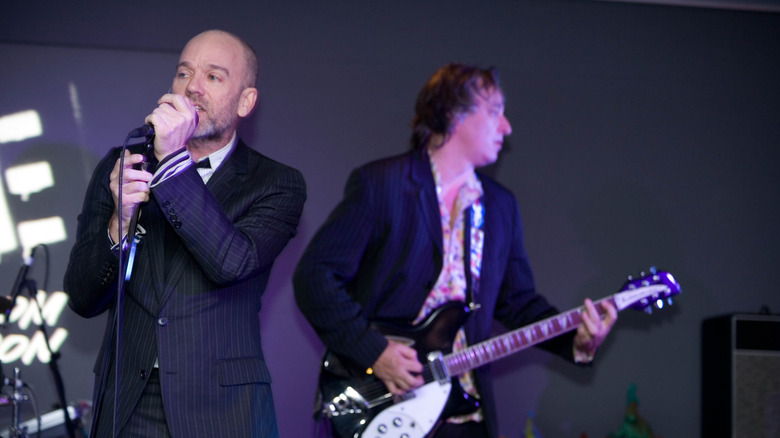 Photoshot/Getty Images
Still, even as the remaining members of R.E.M. were burned out from years of the demands of being a world-famous rock band (drummer Bill Berry had left in 1997), they acknowledged that it would be sad to never play their songs again together. Buck told Rolling Stone, "The last show — we were in Mexico City. We're like the Beatles there. It was great for us. And I went, 'This is kind of sad.' And Michael goes, 'Yeah, a little. We're probably never going to play these songs again.' And I went, 'You might be right.'"
But there was once an organic opportunity to play together again — if only Michael Stipe, Peter Buck, Bill Berry, and Mike Mills would've seized it. 
According to the website Slicing up Eyeballs, which pays homage to "the legacy of '80s college rock," the four former bandmates were all together in Portland, Oregon for Buck's wedding in June 2013 when all members of R.E.M. took the stage to perform for guests. The kicker though — all four were never together on stage at the same time at the wedding reception, so a bonafide R.E.M. reunion was not to be. They were so close though! 
Stipe told CBS This Morning (via YouTube) in 2014 that he doesn't want to reunite as a nostalgia act, saying wryly, "No, I despise nostalgia ... I'm not good at looking back."