Fans Are Split On Their Least Favorite Police Album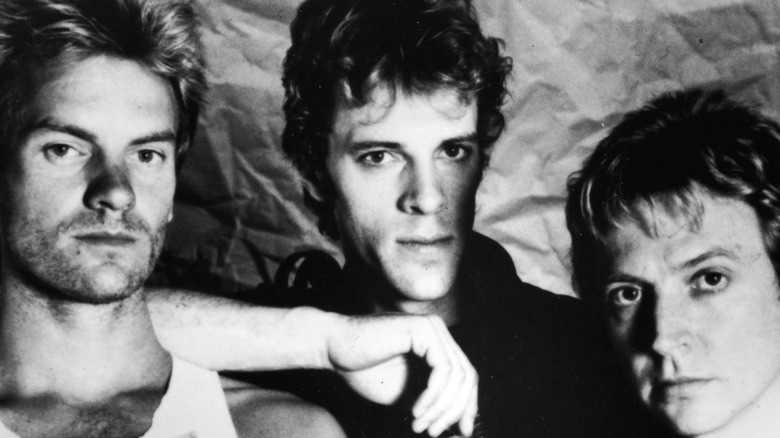 Hulton Archive/Getty Images
Considering how much influence The Police had, and continue to have, on pop, rock, and indie music, it's crazy to think that they only released five studio albums between 1978 and 1983. They busted out of the gate with a unique style that blended punk, jazz, and reggae, and their energetic live performances — from tiny, dingy London clubs to sold-out stadiums — became the stuff of legend. Sting, Stewart Copeland, and Andy Summers each brought their own flavor and virtuosity to the music, and the mischievous, blond scamps were all very pleasant to look at, too.
Considering that each and every Police record still sounds fresh and innovative today, Grunge's survey of 598 readers in the U.S. of which Police record was their least favorite is kind of like asking someone, "Which of these delicious chocolate desserts do you love and want to keep on eating the least?"
Spoiler alert: it wasn't 1983's "Synchronicity," which got just 12.54% of the least-favorite Police album vote. This was their final and best-selling album, and thanks to Sting's Carl Jung obsession at the time (via The Police's official website), sent a lot of thoughtful hits out into the world, such as parts one and two of the titular track, as well as "Every Breath You Take," "King of Pain," and "Wrapped Around Your Finger."
The least favorite proverbial dessert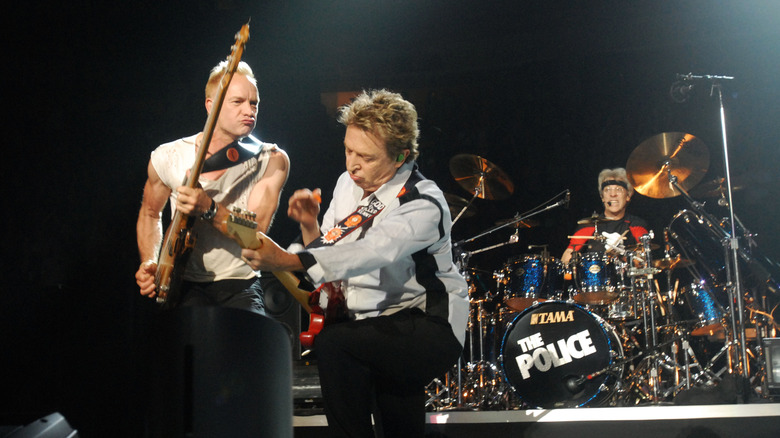 Bloomberg/Getty Images
Coming in at fourth and third least favorite (that's second and third favorite, if you think more like that) albums, respectively, were 1981's "Ghost In the Machine" and 1978's "Outlandos d'Amour." "Ghost" gave us hits such as "Spirits in the Material World" and "Every Little Thing She Does Is Magic," as well as deeper tracks like "Re-Humanise Yourself" and "One World (Not Three)" that address the still very-relevant issue of helping people less fortunate. So solid. But one has to wonder about the 23.41% (that's about 139 people) that gave their least-favorite vote to their debut in 1978, "Outlandos d'Amour," the record that gave us hits such as "Can't Stand Losing You," and "So Lonely," but okay! It really was a tough choice, we know.
It was neck and neck for the two least favorite albums, with their third record from 1980, "Zenyatta Mondatta" getting 24.25% of the vote, and The Police's sophomore release in 1979, "Regatta de Blanc" just beating that at 24.92%. Again, it's like, "Would you rather keep eating this chocolate mousse with homemade whipped cream, or this peanut butter and chocolate pie?" The least popular record gave us only two real big hits, with the rest of the songs having more of a dark groove, like with "Deathwish" and "Does Everyone Stare." It might be more of a familiarity thing.
We're glad we didn't have to vote in this one! Enjoy your favorite Police songs' videos at the official YouTube channel.