Whatever Happened To Duane Deaver, The Blood Spatter Analyst From The Staircase?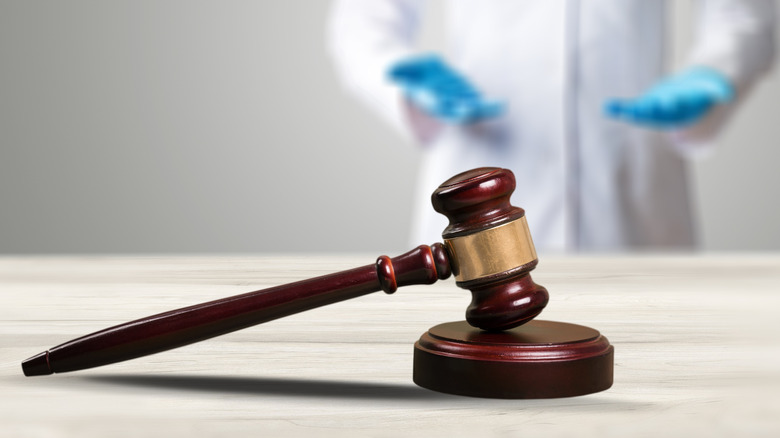 Shutterstock
On December 9, 2001, Mike Peterson called 911 to report he found his wife, Kathleen, unresponsive at the bottom of a staircase in the couple's Durham, North Carolina, home. As reported by WRAL, Mike told authorities his wife "was injured in a fall." By the time paramedics arrived on scene, Kathleen Peterson was dead.
Kathleen's autopsy, which was provided by WRAL, states that her cause of death was "severe concussive injury of the brain caused by multiple blunt force impacts of the head." Although Michael Peterson contends he found his wife on the floor, and was not responsible for her death, the medical examiner concluded Kathleen Peterson's injuries were "inconsistent with a fall down the stairs" and were more likely the result of "multiple impacts received as a result of a beating."
Mike Peterson was subsequently arrested and charged with first degree murder. Expert Institute reports one of the prosecution team's key witnesses was blood spatter analyst Duane Deaver. During the trial, Deaver testified bloodstain patterns on the walls of the stairwell proved Kathleen Peterson did not fall down the stairs. Instead, she was likely beaten to death.
On October 10, 2003, Michael Peterson was found guilty of first degree murder in the death of Kathleen Peterson. He was sentenced to life in prison without the possibility of parole. However, Duane Deaver's involvement in the case was a key factor in the verdict being overturned.
Blood spatter analyst Duane Deaver accused of falsifying evidence
As reported by The Wrap, blood spatter analyst Duane Deaver was terminated by North Carolina's State Bureau of Investigation in 2011.
The dismissal was prompted by an investigation into the case of Greg Taylor, who was wrongfully convicted of murder. Amid the investigation, authorities discovered Duane Deaver provided falsified information during Taylor's trial. They also concluded Deaver failed to provide Taylor's defense team with information that would have assisted in Taylor's defense.
The Wrap reports the incident prompted further investigation into several other cases in which Duane Deaver provided expert testimony. An official audit revealed the blood spatter analyst falsified evidence in a total of 34 different criminal cases throughout his 25-year career. One of the highest profile cases included in the investigation was Mike Peterson's murder trial.
After the initial verdict was overturned, Mike Peterson entered an Alford plea. He was sentenced to time served and was released from prison. According to The Wrap, Duane Deaver's last known place of employment was ISS Facilities — where he served as Director of Operations.