Here's Who Inherited Lucille Ball's Money After She Died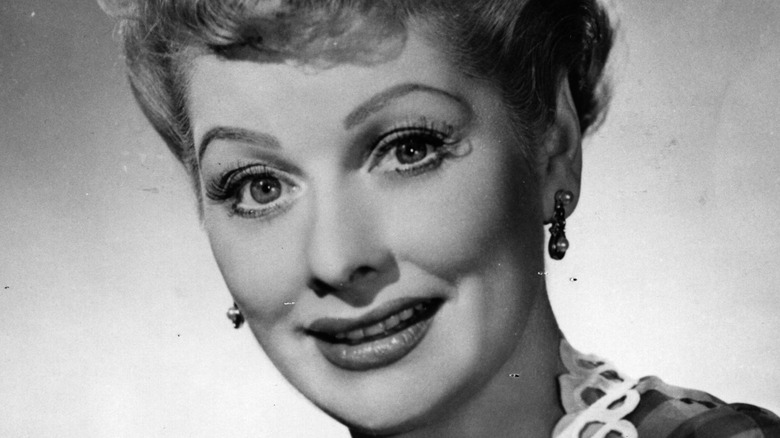 Evening Standard/Getty Images
There's plenty to say about comedy icon Lucille Ball. Although Biography reports that she is best known for her TV show "I Love Lucy," Ball was more than just an actress with a good sense of timing. Per Mental Floss, she was the first woman to run a major studio in Hollywood. In addition, Good Housekeeping reports that Ball and her husband and costar on "I Love Lucy," Desi Arnaz, a Cuban immigrant, were the first interracial couple on TV. The fiery pair met on a film set in 1940 and eloped later that year (via a different article from Biography). When CBS approached Ball about having her own sitcom, she wouldn't do it unless Arnaz was hired to play her on-screen husband (per NPR). The network reluctantly agreed.
After a few miscarriages, the couple had two children together, Lucie and Desi Jr. (via People). However, the union between Ball and Arnaz did not last. Though "I Love Lucy" shows otherwise, the pair's relationship was filled with infidelity and drinking on Arnaz's part (per Showbiz Cheatsheet). According to History, they divorced in 1960 after 20 tumultuous years of marriage. Distractify reports that Ball cited extreme cruelty and mental suffering as the cause. Despite their divorce and subsequent new partners, Ball and Arnaz remained close. Ball went on to marry comedian Gary Morton in 1961. Per a different article from Distractify, they were married until her death in 1989.
Growing up as Lucille Ball's children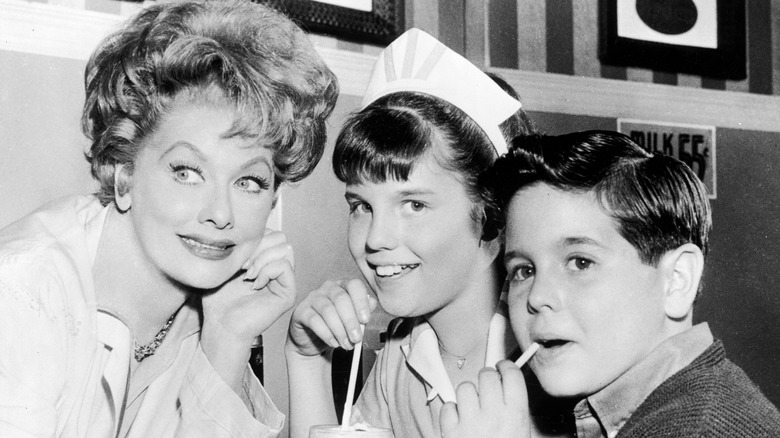 Michael Ochs Archives/Getty Images
According to Good Housekeeping, Ball gave birth to Lucie in 1951 and Desi Jr. in 1953. In fact, her pregnancy with her son was written into "I Love Lucy." Time reports that the network wanted Ball to hide her pregnancy. However, by excluding the word "pregnancy," they were allowed to incorporate it into the script. Ball later gave birth the same day as the birth episode aired on CBS. But what was the iconic redhead like as a mother? Per Showbiz Cheatsheet, Lucie has said that both of her parents were often at their studio working. Moreover, Ball had issues relating to her children, who were born when she was 40 and 42, respectively (via a different article from Good Housekeeping).
In an interview with KCRW, Lucie stated that her mother often asked other celebrities, including Debbie Reynolds, for parenting advice. Moreover, she believes that Ball was unsure of how to be a parent, as her own father had died when she was 4 and her mother, who worked to support the family, was gone most of the day. She stated that her mother was "flying blind" when it came to parenting. In another interview, with WTOP, Lucie reiterated that though both she and her brother had a luxurious childhood, what they really wanted was more time with their working parents. Per People, there was also a lot of fighting and screaming in their household due to Arnaz's alcoholism. Despite this, Lucie says that her parents truly loved each other and were creative geniuses.
Lucile Ball's children fought for her heirlooms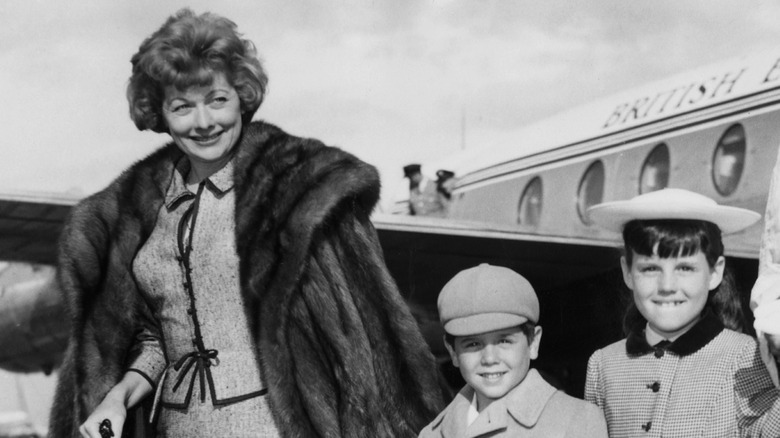 J. Wilds/Getty Images
According to the Los Angeles Times, Ball was 77 when she died on April 27, 1989 of a ruptured aorta. MEAWW reports that at the time of her death, Ball was worth $40 million, the equivalent of $80 million today. Her estate was split among her two children, Lucie Arnaz Luckinbill and Desi Arnaz Jr., and her second husband, Morton. He went on to remarry, seven years after Ball's death, to Susie McAllister, a professional golfer (via Distractify). That marriage, however, was short-lived, as Morton died three years later, in 1999. The remainder of Ball's possessions then went to McAllister. When she began to auction jewelry, awards, love letters, art, and even a Rolls Royce, a legal battle ensued between Luckinbill and McAllister.
Per Cision News, McAllister decided to part with the items over 10 years after Morton's death because she was remodeling her home. This did not sit well with Ball's children, especially Luckinbill, who threatened legal action to stop the auction. McAllister responded by filing a suit (per Danielle & Andy Mayoras). The judge ruled he would stop the sale only if Luckinbill could post a $250,000 bond. She did not have the money, and so McAllister and Luckinbill struck a deal. The Mendel Law Firm states that Luckinbill was able to obtain her mother's awards and donated them to a museum. As for McAllister, she went on to sell the rest of the items, including the love letters and car. They reportedly brought over $230,000 at auction back in 2010.