Tony Bennett's Friendship With Frank Sinatra Explained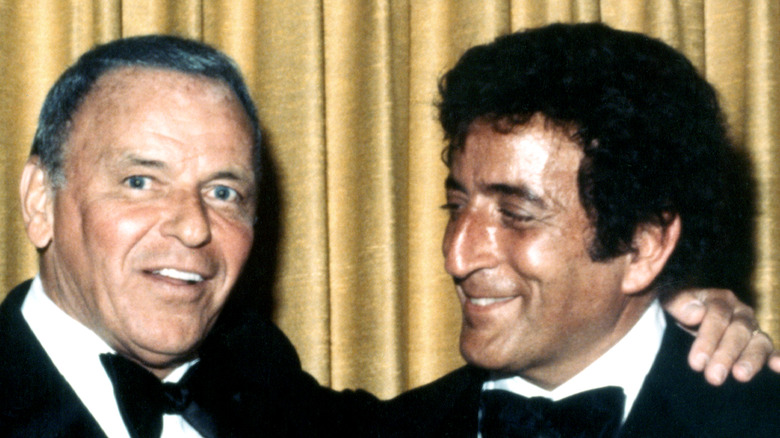 Michael Ochs Archives/Getty Images
Jazz crooner Tony Bennett, who died at age 96 in July 2023, was always a fan of Frank Sinatra. He recalled a time when he was 11 years old, and it was the first time he heard a young Sinatra sing with the Hoboken Four on the 1930s talent show "Major Bowes' Amateur Hour." "Even before I heard them sing I was captivated by Sinatra's confidence," Bennett wrote for Vanity Fair in 2009. 
Bennett dropped out of high school and worked as a singing waiter to help support his family. When World War II broke out, he served in the Army and was able to enroll in voice lessons at the American Theatre Wing, thanks to the G.I. Bill, which provided educational assistance and training to servicemen, per Biography. Bennett pursued a singing career after his service, and he released his first studio album titled "Because of You" in 1952. By the 1950s, Sinatra was already a big star with several albums and movies.
Bennett first met Sinatra at the Paramount Theatre when Bennett achieved selling 2 million records, as he said in an interview on The Tonight Show Starring Jimmy Fallon in 2016. He was nervous about performing in front of an audience, and Sinatra told him that the people in the audience were his friends and that they came to see him. Over the years, the two singers formed a lasting friendship. "I was his favorite and he was my favorite and I couldn't get over it because he was a phenomenal artist, a beautiful singer and a great person," Bennett said about Sinatra.
Tony Bennett and Frank Sinatra were each other's fans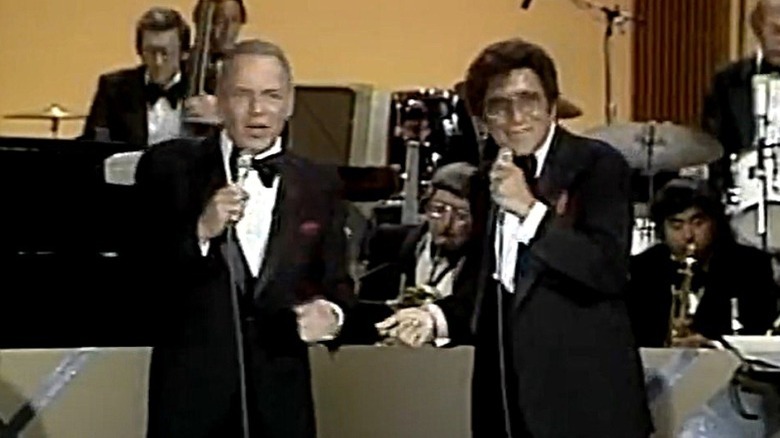 YouTube
Although both Tony Bennett and Frank Sinatra were famous singers in the '50s and '60s, they never had a rivalry. In fact, they were each other's fans and often praised the other's talent. In the April 23, 1965 issue of LIFE magazine, Sinatra was on the cover, and in an article, he talked about his life and music. He also shared his thoughts on other singers, and said, "But for my money Tony Bennett is the best singer in the business. He gets across what the composer had in mind, and probably a little more" (via Vanity Fair).
Bennett and Sinatra had a genuine fondness for each other, which is why many people are wondering why Bennet wasn't part of The Rat Pack. The group consisted of Sinatra, Sammy Davis Jr., Dean Martin, Joey Bishop, and Peter Lawford, and they performed and acted in movies together. Bennett said that the Rat Pack's busy schedule wasn't for him, but he sang their praises, especially his good friend Sinatra. "He was just the very best of all the singers. All the Rat Pack, Sammy Davis Junior, Dean Martin, and Frank — they all had the training," Bennett said, per The Mirror.
Bennett and Sinatra even performed together; one such occasion was on the TV special "Sinatra and Friends," which aired in 1977 and featured artists, such as Natalie Cole, Loretta Lynn, Robert Merrill, John Denver, and Leslie Uggams. Bennet and Sinatra sang a duet of the song "My Kind of Town."
The Frank Sinatra School of the Arts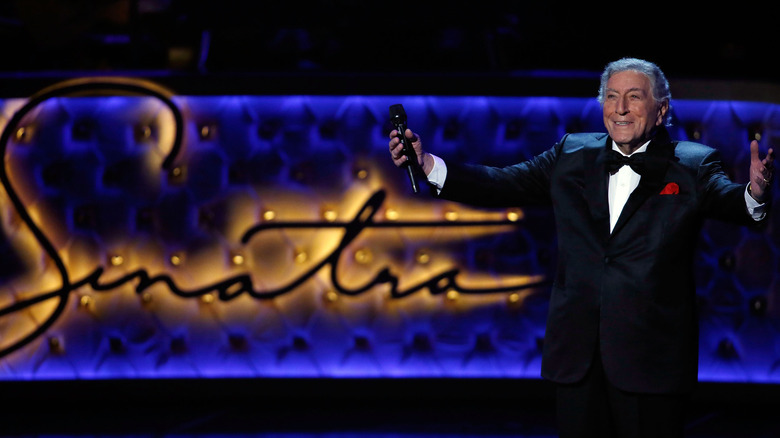 Isaac Brekken/Getty Images
Frank Sinatra died of a heart attack in 1998 at the age of 82. Tony Bennett was among those who attended his funeral and gave a eulogy. In 2001, Bennett, together with his wife Susan, officially opened The Frank Sinatra School of the Arts located in Astoria, Queens to honor his friend. The idea came to the couple in 1999, as they wanted to provide a school where both art and academics are integrated. The performing arts high school offers artistic opportunities to students and has studios for vocal classes, film and media, fine arts, drama, and dance. It is supported by a non-profit organization called Exploring the Arts, which was also founded by Bennett and his wife.
In 2015, on what would have been Sinatra's 100th birthday, Bennett penned a remembrance for his best friend that was included in LIFE magazine's special edition release titled "Sinatra at 100." In it, Bennett talked about how Sinatra was like as a person by writing, "Loyalty: That one word overrides anything else you need to know about Sinatra" (via Time). "He ran the gamut of emotions. Sinatra conquered every aspect of his world, the entertainment world. He was the two masks of the theater — the comedy, the tragedy. Underneath it all, he was a very, very sensitive, nice person," Bennett shared. He also wrote about Sinatra's legacy and how people will still be listening to his music for hundreds of years to come. "There was only one Sinatra," Bennett wrote.