Paul Stanley Has Another Career That Might Surprise You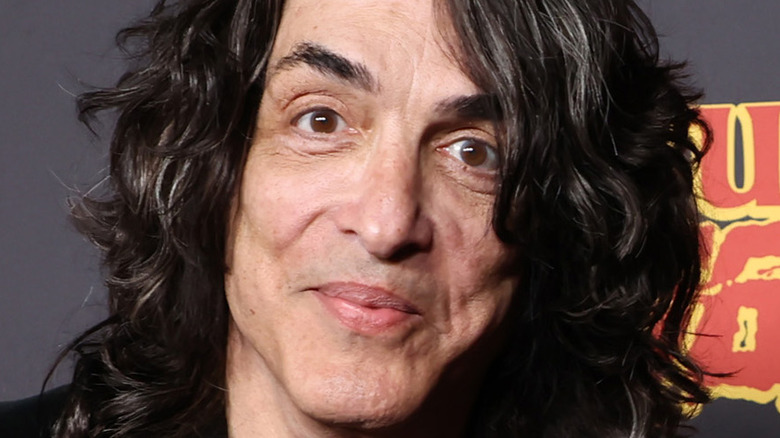 Amy Sussman/Getty Images
Painted knights of the stage Kiss took musical spectacle to a whole new level of exuberance when they slathered on coats of black and white makeup and hid their identities from the world. Their faces are iconic to rock music, and the Kiss phenomenon has become an everlasting dynasty. Paul Stanley, Peter Criss, Gene Simmons, and Ace Freely are no strangers to thinking outside the box and executing tactful business methods that stretch beyond the reach of their instruments. Gene Simmons alone oversees more projects and lucrative ventures than most business-minded people take on in two lifetimes. Simmons founded Simmons Records, the Cool Springs financial services firm, and the Rock and Brews restaurant franchise (via Insider).
You might be interested to learn that those faces aren't the only thing Kiss is good at painting. For a number of years, frontman Paul Stanley has indulged his own predilection for canvas art and sells his personal paintings to buyers across the world. "I didn't really delve into painting until 16, 17 years ago, and that was all on my initiative and without any guidance." He shared with the Atlanta Jewish Times in a 2018 interview. When he's not spewing decadent rock tunes before a sold-out crowd, Paul Stanley tours with his paintings and displays them in exhibits where fans and potential buyers can view them. 
Paul Stanley packs his paintings with colors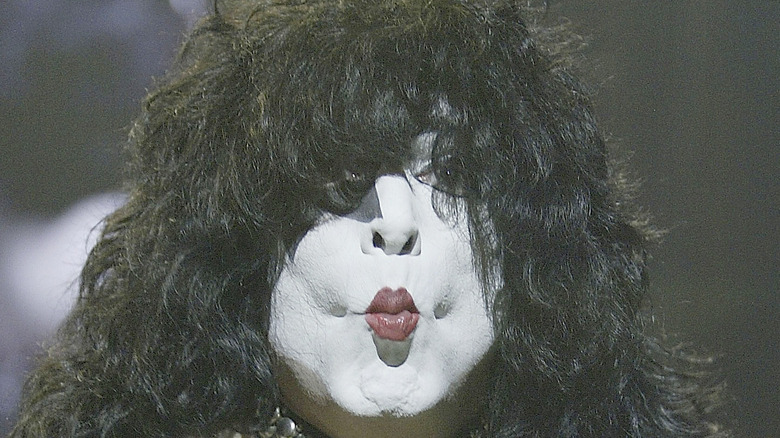 Robert Cianflone/Getty Images
Paul Stanley explained his use of abundant color schemes in his paintings by stating, "Life should be vibrant, and I paint vibrantly, which is the way I feel. Doesn't mean that life is not difficult. It just means the rewards for the difficulties make it worthwhile." Illustrious and vibrant variations of chromatic application define the bulk of his work in a sort of surrealist, psychedelic manner. One of them depicts a guitar compiled via broad brush strokes and eye-popping colors that are reminiscent of the late Andy Warhol's art (per Atlanta Jewish Times). 
Definitively, Stanley's art generally falls into the category of "punk impressionist" work. "I should live up to that — a great combination of terminology. I won't argue with it and will accept it." Stanley said in response to the label. It's essentially a convergence of early impressionists funneled through the prism of a more modern, renegade approach to culture and trends. Another one of Stanley's paintings features a large American flag comprised of rapid, distinctive brush strokes that seems to burst out of the frame with almost neon color tones. It's set against a backdrop of more mellow, somber purples/greens, so the contrast grants it a multi-dimensional flavor (via Atlanta Jewish Times). 
Common themes in Paul Stanley's paintings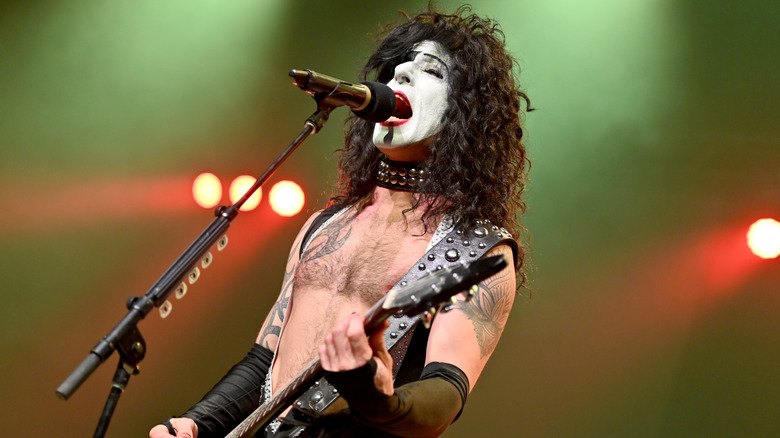 Stephen J. Cohen/Getty Images
Paul Stanley's official website explains that his "work can be associated with the abstract expressionists of the late 1940s and 1950s. He aims to maximize the direct, physical impact of his paintings through scale, texture, color, and simplicity of images." Stanley has illustrated several different portraits of notable persons from the past including musicians and actors. One of his more popular pieces, "Crossroads," is a rendition of a well-known photograph of legendary blues guitarist Robert Johnson. 
Otherwise, he explores the larger ideas through simplistic yet meaningful motifs like peace signs, hearts, doves, and ancient emblems. He cites artists like Kandinsky, Mondrian, Malevich, Paul Klee, and Mark Rothko as primary influencers of his work. To date, Paul Stanley has earned millions of dollars off of his own paintings. A piece crafted by the Kiss frontman could cost you anywhere between $15,000 to $80,000 dollars (per The Wall Street Journal).