The Story Behind John Cena's Iconic 'You Can't See Me' Taunt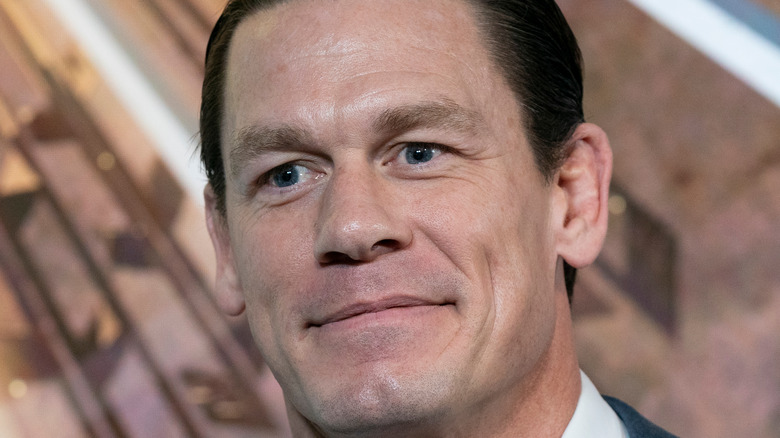 lev radin/Shutterstock
In the wild world of wrestling, it's about so much more than just the action in the ring itself. Wrestlers don't become iconic purely because they are successful in their sport. They're enormous personalities in every sense of the word and wonderful performers able to charm fans around the world.
How do they do this? Typically with a hook, something unique to them. Take The Undertaker, for instance, whose dark, macabre performances over his long career as the Deadman allowed him to retire with a net worth of $17 million (per Celebrity Net Worth). The Rock, meanwhile, started by asking us what he was cooking, and rode that wave to become an enormous movie star and pop culture icon.
Taunts and theatrics are all part of wrestling, as John Cena also knows very well. Cena has become the stuff of meme legend with his "You can't see me" shenanigans. The line has been interpreted in all kinds of silly ways that suggest the hulking star is literally invisible. It's the line that launched a thousand absurd jokes. All of that aside, though, the man himself has explained how the taunt came about.
It started with a silly dare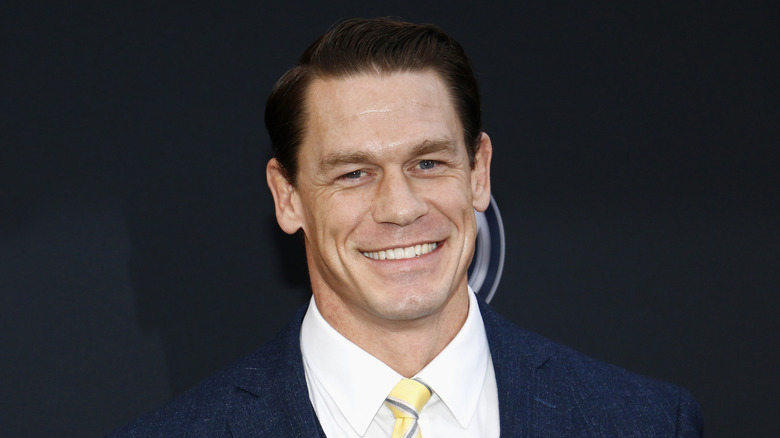 Tinseltown/Shutterstock
John Cena is a regular on "The Tonight Show Starring Jimmy Fallon," as the show's long-time fans will know. In January of 2022, he was a guest of Fallon's again, and the host stated that the wrestling star has appeared on the program an awful lot. There's one thing, he went on, that they've never discussed, and it's perhaps one of the most obvious things to ask Cena. "You've been a guest 15 times. We've never referenced the "You can't see me" move," Fallon said on The Tonight Show Starring Jimmy Fallon (via YouTube). This was the window Cena needed to embark on the very entertaining story of the origins of the taunt.
According to the WWE star, the move has a two-part explanation. The words "you can't see me" themselves, he told Jimmy Fallon, "[are], like, well, you're not even on my level." According to Sportskeeda, he has won 16 WWE world championships in total, a number only one other wrestler, Ric Flair, has ever reached. Truly, then, there are very few who are on Cena's level. That part of the move checks out, then, but what of the hand movement that accompanies it? That, apparently, was a dare from Cena's younger brother.
The ever-invisible John Cena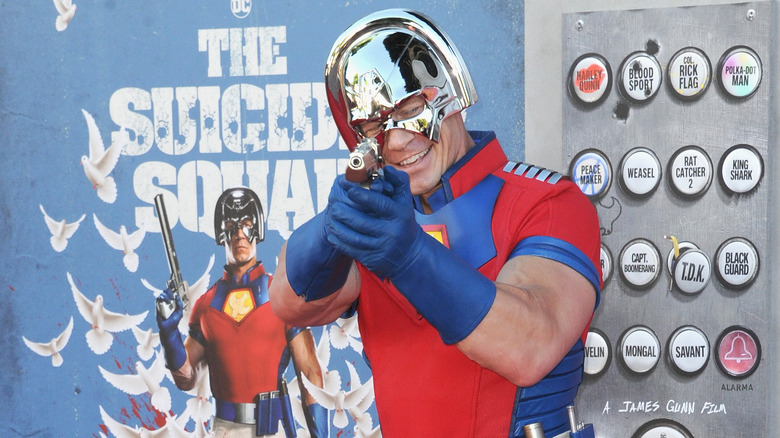 Albert L. Ortega/Getty Images
During the making of his theme music album, "[his] younger brother, Sean, was always [his] litmus test ... he was ruthless, man, he would never be satisfied with any song," as John Cena explained on The Tonight Show Starring Jimmy Fallon (via YouTube). The ever-picky Sean, however, was inspired by "The Time Is Now" to perform a dance move like "Tony Yayo ... in one of the G-Unit videos. He put his hand over his head and just kind of, like, bobbed his head like that."
Cena told Fallon that he was unimpressed by the move, but, never one to shy away from a performance, stated that he would perform the action in front of the cameras. Sean dared him to do so.
"Basically, on a dare, by absolute chance, I went out there and I figured this wasn't visible enough, so I wanted to do this," Cena concluded, waving one hand in You Can't See Me fashion.
Cena himself has certainly come to terms with the viral popularity of the act. In March 2022, he told GQ, "I hope that invisible joke goes on for another 100 years. I don't care how many times I gotta wave my hand across my face. It's given me a great life. It's allowed me to do what I do passionately." Even the greatest of memes can grow wearisome, but as far as Cena and his many fans are concerned, You Can't See Me can run and run.