Angela Lansbury's Health Struggles Were Worse Than You Probably Thought
Sometimes, in the midst of all the spectacle and radiance emulating from famous actors, we forget that they are in fact real people with real struggles. We tend to attach a sort of imperious aura to those who appear on the screen, but life gets difficult for everyone. One might say that this is step one in understanding the universal human condition. 
British-born icon of stage and screen Angela Lansbury has a certain elegance about her that is both stunning and humbling all at once. Fans have admired the Academy Award-nominated (and five-time Tony-winning) actress for years. Since the early 1940s, the "Murder, She Wrote" star has appeared in multiple Hollywood productions alongside timeless names like Elizabeth Taylor and Lana Turner, according to IMDb, and at the age of 96, she has much to look back on and be proud of. However, certain hurdles have appeared before Lansbury over the years that have posed some significant challenges in regard to her overall health. 
Angela Lansbury's hip replacement and knee surgery
s_bukley/Shutterstock
While procedures like "hip replacement" and "knee surgery" almost sound routine these days, they actually present some pretty significant lifestyle changes for the patient. In 1994, at the age of 68, Angela Lansbury had to undergo a hip replacement, according to Deseret News. "She has had some problem with (the hip) but not to the extent that it impinged on her work," said Dennis Brown of CBS News following the surgery. "She knew that if she was going to deal with it this was the time to do it, the minute she went on hiatus" (via News & Record). Lansbury's hip replacement took place just two days after she wrapped up filming an entire season of "Murder, She Wrote." 
She also had her left knee replaced in July of 2005, according to "Today." Apparently, the procedure was one she'd put off for some time, but after a while, it became apparent that knee replacement was inevitable. "I found that people were helping me across the street. I had to pull myself up the stairs," she said in 2006. "I began to feel ancient, and I feel very young at heart." She was 80 at the time.
Angela Lansbury's current health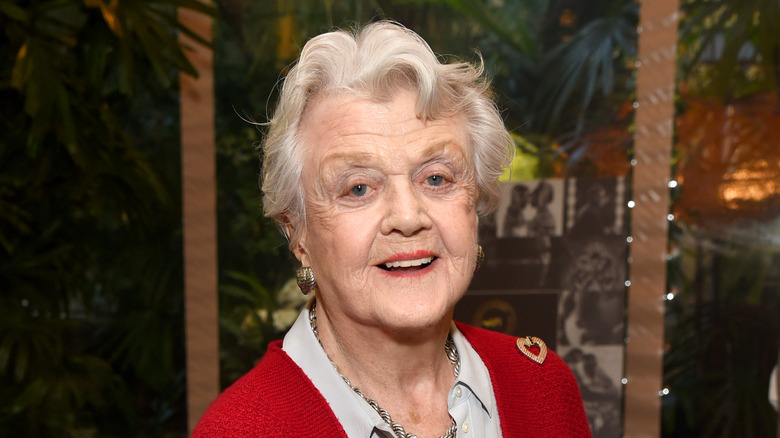 Michael Kovac/Getty Images
Despite the otherwise tumultuous tribulations posed by two major surgeries a mere decade apart, Angela Lansbury has maintained a wholesome lifestyle and a steady state of good health over the years. "I feel full of energy and I certainly don't feel 93. I like a glass of wine and take a lot of vitamins — perhaps that keeps me going," she told Express U.K. in 2018. She also started smoking as a teenager, but quit several decades ago. She's also had significant struggles with arthritis (per Closer Weekly).
In fact, it didn't take long for her to slip back into her dancing shoes after her 2005 knee surgery. She has a long history as a dancer over the course of her performing career, and it took its toll. According to "Today," Lansbury said she could "dance" and "bop around" less than a year after the major procedure. Even in her later years, Lansbury is a strong testament to the fact that age can be nothing more than a state of mind, and nothing is insurmountable in the spectrum of leading a happy, wholesome, healthy life.