The Truth About John Lennon's Very First Girlfriend, Thelma Pickles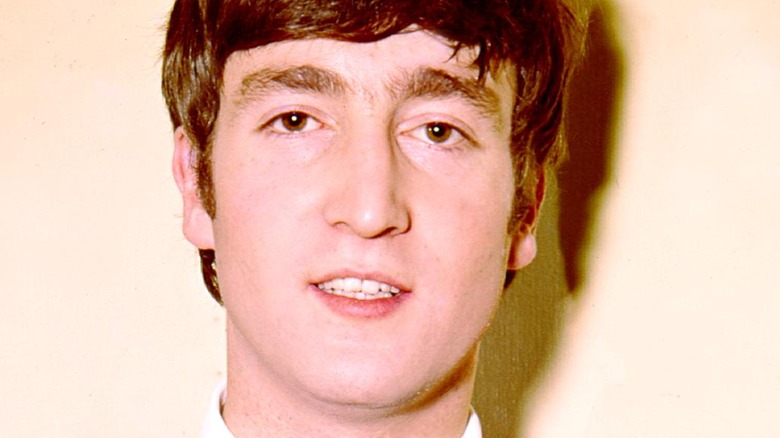 Michael Ochs Archives/Getty Images
Before he was a member of one of the most famous and influential rock bands of all time, The Beatles' John Lennon was a young art school student at the Liverpool College of Art. A 2009 article in The Guardian interviewed several people who had known Lennon during his pre-Beatles life, including the woman reported to be his very first girlfriend. Theresa Pickles McGough, at that point a textile artist who was working on her autobiography, "Illustrious Liaisons," recalled a less than illustrious introduction to her future boyfriend: "My first impression of John was that he was a smartarse." Lennon had started joking around with Pickles, then 16, in a manner that annoyed her as they waited to register for classes.
She had a change of heart when a fellow student approached Lennon saying "Hey John, I hear your mother's dead." Lennon's mother had suffered fatal injuries after she was hit by a car just two months earlier. He calmly responded in the affirmative to the classmate's insensitive inquiry, which struck Pickles: "I was stunned by his detachment, and impressed that he was brave enough to not break down or show any emotion. Of course, it was all a front." 
Pickles noted that Lennon was deeply affected by his mother's death, calling his manner "soft, thoughtful and generous-spirited." The two bonded over their similar family circumstances — Lennon's father had left his family when he was a baby, while Pickles' had done the same when she was 10 years old. 
Pickles and Lennon's relationship did not end well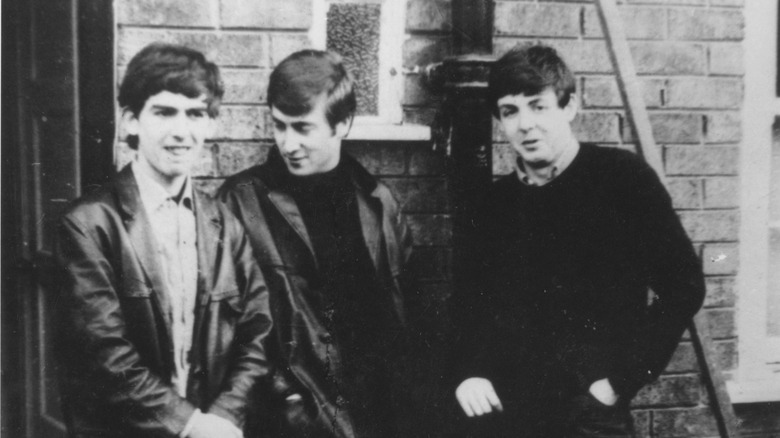 Keystone/Getty Images
Thelma Pickles McGough went on to reminisce to The Guardian about accompanying John Lennon to his home, where he lived with his aunt, Mimi Smith, and the two had "a kiss and cuddle" in Lennon's bedroom. At one point "Paul [McCartney] and George [Harrison] came round and we all had beans on toast, then they played their guitars in the kitchen," which means Pickles may have been one of the first people to hear what would become The Beatles playing music together as a group. She noted that she found Lennon's house "posh" after having grown up in a council house, or public housing. According to McGough, Lennon refused to wear the glasses he needed, which meant when they went to see the Elvis Presley movie "Jailhouse Rock," he kept grabbing her hand and asking "What's happening now, Thel?" 
The two continued dating until 1959. In a 2020 article in the Express, Pickles, identified as a television producer as well as an award-winning artist, recalled that it all fell apart at a school dance when "we went upstairs to a darkened room for what he euphemistically called, a 'five-mile-run' — because he'd read having sex expended the equivalent energy." When Pickles realized there were other people in the room, she refused to stay, at which point "John yanked me back by my hair and punched me. That ended it for me." 
From Lennon to McCartney?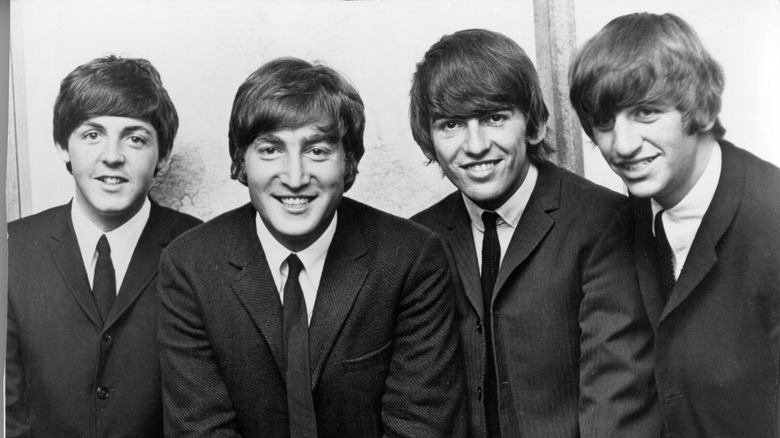 Michael Ochs Archives/Getty Images
Thelma Pickles McGough went on to recount to the Express how Lennon harassed her after she broke up with him because she refused to continue their relationship. Things reached a head one day when she finally responded to him by yelling "Don't blame me just because your mother is dead." She noted that this was "the only occasion I ever witnessed that he didn't have a vitriolic retort." 
In 2009, she told The Guardian that eventually they became acquainted enough again for her to help him out at school, remembering "Because he did no work, he was on the brink of failure, so I loaned him some of my work, which I never got back." She said she'd never wondered "what might have been" and proclaimed that marrying Lennon "would be quite a gargantuan task!" In 2020, she told the Express "I want to believe that age would not have mellowed him, that he would not have turned into a comfy old man in his New York apartment."
According to writer Phil Bowen's 2008 book "A Gallery To Play To: The Story of the Mersey Poets," Pickles later briefly dated Lennon's fellow Beatle Paul McCartney. The band was taking off at that point, with the song "Love Me Do" released as a single, but Pickles was no groupie. After expressing surprise when a woman asked McCartney for an autograph, he reportedly told her "'Oh it's just this Beatles business'," and she claimed she "wasn't clued in at all as to what was happening at this stage."