Who The Beatles' Song Dear Prudence Is Really About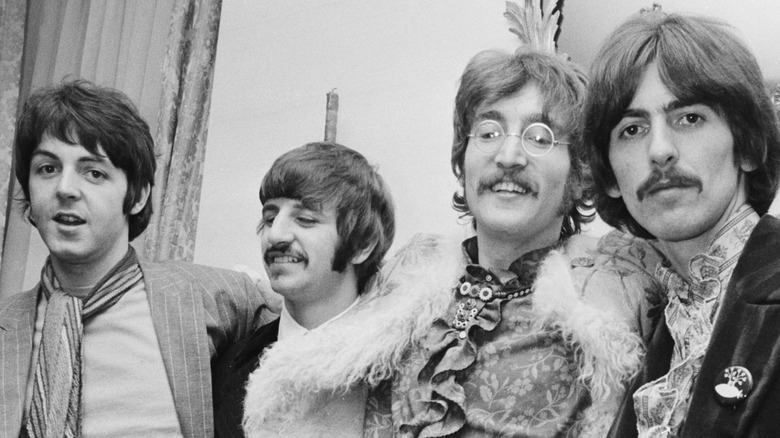 John Downing/Getty Images
"Dear Prudence," the second track from The Beatles' seminal and complex 1968 opus "The White Album," marks a rapid departure from the satirical Beach Boys-influenced opener "Back in the U.S.S.R." and sets the tone for the wild experimentation and off-kilter yet highly adventurous songwriting that awaits the listener. "Dear Prudence," composed during The Beatles' famous India retreat to find themselves and pursue transcendental meditation, is a charming song that contains themes of innocence and wonder that would be prevalent in John Lennon's later psychedelia-influenced Beatles works (per Rolling Stone).
The weaving drone-like effects on John Lennon's fingerpicked guitar and overdubbed vocals certainly evoke the mysticism that The Beatles must have encountered on their journey with the Maharishi Mahesh Yogi. The lyrics, too, address themes of interconnection between all living things: "The wind is low the birds will sing / That you are part of everything / Dear Prudence won't you open up your eyes?"
What makes this delicate and endearing piece so intriguing is that it was written in a moment of brief serenity for the Fab Four, yet recorded amid immense tension and creative conflict that would dog The Beatles in their latter years before their eventual separation. Prudence is just the beginning of the colorful cast of characters that populate "The White Album," which also features Sexy Sadie, Martha My Dear, Julia, and the gunslingers Bungalow Bill and Rocky Raccoon. So, to whom is John Lennon speaking when he addresses Prudence? The answer is surprisingly sweet.
With a little help from my friends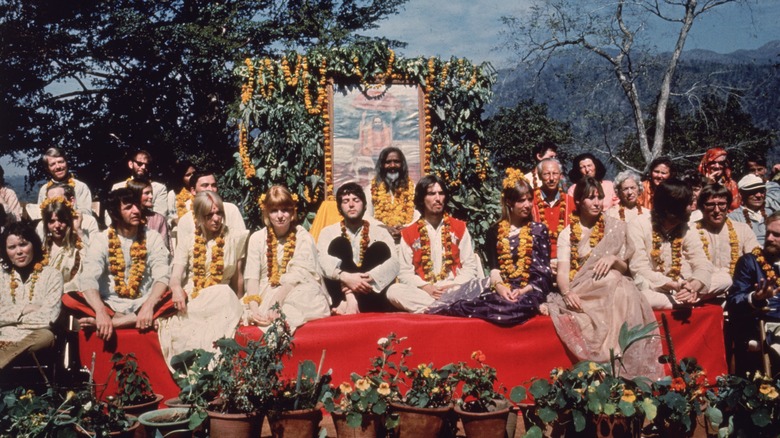 Hulton Archive/Getty Images
From the moment Beatlemania hit both sides of the Atlantic until the band's dissolution, they were surrounded by an entourage everywhere they went. Their soulful excursion to India would be no exception. The Fab Four were joined this time by John Lennon's first wife, Cynthia Lennon; the Beach Boys' Mike Love; the pop songwriter Donovan; actress Mia Farrow; and her younger sister, Prudence Farrow (per Rolling Stone).
According to Rolling Stone India, Prudence Farrow recalls accompanying The Beatles to Rishikesh in 1968 in the aftermath of a harrowing LSD trip gone awry. She turned to meditation to recuperate and come to grips with her experience. Every member of the entourage was assigned another person to check in with and support. John Lennon and George Harrison were assigned to look after Prudence (via "All We Are Saying" by David Sheff). Lennon and Harrison, who were no strangers to LSD (per a Rolling Stone posting on YouTube), took this duty to heart and would frequently try to coax the younger Farrow out of her room to join in with the others.
"Dear Prudence," Lennon explained in his final interview, was "a song about Mia Farrow's sister, who seemed to go slightly barmy, meditating too long, and couldn't come out of the little hut that we were livin' in. They selected me and George to try and bring her out because she would trust us. If she'd been in the West, they would have put her away. She'd been locked in for three weeks and was trying to reach God quicker than anybody else" (per "All We Are Saying").
Reaction and legacy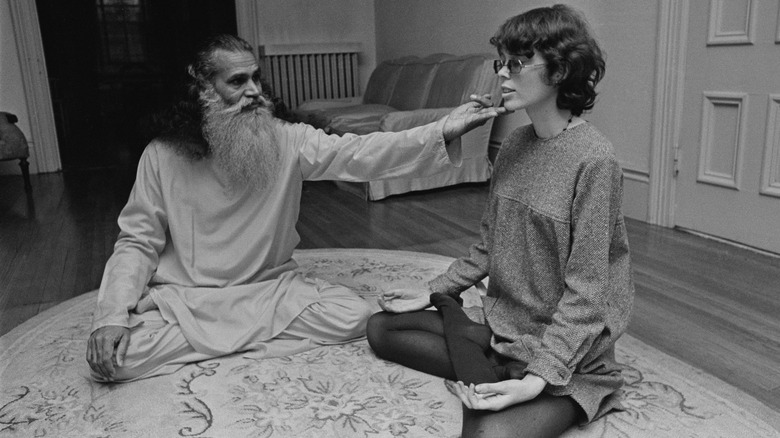 Harry Benson/Getty Images
So how did Prudence Farrow (above) respond to this touching invitation to come out and play? Despite Harrison's hints that she was the inspiration for one of their songs, Prudence didn't hear the song until later that year, when her mother played it on their record player at a family gathering (per Rolling Stone India). Farrow later told Rolling Stone India that the track "epitomized what the Sixties were about in many ways. What it's saying is very beautiful; it's very positive."
Despite the childlike glimpse of the cosmic and the beautiful, ethereal balance between everything that "Dear Prudence" provides, The Beatles' trip to India would famously disintegrate and end with dissonance. Lennon departed the Rishikesh ashram on strange terms, becoming disillusioned after hearing an allegation that the Maharishi had made unwanted passes at Mia Farrow (per The Beatles Bible).
Despite this surprising turn of events, The Beatles proceeded to record the plethora of songs that they had begun in India. However, these recording sessions would be famously fraught with friction, leading to drummer Ringo Starr quitting the band for two weeks. With Starr gone, it was up to the rest of The Beatles to record "Dear Prudence" (per "Ringo: With a Little Help" by Michael Starr). Despite being wedged in-between moments of discord, the end result is a touching song with a harmonious message that is a highlight of a tremendous body of work that has withstood the test of time.