Famous People Tragically Killed In Motorcycle Accidents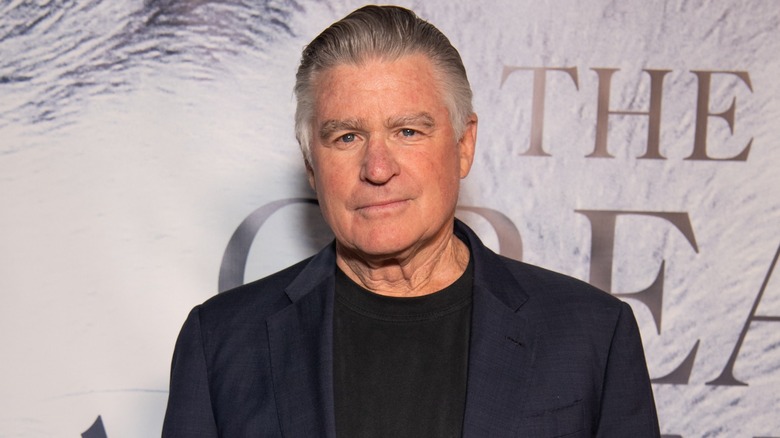 Emma Mcintyre/Getty Images
It's no secret that riding motorcycles can be a very dangerous activity. Unlike cars, riders have virtually no protection from the elements or vehicles in the event of a crash, and there are not a ton of options for extra protection outside of helmets and vests. Part of what makes riding motorcycles fun is undoubtedly the aspect of danger, but it can also lead to devastating and sometimes fatal accidents.
Regardless of who is at fault, fatal motorcycle accidents are always tragic. Not only is the loss of life horrible, but the lives of everyone involved are permanently and irreparably changed. And while it might not be the most common cause of death, it seems like each year, an increasing number of celebrities fall victim to motorcycle accidents. Whether they are musicians, actors, or athletes, no one is immune to getting extremely injured on their bike.
With the recent death of Treat Williams on his motorcycle in June 2023, the spotlight has once again been put on these tragic accidents. Going back to TE Lawrence, these are some of the most famous people tragically killed in motorcycle accidents.
Duane Allman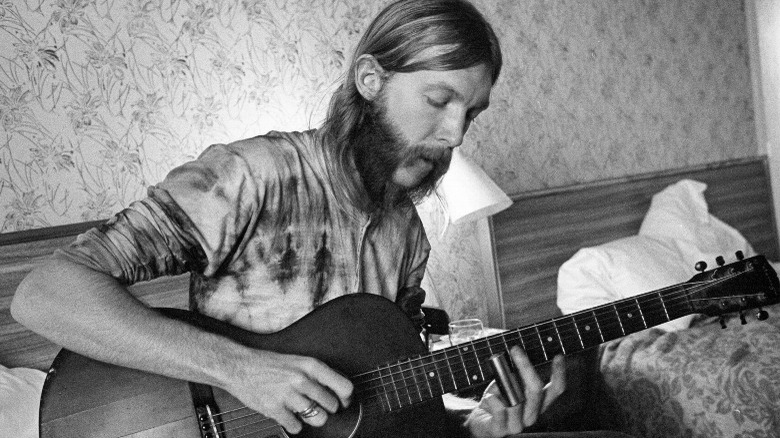 Michael Ochs Archives/Getty Images
For fans of rock and roll, few deaths are as tragic as that of Duane Allman on October 29, 1971. Duane was one of the members of the Allman Brothers Band, which he founded with his brother Gregg. Playing a unique brand of southern-inspired jam rock, the Allman Brothers were just beginning to make a name for themselves at the time of Duane's death at age 24. They had first begun playing in 1969 and had some success on the live circuit, but it wasn't until 1971 with the release of "At Fillmore East" that the band experienced serious commercial success.
The album was largely driven by Duane's incredible slide guitar skills and lead playing. He electrified fans with not only his technical proficiency but also with the raw emotion he was able to convey through his guitar. The band recorded the album in March of 1971, but Duane was dead by the end of the year before he really had a chance to experience the extraordinary heights the band would soon reach.
According to his obituary from Rolling Stone, Duane's accident occurred when he was caught underneath a pickup truck after they collided. He was able to survive for a time, but finally succumbed to his injuries a few hours later. He is forever lionized as one of the greatest guitar players in rock and roll history, and it's a tragedy his life was cut so short.
Berry Oakley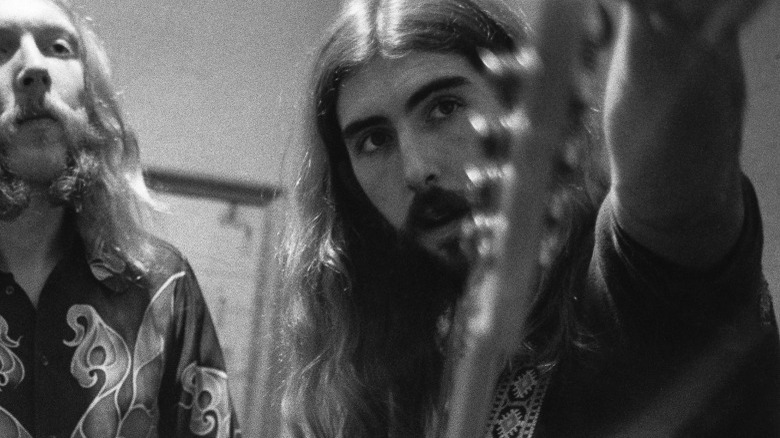 Michael Ochs Archives/Getty Images
Almost like a cruel joke, just over a year after the death of Duane Allman, the Allman Brothers Band was hit by another motorcycle death. This time it was their bass player Berry Oakley, who died on November 11, 1972, exactly one year and 13 days after Allman had. Oakley was also riding a motorcycle when he got in his fatal accident, and it was coincidentally near the spot where his former bandmate had his own crash.
Oakley was born in 1948 in Chicago, Illinois, and was one of the founding members of the band alongside Allman. In fact, it was actually Allman who had asked Oakley to join, and it proved to be a prophetic choice. Oakley's smooth bass lines played excellently with Allman and Dickey Betts' guitar lines, and many saw him as the glue keeping everything together. Oakley appeared on their breakthrough album "At Fillmore East," as well as the first album after Allman's death, "Eat a Peach."
Unfortunately, "Eat a Peach" marked Oakley's final recording with the band while he was still alive. While out riding in late-1972, Oakley got into a fatal accident with a bus, and he died from his wounds at the same hospital as Allman. He is still featured on archival Allman releases, and many still consider him the best bass player in the band's history.
TE Lawrence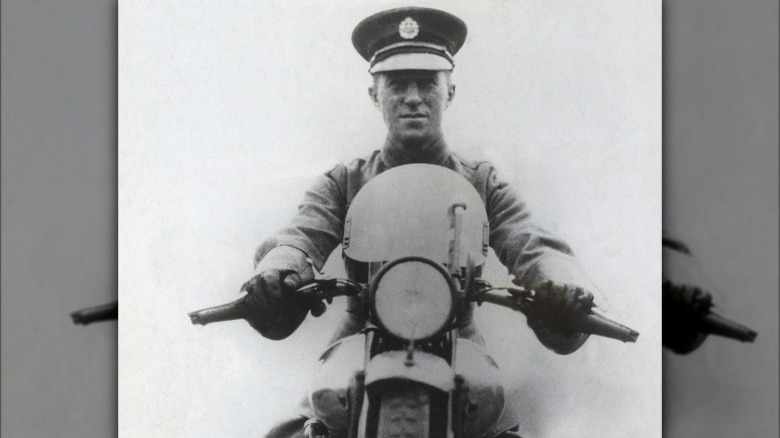 Bettmann/Getty Images
Widely known as Lawrence of Arabia, TE Lawrence is one of the most famous soldiers in British history. Born in 1888, Lawrence rose to fame following his daring exploits during the First World War. Prior to the war, Lawrence studied the history of architecture in the Middle East, and it was there that he would find himself when the war broke out. The British found good use for his knowledge of the Arabs, and soon Lawrence was on the front lines of the war in Egypt, and later in Syria and Palestine.
Lawrence played a role in organizing a guerilla force to help defeat the Ottoman Empire, and he later wrote a book about his exploits titled "The Seven Pillars of Wisdom," which earned him the sobriquet of Lawrence of Arabia. Following the war, Lawrence became an advocate for Arab independence in the Middle East and eventually rejoined the British military in 1923. In 1935, he left the military for the final time but died just a few months later before he could enjoy his retirement.
According to his obituary in The Guardian, Lawrence got into a serious motorcycle accident on May 13, 1935, and died six days later while still in the hospital. He suffered severe brain damage during the accident and was just 46 years old when he died. Britain widely mourned his passing, and he is still remembered as one of the United Kingdom's biggest war heroes today.
Luc Bourdon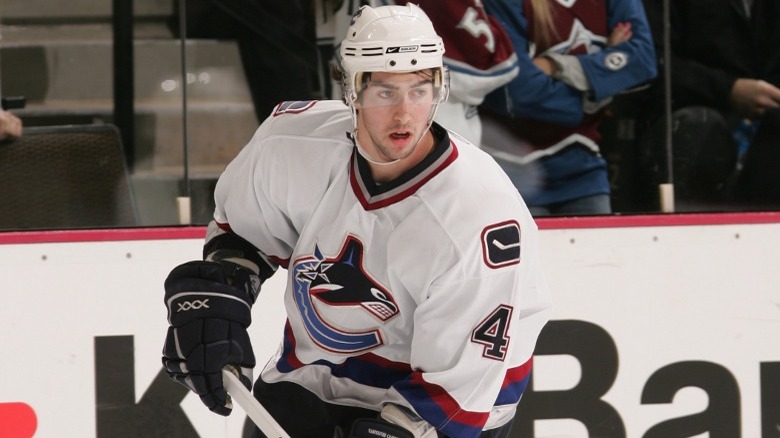 Doug Pensinger/Getty Images
One of the most tragic athlete deaths in recent years was the young defenseman for the Vancouver Canucks Luc Bourdon, who died from a fatal motorcycle accident. Viewed by many as the defensive future for the Canucks, Bourdon had played in just 27 NHL games at the time of his passing. He was a first-round draft pick in 2005 and made his NHL debut in 2006 playing in nine games. It was not until his second season that he scored his first two goals, and he ended his career with a plus/minus of six.
Bourdon was a native of Shippagan, New Brunswick, and was born in 1987. Sadly, Bourdon's motorcycle accident occurred near his hometown when he crashed into a semi-truck. The accident happened on May 29, 2008, and Bourdon was barely 21 years old at the time. His death shocked and saddened his teammates, coaches, and family members, and it was clear that he had made a huge impact on their lives in a short time.
According to SportsNet, Bourdon had only recently gotten his motorcycle license, and it's possible his inexperience behind the wheel played a part in his crash. Bourdon's funeral was well attended, and many people in the community spoke out about his impact and joyful personality. As a tribute, the NHL held a moment of silence for him during a playoff game following his death.
Diego Corrales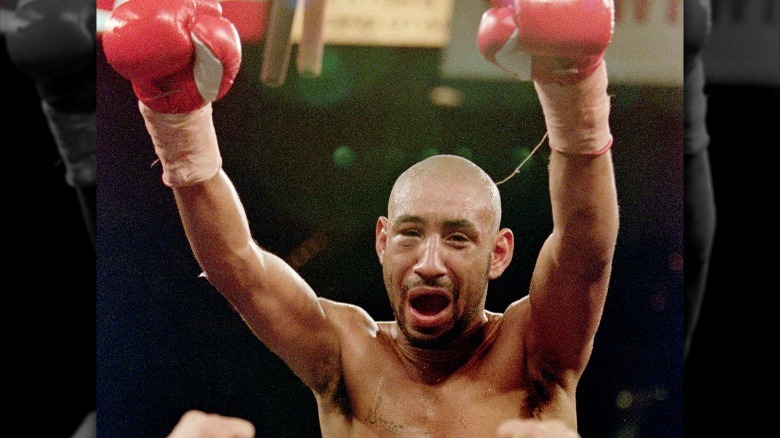 Al Bello/Getty Images
For boxing fans, the name Diego Corrales brings back reminders of some of the most memorable fights in recent history. During his career, Corrales fought 45 times professionally, winning 40 with 33 of them coming by way of knockout. His first fight was back in 1996 when he was just 18 years old, and he first won the IBF Super-Featherweight Title in 1999 at the age of 22. He lost the belt to Floyd Mayweather Jr. in 2001 in his first professional loss, but quickly got it back in 2004 after defeating Joel Casamayor in a split decision.
However, Corrales is most well known for his two fights with José Luis Castillo, during which both fighters put on incredibly memorable performances. His career was briefly halted for 14 months between 2001 and 2002 when he was incarcerated for domestic violence against his wife, but it continued after his release.
Corrales died on May 7, 2007, after he was involved in a multi-car accident. Corrales had previously been arrested for DUI, and it was later revealed that he had more than three times the legal limit of alcohol in his system when he crashed. Corrales left behind a wife and four children, one of whom was not yet born when he passed.
If you or someone you know is dealing with domestic abuse, you can call the National Domestic Violence Hotline at 1−800−799−7233. You can also find more information, resources, and support at their website.
Don Rich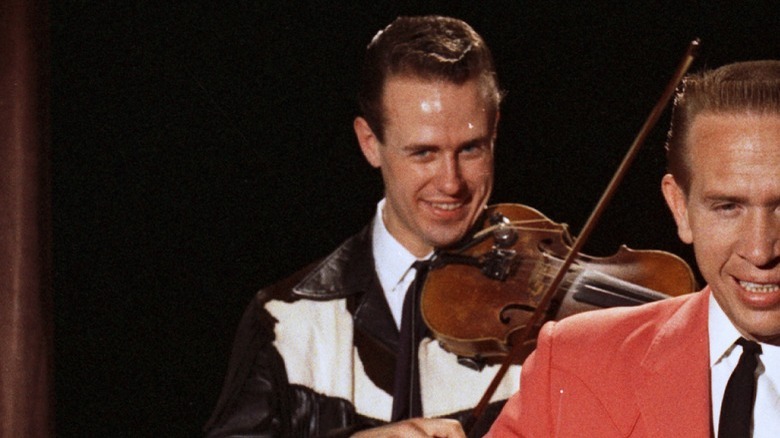 Michael Ochs Archives/Getty Images
Considered by many to be one of the most important guitarists in country music history, Don Rich was one of the top pickers in country for a solid stretch in the 1960s and '70s. Rich was born in 1941 in Washington, and he got his start in the music business playing with the legendary Buck Owens. In fact, many people don't realize it, but Rich was instrumental in the creation of the subgenre of country known as Bakersfield Country. It was his unique guitar work that made the new music style very popular, and soon Rich was the bandleader for Owens' band, the Buckaroos.
Rich released his only solo album in 1971, "That Fiddlin' Man," and spent the vast majority of his career playing with Owens and his backing band. Some of his most memorable guitar work appears on the tracks "Act Naturally," "Before You Go," and "Buckaroo." Sadly, when Rich was just entering his prime, he died in a motorcycle accident on July 17, 1974.
According to his obituary in The Bakersfield Californian, Rich died after his motorcycle hit the divider on the highway. He was on his way to go fishing when he got into an accident, and the reason for his crash into the divider was not immediately clear. Rich was only 32 years old when he died, and he left behind a wife and two sons.
Doug Bennett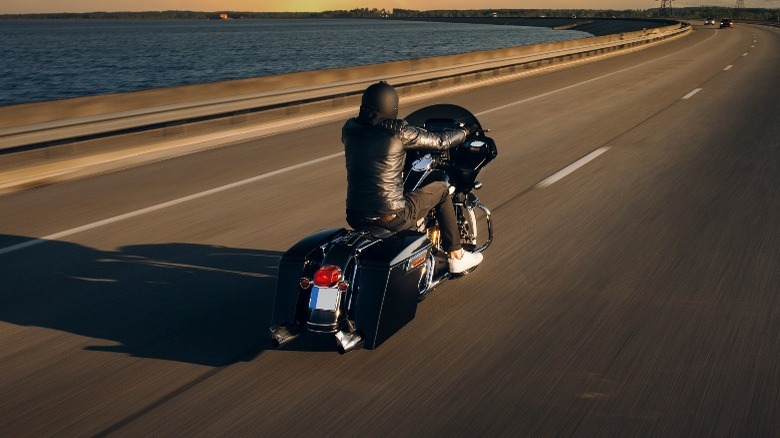 BoJack/Shutterstock
Many residents of Muskegon, Michigan woke up on July 17, 2021, to some especially sad news. The day prior, former State Rep. Doug Bennett was involved in a terrible motorcycle accident, and he had been pronounced dead later that night. Bennett previously served on the Muskegon County Board of Commissioners, and he was also elected to three terms in the state House of Representatives for Michigan that stretched from 2004 to 2010.
It was not entirely clear what had transpired during the crash, as by the time police made it to the scene Bennett was already on the ground motionless. The crash involved Bennett's motorcycle and a pickup truck, but the police did not release details about who was potentially at fault or if anyone was facing any charges. Bennett had been out of office for over a decade when he had his accident, and he was 75 years old at the time.
He spent much of his time in office working on legislation to help the Little River Band of Ottawa Indians in Muskegon get their own casino. In 2009, Bennett was diagnosed with a brain hemorrhage, but he managed to survive and still perform his legislative duties during his illness.
Mitch Lucker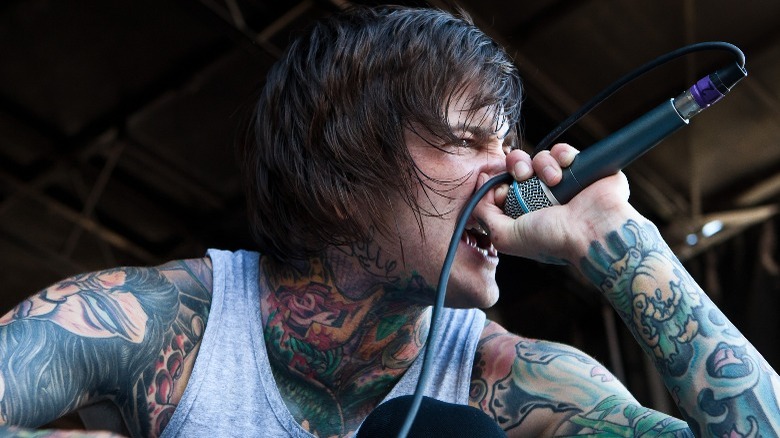 Chelsea Lauren/Getty Images
For the 10 years leading up to his death, Mitch Lucker became one of the biggest names in metal with his band Suicide Silence. From his joining the band in 2003 until his death in 2012, Lucker was the band's primary vocalist. He made a name for himself with his emphatic and powerful shrieks and growls, and he was regarded as one of the more talented vocalists in the deathcore scene. In addition to his vocal skills, Lucker was also easily recognizable due to the extensive tattoos that covered his body.
Lucker appeared on Suicide Silence's first three full-length albums, with his final record being 2011's "The Black Crown." He died on November 1, 2012, after his motorcycle came into contact with a light pole during an accident the night prior. Lucker was on a Harley-Davidson motorcycle at the time, and the accident occurred in Huntington Beach in Southern California. There was a candlelight memorial set up in Lucker's memory, and the band broke the news on social media through a Facebook post.
Just over a month following Lucker's death, his bandmates in Suicide Silence played an emotional tribute show in his honor. The show was held in Pomona, California, not too far away from the site of his accident in Huntington Beach, and featured many guest performers. The band later released the show as an album, "Ending Is the Beginning: The Mitch Lucker Memorial Show 12.21.12."
Cedric Benson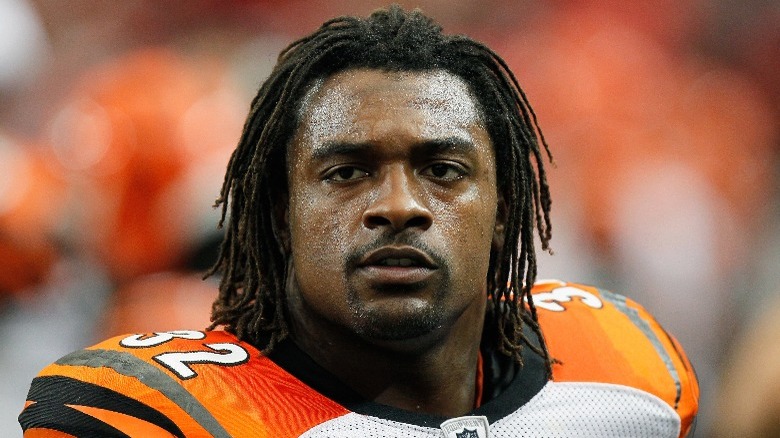 Kevin C. Cox/Getty Images
Cedric Benson was a longtime NFL running back who tragically passed away from a motorcycle accident in 2019. During his career, Benson played in the NFL for eight seasons between 2005 and 2012 for the Chicago Bears, Cincinnati Bengals, and Green Bay Packers. His best season came in 2009 for the Bengals, when he rushed for 1,251 yards and six touchdowns. He came in fourth in the voting for the Associated Press's Comeback Player of the Year award.
Coming out of college, Benson was a highly regarded prospect, so much so that he was drafted with the fourth overall pick in the 2005 NFL draft by the Bears. The year prior, Benson had won the Doak Walker Award while attending the University of Texas at Austin. While he never lived up to his lofty draft status, Benson was still a very dependable running back for several years and had a pretty good career. Benson was born in 1982 in Midland, Texas, and his fatal accident happened on August 17, 2019, in Austin, Texas.
Benson was riding with a passenger on his motorcycle when he got into the accident, and sadly both of them died at the scene. His motorcycle collided with a large minivan, whose occupants were not badly injured. Prior to the accident, Benson had numerous arrests for driving under the influence, and the toxicology report showed marijuana in his system at the time of his fatal crash. He was just 36 years old when he passed.
Indian Larry Desmedt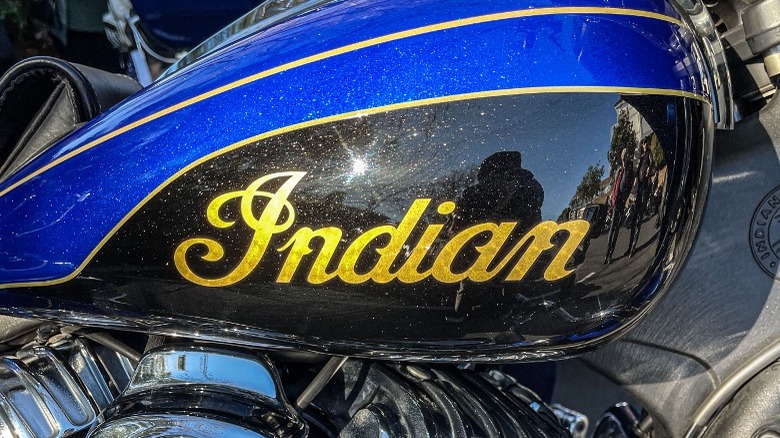 George Rose/Getty Images
Larry Desmedt, or as most people knew him "Indian" Larry, was one of the most respected custom motorcycle builders in New York City at the time of his death in 2004. In addition to being a reputable mechanic and custom bike builder, Desmedt was also a TV personality and a stunt-man. He appeared on the Discovery Channel shows "The Great Biker Build Off" and "Monster Garage" in 2003, and he was also in the documentary "Rockets Redglare!"
Desmedt was born in 1949 in New York, and his accident transpired on August 30, 2004, in Charlotte, North Carolina. Desmedt was shooting an episode of "The Great Biker Build Off" when he died. He was attempting to do a stunt that involved him standing on top of his motorcycle and unfortunately, there was a sizable crowd watching as the accident occurred. Desmedt was reportedly not wearing a helmet when he died, and he is survived by his wife Bambi.
The name "Indian" Larry came from his penchant for riding Indian-brand motorcycles, though his first bike was actually an older Harley-Davidson. The name of Desmedt's custom motorcycle-building business was Indian Larry Motorcycles, and his business partners have kept the shop running under his name in the decade following his death.
Bob Gassoff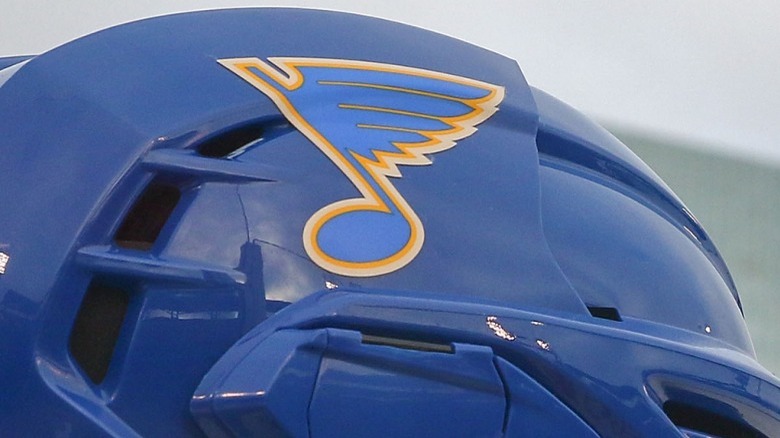 Dilip Vishwanat/Getty Images
While younger hockey fans might not know the name Bob Gassoff, he had a short but memorable career as a defenseman for the St. Louis Blues from 1973 to 1977. In his career, Gassoff played in more than 240 games, scoring 11 goals and totaling 58 points in his career. He also managed to wrack up an incredible 14 ½ hours of penalty minutes in his four seasons. Gassoff was born on April 17, 1953, in Quesnel, British Columbia, and he began playing in the NHL when he was just 20 years old. In addition to playing in the NHL for the Blues, Gassoff also played on the minor league teams the Denver Spurs and the Medicine Hat Tigers.
Gassoff was just 24 years old when he died on May 29, 1977, from a fatal motorcycle accident. He was riding near St. Louis when he ran into another car in a head-on collision. A few months after his death, the Blues honored him by retiring his jersey and number (3). According to a profile done of his son in The Athletic, Gassoff was part of a group of several teammates who were riding dirt bikes together during a team BBQ, and the driver of the car he ran into may have been speeding. His wife was pregnant at the time of his death, and he would sadly never meet his son.
Treat Williams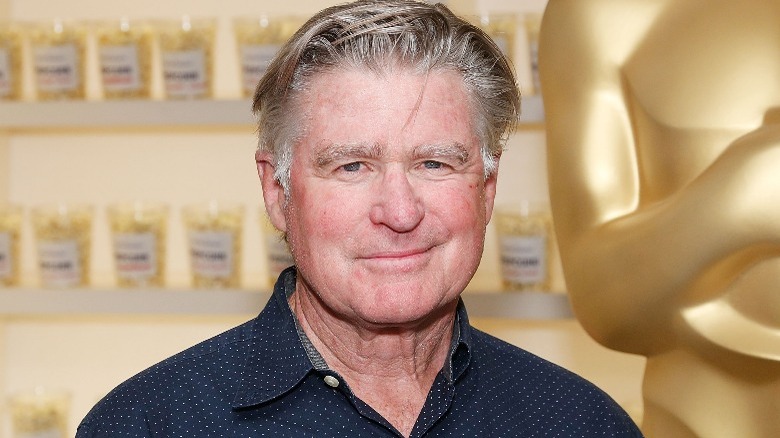 Lars Niki/Getty Images
Most well known for his roles in "Everwood," "Once Upon a Time in America," and "Hair," veteran actor Treat Williams died on June 12, 2023. He was 71 years old at the time he was involved in a fatal motorcycle accident with an SUV. Williams had begun his acting career in the mid-1970s, and he was a steady presence on TV and in movies all the way up until his death. In 1996, he was nominated for a Primetime Emmy for Outstanding Supporting Actor in a Miniseries or a Special, and he also had several Golden Globes nominations.
William was born in 1951 and spent his childhood growing up in Connecticut. He was riding in Dorset, Vermont when he got into his fatal motorcycle accident, and he was later pronounced dead in an Albany, New York hospital. Eerily, Williams had tweeted just hours before the crash about how much he was enjoying his day while mowing his lawn, and he had also posted an Instagram video showing the beautiful landscape.
At the time of his death, Williams had multiple credits that were still in production, and he had just wrapped up roles on "Blue Bloods" and "Chesapeake Shores." He is survived by his wife Pam and two kids, Gill and Ellie.