Why Elton John Doesn't Like Simon Cowell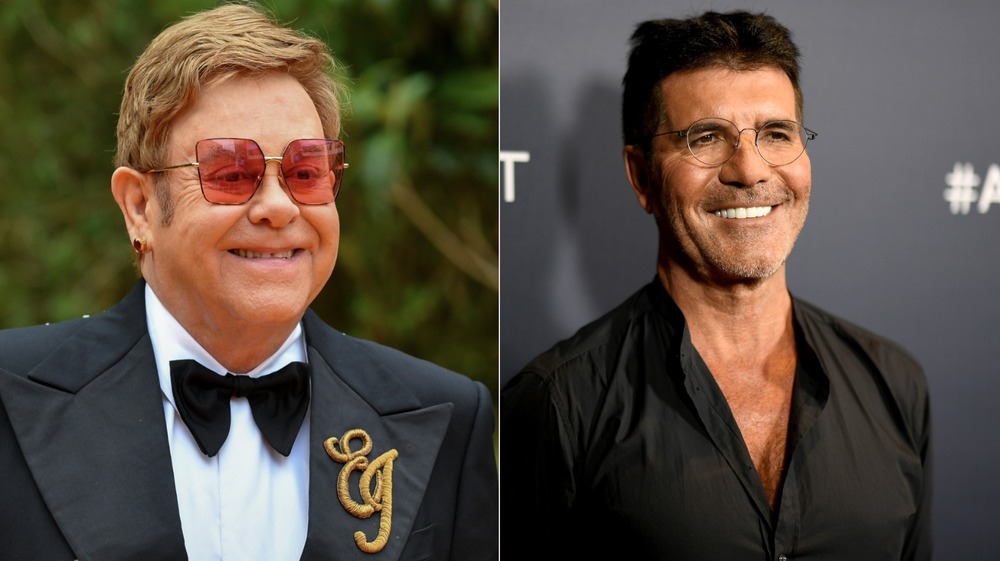 Gareth Cattermole, Frazer Harrison/Getty Images
Elton John is a living music legend. Ever since bursting onto the mainstream music scene in the late 1960s and early '70s, John has been one of the most consistently interesting and important voices in all of music. A large part of John's enduring success can be attributed to his song catalog, which includes revered hits like "Rocket Man," "Tiny Dancer," and "Candle in the Wind." However, John's ongoing relevance can also be partly attributed to his flashy stage persona and willingness to make statements and create controversies whenever and wherever he sees fit.
The singer-songwriter has been one of the world's most well-respected musicians for over five decades, and as a result, he's developed a number of opinions about the music industry over the course of his career. Sometimes John's opinions haven't been exactly flattering of other industry titans, either. He's made headlines previously for criticizing both Janet Jackson and Madonna for lip-syncing on tour, but one of John's most interesting rivalries was with television personality and executive Simon Cowell.
Elton John is not a fan of TV talent competitions
Michael Kovac/Getty Images
According to Reuters, in 2010, Elton John made waves for publicly criticizing many of the talent competition shows that Cowell oversees, like American Idol, The X-Factor, and America's Got Talent. The singer-songwriter said, "I'm not a fan of talent shows. I probably wouldn't have lasted if I'd gone on one. I was asked to judge American Idol. I couldn't do it because I won't slag anyone off. Also I don't want to be on television. It's become boring, a**e-paralysingly brain crippling." Per Marie Claire, a year later, John went a step further saying that "reality has killed talent," before asking, "Can any X-Factor people cut the mustard?"
Simon Cowell responded to John's criticisms in an interview with Piers Morgan in 2011, arguing that musicians who criticize talent competition shows don't do enough to nurture up-and-coming talent on their own: "They always bleat on that we're not giving other people a chance. And I always want to say to them, 'I tell you what, you just made a million dollars off your last private gig. Go and give it to a bunch of young musicians you care about, put them in the studio. Go and nurture them. Go and spend some time looking after them. Then I'll buy your argument.' They're only worried about themselves."
Suffice it to say, it doesn't seem like this ideological bridge between John and Cowell will be gapped anytime soon. However, whether people agree with his opinions about the music industry or not, there's no denying that Elton John has certainly earned the right to say and stand by them as much as he likes.