The Reason Daft Punk Rarely Showed Their Faces In Public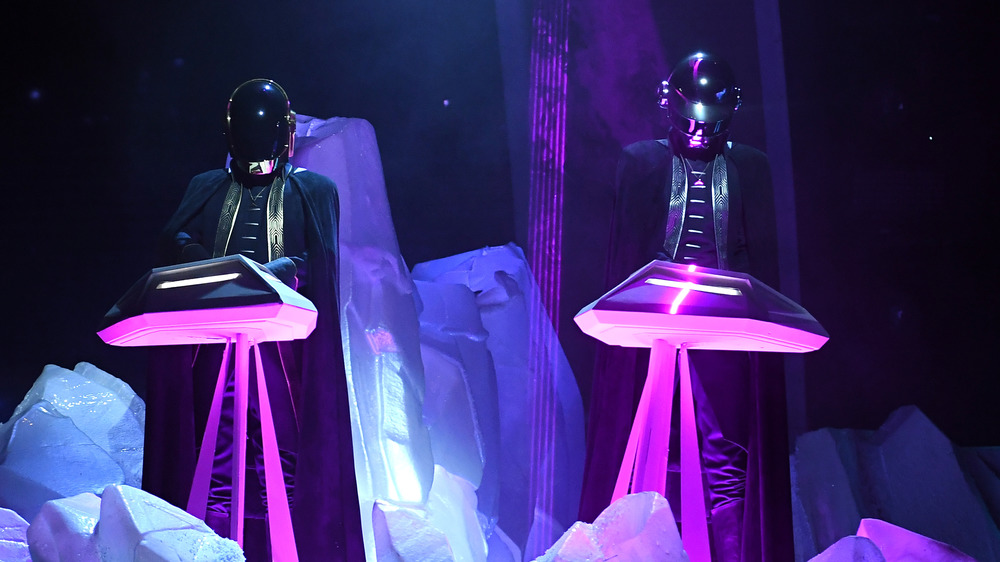 Kevork Djansezian/Getty Images
Daft Punk shocked the world on February 22, 2021, when they announced that their 28-years of robotic, EDM trailblazing had indeed come to an end. And they did it in the coolest, and one of the most surprisingly poignant, ways possible: through an eight-minute long ceremonious video titled "Epilogue," watchable on YouTube, that shows Thomas Bangalter (the silver one) slowing down his tired, lonely, side-by-side walk in the desert with the Guy-Manuel de Homem-Christo (the gold one) before turning around to have Homem-Christo activate his self-destruct sequence. Sixty seconds later: blammo, Bangalter detonates, and no more Daft Punk.
Ever since Daft Punk was founded in 1993 in Paris' club scene and released their debut album, 1996's Homework, the duo has brought both a retro sci-fi weirdness and modern French house music vibe to the rest of the world (the video for their first single, "Around the World," typifies both). And of course, they did it with flair and style, both sonically and aesthetically, in flanged voicework and beep-boop sound texturing, which helped them stand out from the pack all the way to their most recent and final album, 2013's Random Access Memories. 
A big part of Daft Punk's legacy comes from their iconic, robot-helmet look. Lots of artists — especially DJs — have worn helmets and masks, face paint, and so on, including Deadmau5, Orbital, Marshmello, Cazette, rockers such as Slipknot, Ghost, Gwar, rappers like DOOM, and classic acts like KISS. Daft Punk weren't the first, and they definitely won't be the last.
Behind masks, losing themselves to music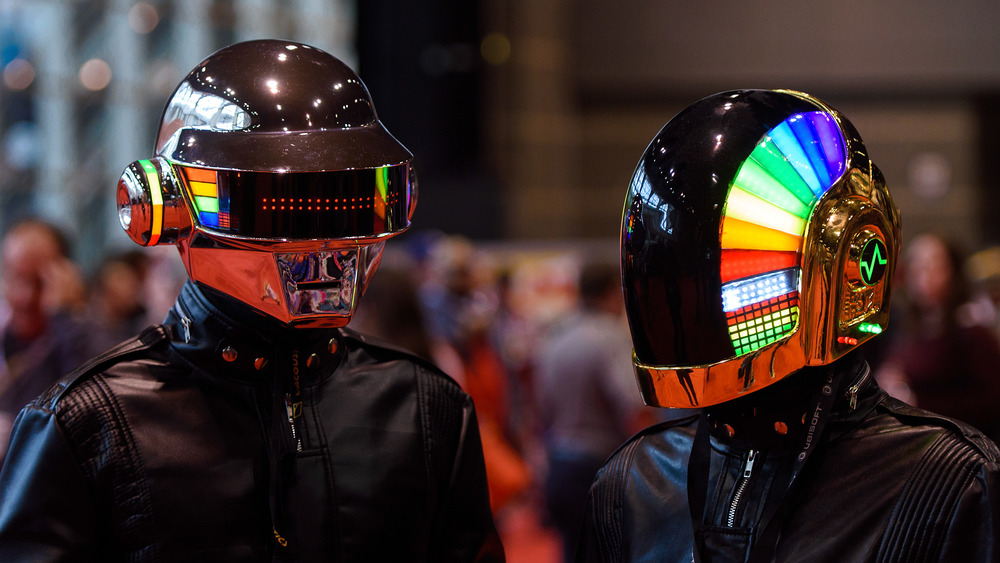 Daniel Boczarski/Getty Images
So why the helmet thing at all? It's all there in track #6 of Random Access Memories: "Lose Yourself to Dance." 
Vice ran an article in 2016 that explains perfectly why Daft Punk, or any artist, would choose to supplant their identity with their art. How better to push the melodies, craftsmanship, and production to the forefront? How better to let one's work speak for oneself? Heck, even Maynard James Keenan, legendary singer for Tool, A Perfect Circle, and Puscifer, started his whole standing-in-the-back thing during Tool's Lateralus tour in 2000 so that the mix quality during live sessions would come out better, as Alternative Nation explains. It's also an act of non-ego, of relinquishing the self to the power and flow of music.
Ironically, this kind of act tends to draw attention to the very artists who are trying to vanish. As Cosmopolitan says, Daft Punk were always shy to begin with, and never liked their photos taken. Cosmo, though, has some vintage photos of Daft Punk's early days from the mid-1990s, of Bangalter and Homem-Christo actually performing without their signature headgear.  
As the BBC reports, there's been no explanation from the duo's dissolution. This hasn't stopped fans from flooding the internet with love and tributes, though. This itself is a fitting tribute, as the final lyrics from their break-up video repeat the lines from their track "Touch:" "Hold on. If love is the answer you're home."