How Filming 1962's Lolita Destroyed Actress Sue Lyon's Life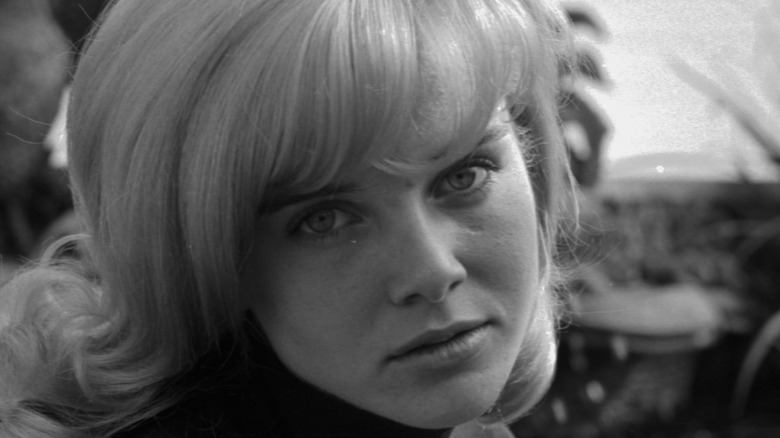 Les Lee/Getty Images
Stanley Kubrick's "Lolita" debuted on the big screen on January 13, 1962. The movie was an adaptation of Vladimir Nabokov's classic novel of the same name, which followed an adult man and his obsession with prepubescent girls — namely a preteen he nicknames "Lolita." In the titular role of Kubrick's version was Sue Lyon, who had just turned 14 when she was cast. Lyon appeared on the movie's promotional poster in heart-shaped sunglasses, sucking a lollipop, with the tagline, "How did they ever make a movie of 'Lolita'?"
Lyon earned a Golden Globe for the role, but her career faded away in her twenties. Instead of a dazzling Hollywood streak, Lyon's post-"Lolita" life involved mental instability, as well as chaos in her romantic relationships. Each of her five marriages ended in divorce. Her only daughter, Nona Harrison, wrote in a Facebook post that Lyon had bipolar disorder and kicked her out of the house when she was 12 years old. After a period of declining health, Lyon died in December 2019 at age 73, per The New York Times.
In 1996, Lyon blamed her downfall on "Lolita," Air Mail reports. "My destruction as a person dates from that movie," she said. "'Lolita' exposed me to temptations no girl of that age should undergo. I defy any pretty girl who is rocketed to stardom at 14 in a sex nymphet role to stay on a level path thereafter."
If you or someone you know is struggling with mental health, please contact the Crisis Text Line by texting HOME to 741741, call the National Alliance on Mental Illness helpline at 1-800-950-NAMI (6264), or visit the National Institute of Mental Health website.
The subject matter of Lolita was allegedly duplicated behind the scenes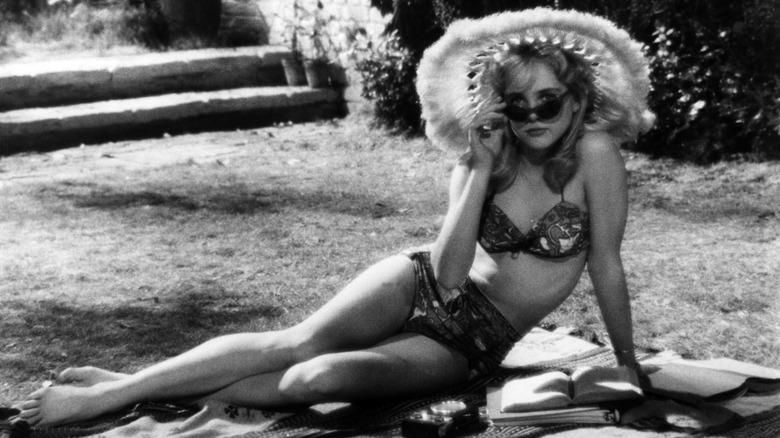 United Archives/Getty Images
The decline of Sue Lyon's acting career and mental health has been tied by some to an affair she allegedly had with James Harris, the producer of "Lolita." Lyon's childhood friend, Michelle Phillips of The Mamas and the Papas, corroborated the rumor during an interview with Air Mail. She told the outlet that Lyon told her when she lost her virginity to Harris and that the actress appeared "completely changed" thereafter. "I saw a picture of him," Phillips recalled. "He looked like her grandfather."
According to Phillips' story, Lyon would have been 14 at the time, and Harris 32. Jim Maxwell, who was the best man at Lyon's first wedding, said that he believed Harris and Lyon got involved shortly after "Lolita" premiered when Lyon was 16 years old.
Four days after Lyon turned 16, a newspaper ran a column that read: "Sue Lyon, the pretty star of 'Lolita,' has bowled over her producer, James B. Harris ... Her age is 16, according to her studio, and he's an old man of 33. She prefers the company of mature men, and James may be her cup of tea when she's a little older and decides it's proper to court her." Two years later, when Harris was spotted with Lyon and subsequently asked about their relationship, he said, "We're not getting married, if that's what you mean. But we are very good friends." When asked about it more recently by Air Mail, he said: "I'm just not going to talk about it."